Prescott Campus Flight Training Center to Debut in Summer 2024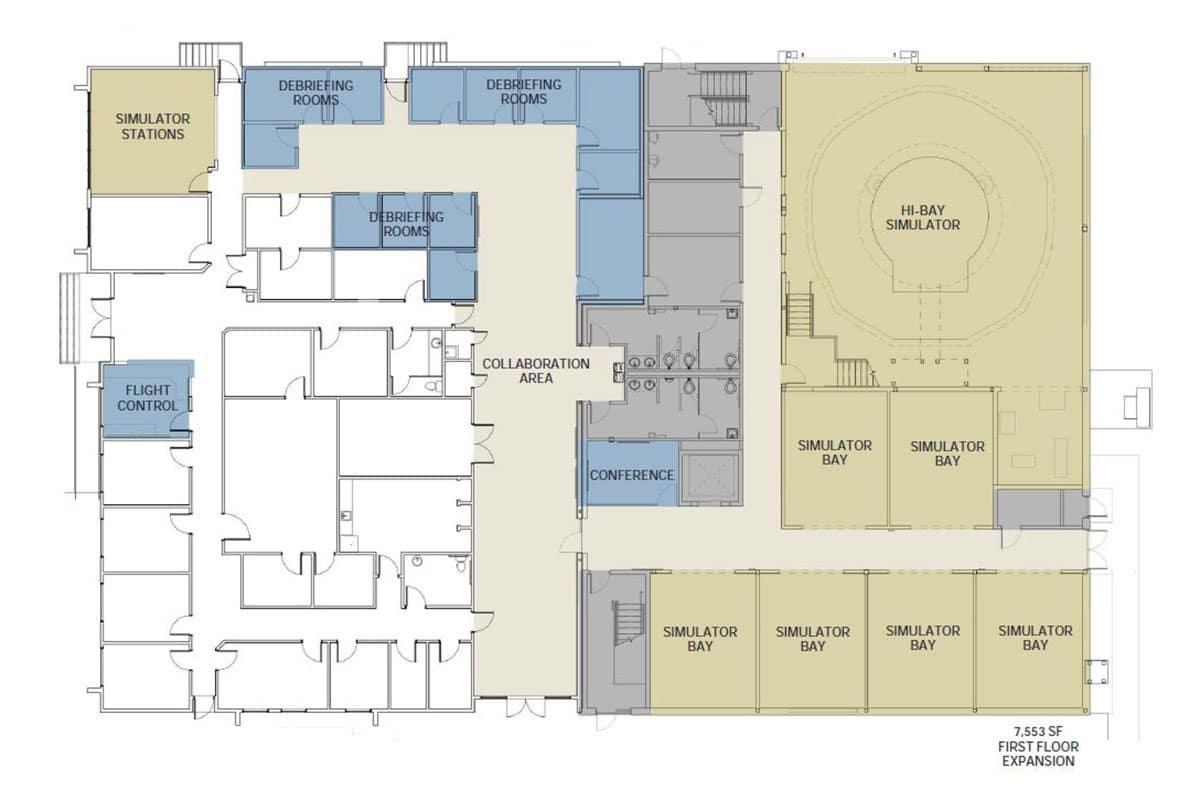 A dramatically modernized flight training center, set to debut by summer 2024, followed closely by a sprawling new airport complex and other improvements, will reflect the status of Embry-Riddle Aeronautical University's Prescott Campus Flight Operation as a shining jewel of aviation education in the American west.
As a first step, an existing simulation facility will be reimagined and expanded. That project — a $9.2 million investment approved by Embry-Riddle's Board of Trustees — will begin to ensure that the scenic Prescott, Arizona, campus remains a premier flight-training location, fully prepared to serve ever-increasing numbers of aspiring aviators in an efficient and safe manner.
Strong demand for Prescott's highly regarded flight-training program drove Embry-Riddle's decision to modernize and expand facilities: The number of Aeronautical Science students at the Prescott Campus increased from 486 to 857 between fall 2018 and fall 2022. By fall 2023, the program expects to serve about 880 students.
"The excellence of our programs and the strong job market have meant that we have seen a dramatic increase in enrollments," said Dr. Anette Karlsson, chancellor of the Prescott Campus. "These facilities improvements are essential and will be a great benefit to our faculty, students and staff."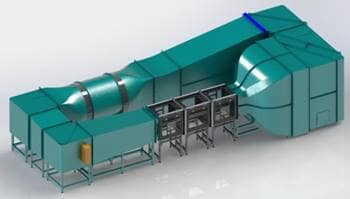 A new four-by-four, low-speed wind tunnel, depicted in this artist's rendering, will be housed in the planned Eagle Learning Complex, along with an enhanced propulsion lab.
Over the past three years (fiscal years 2020 through 2022), Embry-Riddle has invested approximately $22.4 million in new aircraft and simulators for the Prescott Campus, and over the next three years, the university will invest another $34.4 million, said the university's Chief Financial Officer and Senior Vice President Dr. Randy Howard. The F7 renovation and future projects at the airport will ensure Embry-Riddle has the right facilities for state-of-the-art simulators and aircraft, he added.
"Embry-Riddle is making a major investment in flight training facilities at the Prescott Campus to ensure they are reflective of our status as a world-class aviation institution," Howard said. "I want students, flight instructors and flight personnel to know that Embry-Riddle is pressing forward with these historic improvements."
The two-story Robertson Flight Simulation Center (also known internally as F7) will encompass 16,000 square feet of space for simulators and student-focused space, as well as room to add a full-motion simulator bay. Modern digital infrastructure will support high-fidelity simulators. An observatory deck will allow students to see flight patterns more easily.
Once completed, the center "will allow us to develop and grow our program in a virtual and augmented reality (VR/AR) structure, which will allow for improved student learning and success," said Dr. Tim Holt, dean of the College of Aviation at Embry-Riddle's Prescott Campus. "We will be increasing operational efficiency, too, while ensuring that students have the resources available to help them succeed."
Parker Northrup, chair of the Prescott Flight Department, said that Embry-Riddle is currently working to buy a new fleet of simulators. Meanwhile, plans are also underway for a Strategic Academic Flight Education Complex (SAFE) on the north side of Prescott Airport that would double aircraft capacity. The first phase of the SAFE project is expected to go live by January 2025, Northrup said.
"Over the next 18 months to two years, Embry-Riddle will be making major transformational investments that ensure our flight operation is best in class," Northrup said. "We're the largest and best collegiate flight training program in the mountain west, and these improvements will have a very positive impact on the student experience."
This week, Embry-Riddle closed a deal with contractors to move forward with the Robertson Flight Simulation Center as swiftly as possible, according to Facilities Vice President Kevin Kreide. "I feel comfortable saying that by the summer of 2024 — before the start of the fall of 2024 classes — the new center will be completed and online," he reported.
Additional Improvements
An additional $6.2 million is being invested to build an Eagle Learning Complex. A new student union and new residence hall (T3) are also on the horizon for the Prescott Campus.
The Eagle Learning Complex, encompassing 11,000 square feet, will feature a new four-by-four, low-speed wind tunnel as well as a "far more spacious and vastly enhanced" Propulsion Lab, said Dr. Ron Madler, dean of the College of Engineering at Prescott. Most importantly, he said, by building the Eagle Learning Complex adjacent to the Rocket Test Facility and UAS Field, "We will have plenty of space for potential expansion as our student population grows."
The Eagle Learning Complex currently has a target online date of spring 2024, Kreide said.
Plans for the new Student Union and additional residence hall are on track, said Construction and Planning Management Director Chris Hardesty. "This month, we expect to receive construction documents from the architect," he reported. Once the plan is approved, Embry-Riddle will invite bids from contractors.
Hardesty noted that, as with all construction projects, there is a "domino effect" as each step is related to the next one. For example, the student union project can't begin until a new wind tunnel is put in place. The UAS program also must be temporarily relocated to the bookstore amid construction of the Eagle Learning Complex. At the Flight Line, people and operations in some buildings will be in temporary locations as construction continues.
Over the past eight years, Howard said, Embry-Riddle has built two residence halls, a student building, a sports field, a synthetic turf field and a baseball field at Prescott. "The current projects reflect Embry-Riddle's continuing commitment to the future of the Prescott Campus," he emphasized.
Posted In: Aviation | Institutional News