Embry-Riddle's First All-Female Team to Take on Global Maintenance Competition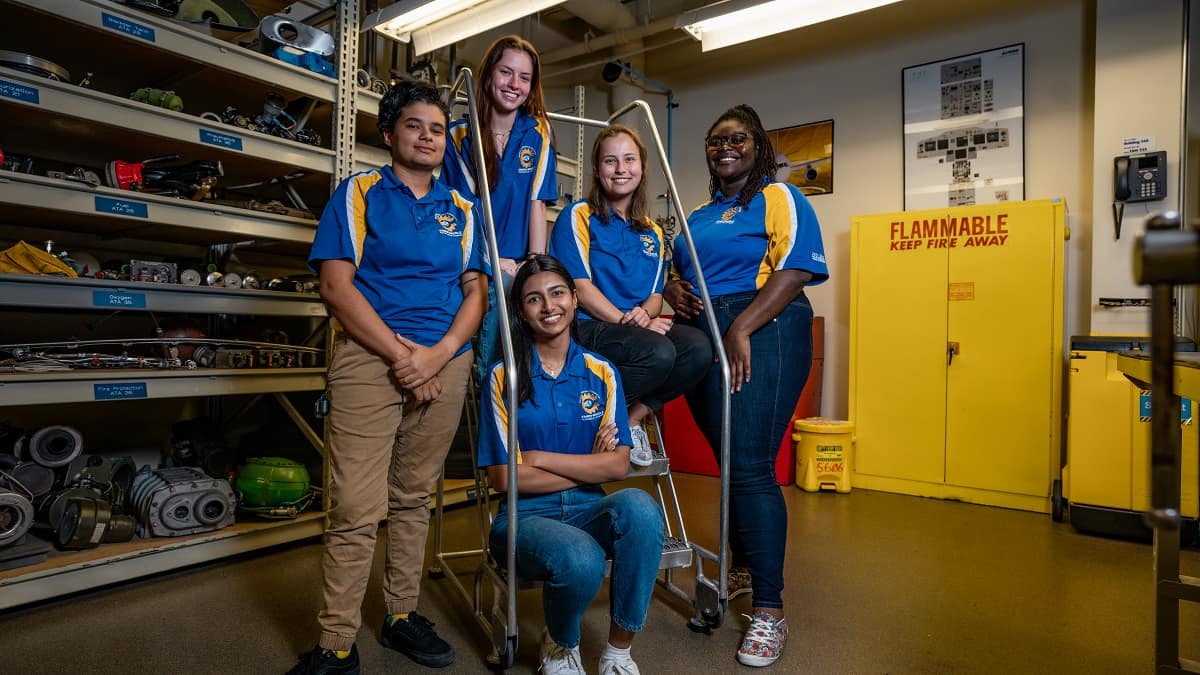 Students from Embry-Riddle Aeronautical University will head to Dallas next week to defend its title at the worldwide Aerospace Maintenance Competition — except this time, for the first time ever, the Eagle team will be comprised exclusively of women.
"Only 2.6% of maintenance technicians in the nation are women — that's the smallest percentage of women in the entire aviation workforce," said Aviation Maintenance Science assistant professor Cristin Klaus, who serves as the team's faculty advisor. "Having an all-female team represent Embry-Riddle is an enormous accomplishment for the university and paves the way for changing the face of aviation maintenance through diversity."
Ninety teams will compete in 27 separate events at the annual competition, hosted by Snap-On and set to take place April 25-28. The competition was on hiatus in 2020 and 2021 due to the Covid-19 pandemic. The Embry-Riddle team took home gold the last time it participated, in 2019.
"This competition is like the Olympics for aviation maintenance," Klaus added. "It provides a great opportunity for the competitors to network and show off the knowledge and skills they have developed while attending Embry-Riddle."
The Eagle team members, each from the Department of Aviation Maintenance Science at Embry-Riddle's Daytona Beach Campus, are Hannah Daren, Shelby Quillinan, Iram Rai, Vanessa Vowotor and Tea Galon, who also serves as president of the Society of Aerospace Technicians, a campus group that helps students make connections within the aerospace industry. Society members also tour the facilities of major companies, such as Airbus, Bombardier and Delta Air Lines, as well as help create classroom teaching aids.
"A lot of students do not know what they want to do once they graduate, and so I wanted to change the club to become geared toward helping students find their passions," Galon said.
Passion, she added, is at the heart of this team's involvement in the upcoming competition.
"In the last few years, there has been an increase in girls in the classroom andas professors that have joined the Aviation Maintenance Science program," she said. "It means a lot. It's gratifying to be part of a team that can influence young girls and show them that they can do maintenance, too. Whether it is aviation maintenance or car maintenance, they should know that there are no limits to whatever you put your mind to."
Galon's dream is to eventually work for the National Transportation Safety Board, in its aircraft accident investigations division, after graduation. A Lake Mary, Florida, native, she hopes that her participation in the Aerospace Maintenance Competition will help her begin to pave a path toward that goal.
"I think participating in this competition and competitions like it can show employers that I have a drive like no other," she said. "I spend a lot of my time on campus doing things that involve the SAT Club, the AMS Department and the Aerospace Maintenance Competition, and being able to juggle all of that shows that you can not only multitask but prioritize and remain motivated when you have so much on your plate."
For those interested in aviation maintenance, there has arguably never been a better time to break into the industry, according to Klaus.
"I love aviation, so for me, it's always a good time for students to go into the field — but there is currently a technician shortage," she said. "With many experienced technicians retiring, there are fewer skilled aviation maintenance techs available to fill the gap."
That lack of supply equates to a booming demand for new workers. The Boeing Pilot and Technician Outlook projects a need for 610,000 new maintenance technicians by 2040 — that's greater than the projected need for pilots in the same timeframe. The rise of commercial space has also contributed to that figure, as those trained in aviation maintenance can often bridge the gap to work on rockets and spacecraft.
The all-female Embry-Riddle team was made possible by a sponsorship from Pratt & Whitney.
"These women, along with all the students in the Society of Aerospace Technicians club, train extensively year round for this, and we're happy that our donation can provide them the opportunity to showcase that hard work on such a big stage," said Mary Anne Cannon, vice president of Pratt & Whitney's West Palm Beach site and development operations. "The Aerospace Maintenance Competition at MRO Americas is such a great opportunity for these students, who are the next generation of aviation maintenance technicians, to connect with the skilled professionals already in the field to continue to inspire and learn from them."
Posted In: Aviation