Eagles Partner with Alumna-Owned Drone Firm to Fight Wildfires, Protect First Responders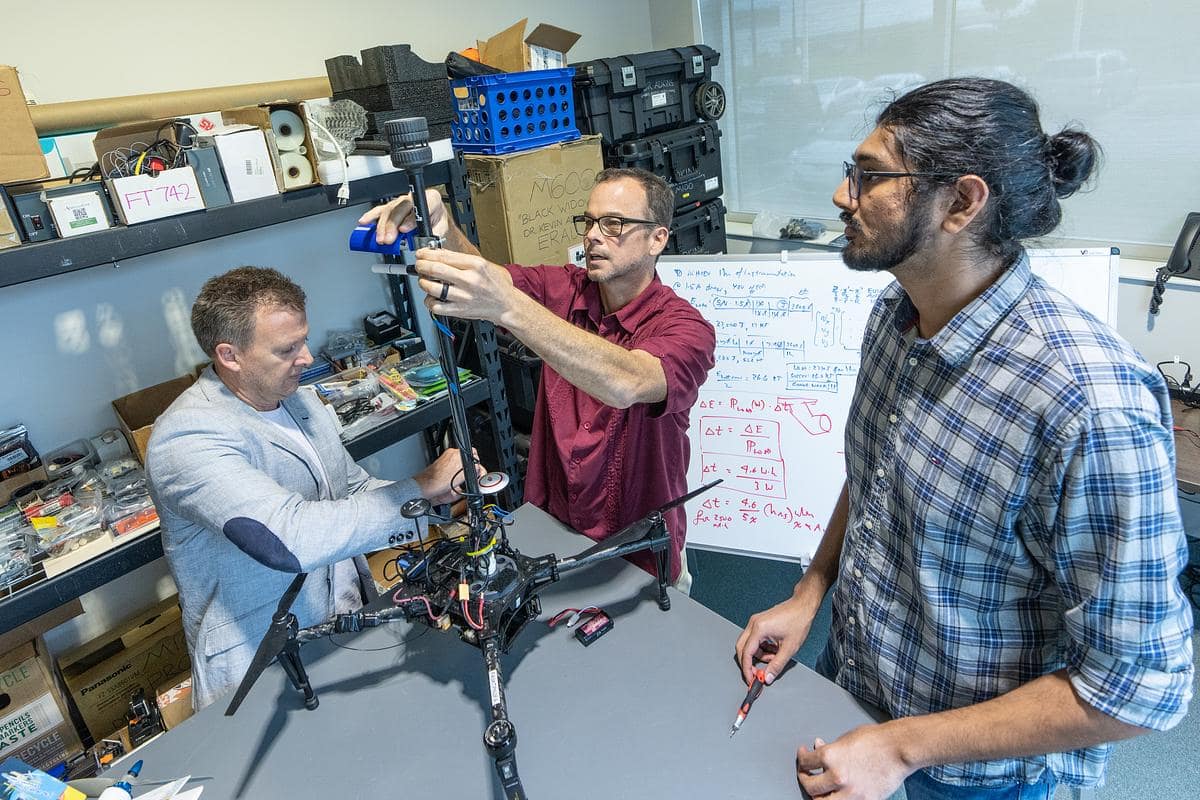 As a student, Embry-Riddle Aeronautical University alumna Rocio Frej Vitalle ('12) worked in the Eagle Flight Research Center, which helped land her first job modeling and simulating uncrewed flights for FAA NextGen projects.
Now, as a business owner, she is leveraging her industry experience to develop the first portable air traffic management system to combat wildfires and protect emergency responders, an initiative that recently won Small Business Innovation Research funding from NASA and NOAA (the National Oceanic and Atmospheric Administration), as well as a grant from the Roddenberry Foundation.
"I think that we are looking at an industry with a very promising future," Vitalle said. "To me, the best part is the wide range of possibilities. UAS can be applied to any industry, so it offers the opportunity to marry aviation with something else that you may be passionate about."
Passionate about natural disaster response herself, Vitalle is using her company, Improving Aviation, to solve common problems in the field — and she's tapping into Embry-Riddle talent to do so.
"We had previously been using drones to estimate wind speed high above the ground, mainly for weather and atmospheric science research," said Dr. Marc Compere, associate professor of Mechanical Engineering, referencing work conducted by researchers in the College of Aviation and College of Engineering. "After the NASA solicitation, we partnered with Improving Aviation on research focused on using drones to help fight wildfires."
Compere, along with partner Dr. Kevin Adkins, associate professor of Aeronautical Science, and Ph.D. student Avinash Muthu Krishnan, is working with Vitalle to develop situational awareness tools that track the position of air and ground vehicles, enabling message exchange between them to reduce risks, save time and, potentially, save lives.
"Our goals start with creating a real-time operating picture of the airspace — crewed and uncrewed systems — as well as ground vehicles and people in an active firefighting scenario," Compere said. "We need to show a complete picture to help the fire boss manage airspace safely. Right now, the process is ad-hoc and relies on a lot of person-to-person communications. Our goal is to improve situational awareness for the fire boss and every decision-maker involved."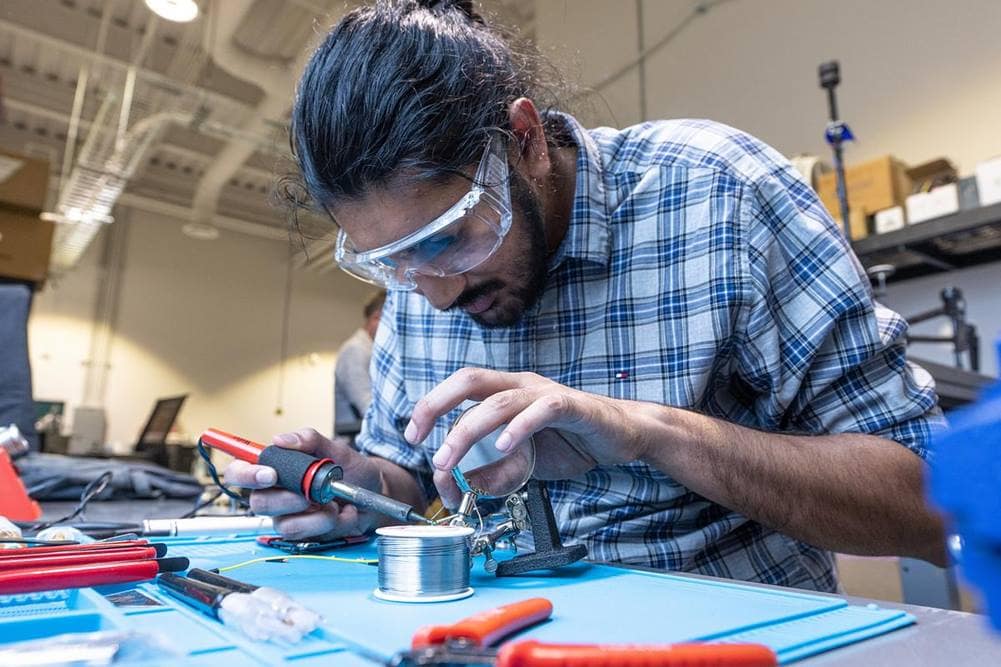 Embry-Riddle Ph.D. student Avinash Muthu Krishnan. (Photo: Embry-Riddle/Daryl LaBello)
The team's second objective is to gather flight data from drones operating in and near active/controlled fires in order to "estimate the wind."
"Fires influence the atmosphere substantially and can create their own weather," Compere said. "Understanding the weather, mainly the wind, is critical for understanding where a fire is going. This will help inform evacuation procedures and subsequently help save lives and cost from property damage."
Phase one of the NASA Small Business Innovation Research program takes place over a six-month period, during which the team plans to prove its concept. So far, they have developed open-source software called the Mobility Virtual Environment, or MoVE, a testing framework that incorporates the movements of real and virtual vehicles and pedestrians in a common coordinate system.
Krishnan, a first-year Mechanical Engineering doctoral student, has had an especially unique impact on the project, first working as a summer intern for Improving Aviation and then as a part-timer over the past year, equipping drones with sensors and programming live data transmission.
"It's been a fantastic learning experience and very inspirational to me in achieving my personal goals," he said.
Krishnan has been contributing to research to push drone technology forward throughout his academic career, though — through participation in projects to assess weather conditions for drone-delivery, map drone routes for air taxis and use weather balloons to improve weather and air quality data.
To encourage more Eagle involvement in the project, a new student organization called Move UAS, co-advised by assistant professor of Civil Engineering Dr. Marwa El-Sayed, is seeking student pilots and engineers. (To join, email student representative Leah Smith.)
"Pilots and engineers do not often interact and have quite different roles and cultures," Compere noted. "Just having them around each other helps them learn the different communities and ways each group operates."
The club's cross-field collaboration mimics how the drone industry functions in the real world, according to Vitalle.
"Within one application, companies in the UAS industry need a huge variety of skills," she said. "On our team, for example, we have telecommunications experts, aerodynamicists, atmospheric scientists, artificial intelligence and data science engineers, hands-on UAS builders and air traffic management experts."
Posted In: Aviation | Engineering | Uncrewed Systems