Eagles Build Instruments for Mars-Bound Satellites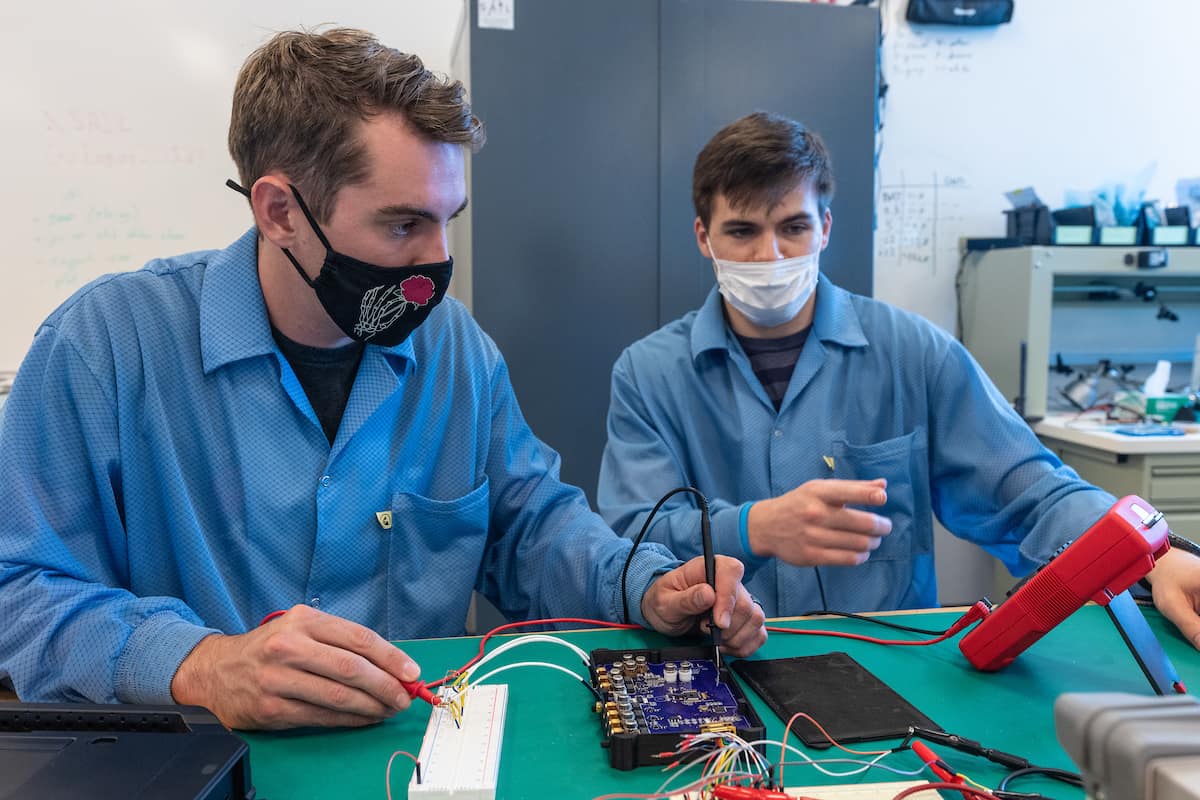 In addition to the EagleCam project, which challenged students to build a camera system to document mankind's return to the moon in 2022, Embry-Riddle Aeronautical University students are taking part in yet another outer space mission — this time, building hardware that will be launched to Mars, as part of a $55 million NASA mission.
Dubbed the Escape and Plasma Acceleration and Dynamics Explorers (ESCAPADE) mission, the project aims to prove that spacecraft meant to explore other planets can be built, tested and launched for less than $80 million, and still accurately record complex scientific data. Similar NASA science missions in the past have exceeded $500 million in cost.
"The critical thing is that students are working hands-on to build hardware that will actually be launched into space," said Dr. Aroh Barjatya, professor of Engineering Physics. "Soon, Embry-Riddle students will have equipment they helped build destined for the moon, and for satellites orbiting Earth and around Mars. That's incredible."
The ESCAPADE spacecraft, integrated with Eagle-built hardware, will likely reach the red planet and be exploring its atmosphere and interaction with solar wind by 2026.
For its portion of the research, Embry-Riddle has been granted a nearly $1 million subcontract. The mission is led by the University of California, Berkeley, with the University of California, Los Angeles also participating. The spacecraft is being built by RocketLabs.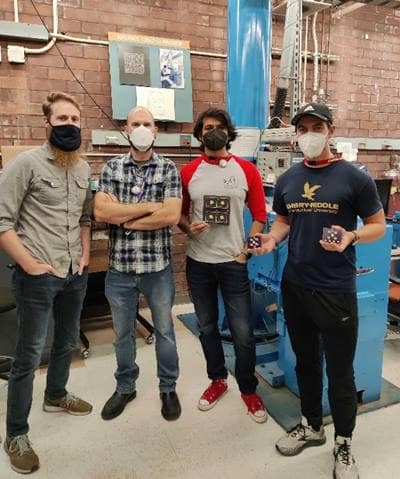 Dr. Patrick Edwards and Aaron Wright of Aerospace Corporation,
Engineering Physics professor Dr. Barjatya and Ph.D. candidate
Henry Valentine conducted radiation testing of parts in October at
Aerospace Corporation's Cobalt 60 radiation facility in El Segundo,
California. (Photo: Aroh Barjatya)
"The project is also teaching students a lot about the radiation preparedness required for electronics to go into deep space, and Aerospace Corporation are graciously helping us test out some commercial parts" Barjatya added.
To test that component of the work, Barjatya and Engineering Physics Ph.D. candidate Henry Valentine traveled to Aerospace Corporation, a leading federally funded research and development center for space, in California to conduct radiation testing on critical components of their instrument.
"What surprised me is how well the 'cheap' commercial components performed," Valentine said. "Space missions have the well-earned stigma of being costly, but it's cool to see that a $50 component may perform consistently in harsh conditions where a $5,000 component that does the same thing would otherwise be required. I feel like it bodes well for the future and accessibility of space missions."
Valentine, who has been working primarily in analog design for the project in Embry-Riddle's Space and Atmospheric Instrumentation Lab (SAIL), cited the wide scope of the work as the most rewarding part of his participation so far.
"We've had the opportunity to design our instrument from scratch," he said. "That comes with a lot of personal challenges and discoveries, but it's super cool to see a project through nearly all stages of development: from initial conceptual design, to prototyping and testing, to finalizing the design and procuring flight-hardware."
But the work is never easy.
"The biggest challenge is always identifying, locating and fixing small design or fabrication mistakes," he added. "It plagues every engineer, and the only way to combat it is to scrutinize every aspect of your design, maintain a high attention to detail and always get someone else to check your work."
Other students involved in ESCAPADE, and their areas of focus, include Ph.D. candidates Nathan Graves, digital design and software, and Rachel Conway, radiation modelling and data analysis; master's in Engineering Physics student Anthony Oreo, who built a subset of the instrument; and Engineering Physics undergrad Peter Ribbens, who works in mechanical sensor construction. Additionally, Dr. Robert Clayton, also of the College of Arts and Sciences, serves as the research associate.
"Aerospace Corp. is developing a Technology Characterization Assessment and Test (TCAT) Service Line, a component of which is dedicated to characterizing commercial electronic parts for high-reliability applications, and collaborating with industry and academia to help customers design, manufacture, and deploy resilient, less-costly systems more rapidly," said Adam Bushmaker, director of the Microelectronics Technology Department at The Aerospace Corporation. "This work was also supported by Dr. Allyson Yarbrough, technical fellow in the Electronics and Sensor Division under the 'Got Reliability? Commercial Electronics in Space Applications' project. We have other ongoing CubeSat projects with Embry-Riddle-built instruments, and we were glad to help with this student-designed instrument project." The portion of the work done at The Aerospace Corporation was funded by the Aerospace Technical Investment Program.
Next, ESCAPADE will move into the critical design review stage in November. The actual flight hardware will then be built based on the group's prototypes currently in development, then shipped to the University of California, Berkeley in January 2023 to be integrated onto the spacecraft.
"2022 will really be the crescendo of my lab's most recent chapter, with instruments being launched on multiple CubeSats (miniature satellites) and sounding rockets," Barjatya added. "Every one of them will have been built by hardworking and enterprising Eagles navigating school and research in this Covid era."
Students from Barjatya's lab will next travel to NASA Wallops Flight Facility this winter to integrate instruments for multiple NASA sounding rockets scheduled to launch in summer 2022 from Norway and Virginia, then spring 2023 from Norway again, and summer 2023 from Marshall Islands. SAIL-built instruments are also set to launch on the LLITED CubeSats in early 2022.
Posted In: Space