Eagle Wins NASA Space Life Sciences Training Scholarship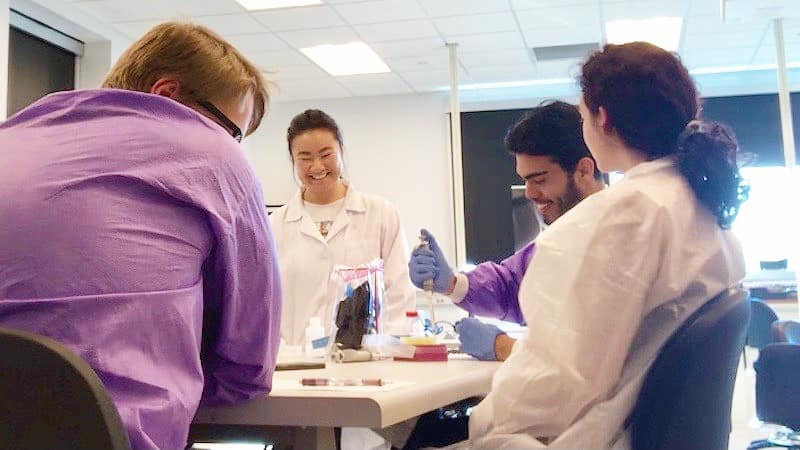 Update, March 31: Since publishing this story, Aerospace Physiology junior Oliva Siu has also won a prestigious Goldwater Scholarship. Of an estimated 5,000 total applicants, she was one of 410 students chosen from throughout the United States for this honor.
Having the feeling of traveling through space on the Star Wars Galaxy's Edge ride at Disneyland lit up Olivia Siu's interest in virtual reality — and may have been a VR preview of her later decision to study Aerospace Physiology at Embry-Riddle Aeronautical University.
"My mom was a nurse in the Air Force, so I knew that there were health professionals affiliated with aviation," Siu said, adding that she transferred to Embry-Riddle from California State Polytechnic University, Pomona after discovering the Aerospace Physiology program offered on the Daytona Beach Campus. "That was the turning point for me."
This summer, Siu, now a junior, will further her education with a NASA Space Life Sciences Training Program scholarship, which will allow her to participate in a ten-week program designed to train the next generation of scientists for research in the space life sciences.
The scholarship program — which is headquartered at NASA's Ames Research Center in Mountain View, California, but will most likely be held virtually this summer for a second year — gives students an opportunity to work with NASA scientists and engineers on cutting-edge space biosciences research, often begun in flight or in microgravity environments. Students will also hear lectures from industry experts and be introduced to NASA research facilities. Students will have the opportunity to present their own research work to a professional scientific or engineering organization as part of the program. They will receive a stipend and may attend a conference.
At this point, it is unclear whether Siu will be able to participate in her top-choice project being conducted at Ames, observing mice that have been exposed to space-like stressors (such as gamma radiation and social isolation), for study on the effects of space travel on animals. Doing so would require being at Ames, which is unlikely due to the pandemic, Siu said. She may return to her hometown of Sacramento, California, this summer, however, to be close to Ames in case the scholarship program includes some in-person events.
Otherwise, she will stay in Florida, and perhaps participate in some on-campus research projects in addition to her scholarship program. Either way, she'll have a NASA mentor who is easy to reach, with one in Ontario, Canada, and one at Ames.
Read about Aerospace Physiology Student Earns Place in Two Prestigious Summer Health Programs who participated last year in the Stanford Cardiovascular Institute Summer Undergraduate Research Program, helping develop a functional bioreactor that can keep a heart tricuspid valve alive and functioning. With such a mechanism, researchers can observe it and develop solutions to heart defects where only one ventricle works.
Posted In: Applied Science | Space