Eagle Spotlight: Meet Your 2021 Brooke Owens Fellows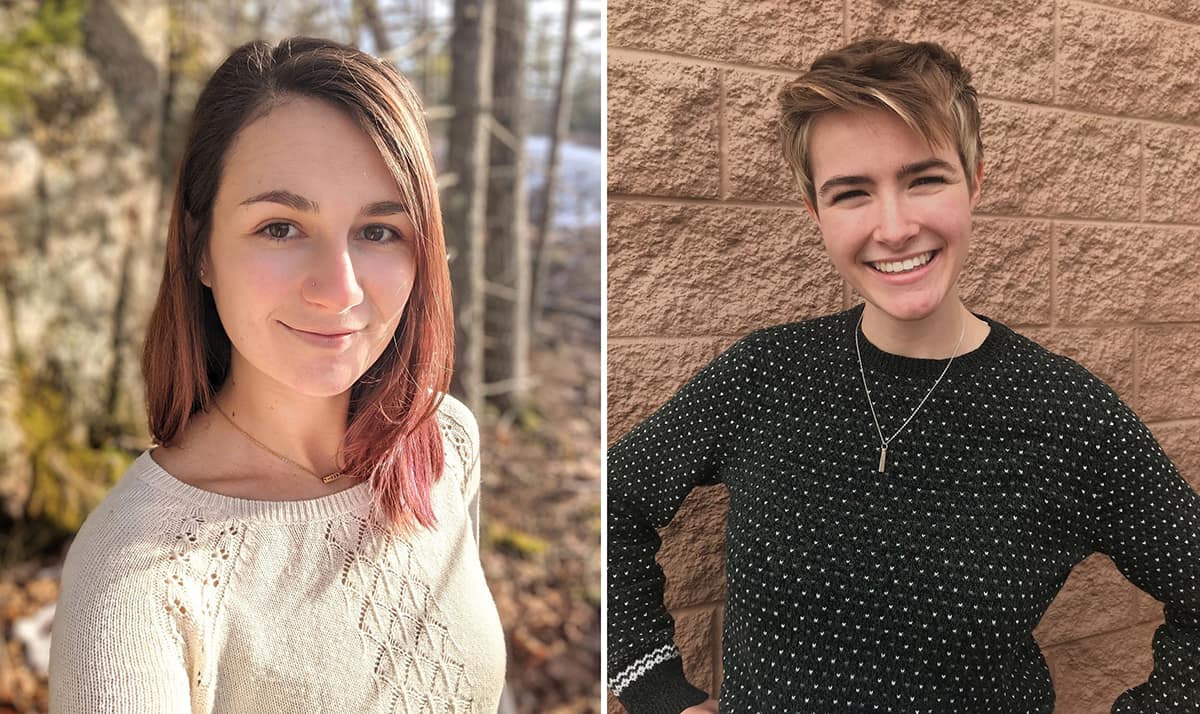 Two Embry-Riddle students, Zoe Brand and Katrina "Kat" Ternus, have been awarded prestigious Brooke Owens Fellowships, joining 42 other talented undergraduates who were selected from among more than 800 applicants.
"Embry-Riddle students have consistently performed well in selections for prestigious nationally recognized awards," said Elliott Bryner, assistant professor in Embry-Riddle's Mechanical Engineering Department and director of the Propulsion Laboratory and Rocket Test Complex. "The fact that two of the 44 winners of this fellowship are from Embry-Riddle clearly shows that the education our students receive is of the highest quality, comparable to that available at any university in the country."
As winners of the fellowship, Brand and Ternus will each be connected to an executive-level mentor, will attend the annual Brooke Owens Summit and will become part of the network of more than 150 "Brookie" alumni in areas of space and aviation including engineering, scientific research, policy, journalism and entrepreneurship. The winners have been awarded paid professional internships for this summer — Brand at SpaceX in Hawthorne, California, and Ternus at Ball Aerospace in Boulder, Colorado.
"The selected fellows have demonstrated their desire to pursue a career in aerospace, a record of leadership, a commitment to their communities and their inexhaustible creativity," said this year's victory announcement from the fellowship organization, which described a record number of applicants from Ivy League and major universities, historically black colleges and universities, liberal arts and community colleges and major international universities.
Both women attribute their success at least partly to the communities they have been able to connect with at Embry-Riddle through hands-on projects.
"I've been part of teams that spend their free time launching rockets, building tools for NASA and designing satellites," said Ternus, a junior in Aerospace Engineering on the Daytona Beach Campus. "When Embry-Riddle supports these initiatives, it enables us to share our knowledge and motivation with each other, and it only amplifies the resultant achievements."
"Embry-Riddle has given me the opportunity to work closely with professors and become very hands-on with projects," said Brand, a sophomore in Mechanical Engineering on Embry-Riddle's Prescott Campus, who serves as vice president of the Embry-Riddle Rocket Development Lab. "The highlight of working in the Rocket Development Lab is being with so many like-minded people who are so eager to learn concepts past their schoolwork to get projects done correctly."
The Brooke Owens Fellowship was founded in 2016 to honor D. Brooke Owens, a space policy expert and accomplished pilot, an alumna ('02) of Embry-Riddle, who died of cancer at the age of 35. The mission of the program is to promote gender diversity in the aerospace industry by providing opportunities and access to women and other gender minorities.
Ternus, who calls Maine home but grew up in many places in North America and Europe as the daughter of Foreign Service representatives, worked as a marine biologist for the national Oceanic and Atmospheric Administration before enrolling at Embry-Riddle.
"My work depended heavily on instrumentation, and I often found myself saying how I wished I were an engineer so I would have the expertise to improve our systems," she said.
Brand, of Peoria, Illinois, has been interested in space and in becoming an astronaut since she was a child. She was pulled into Engineering after watching her sister participate in a robotics competition. Brand will be joining the propulsion components team at SpaceX.
Bryner, who is a mentor to Brand, said the Brookie award represents a huge boost for her — and for Embry-Riddle.
"The experience that she gains as part of this fellowship will be really valuable for her as she pursues her goals of working as a rocket development engineer," Bryner said. "She will also add to the knowledge base of the rocket program here on the Prescott campus. She already serves as a great mentor to the younger students in the rocket program and what she learns as part of the Brooke Owens Fellowship will make her an even better leader and contributor."
Ternus' advice to other young women who might follow in her footsteps returned to the theme of participation in hands-on projects. "Get involved in projects, even if you feel out of place or that you don't know enough. Put yourself out there, and find those people who will help you up when you fall. Aerospace has a place for you."
Posted In: Engineering | Institutional News