Eagle Ingenuity to Bring Clean Water to the Dominican Republic This Summer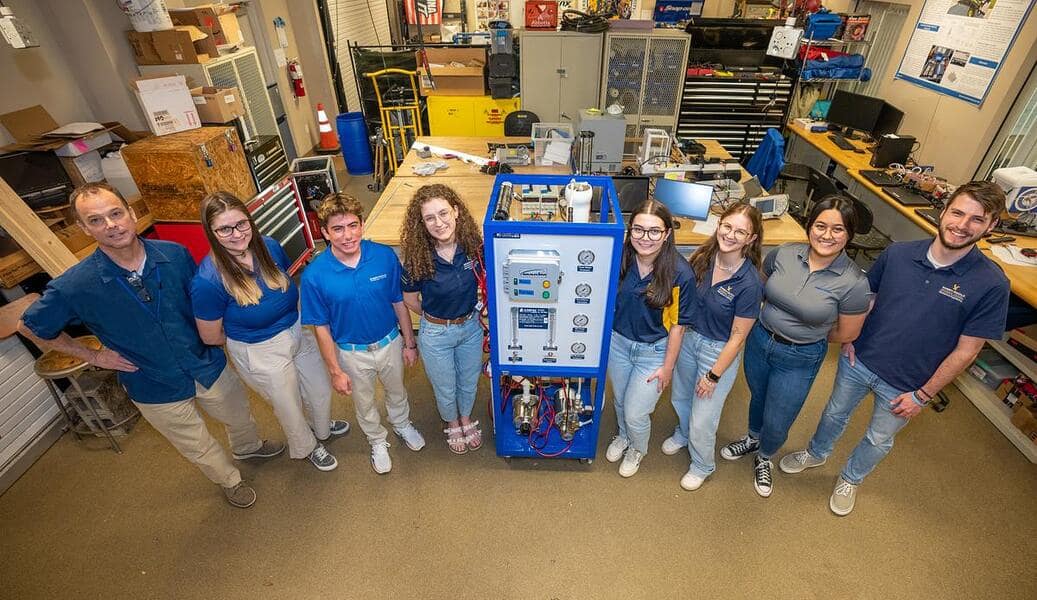 Engineering students Marcella Smith and Cassidy Searles were preparing to travel to Haiti in 2020 to help install a solar-powered water purification system in a community in need of clean water. As freshmen at Embry-Riddle Aeronautical University, it was their first big trip — but before they could leave, the Covid-19 pandemic hit, putting the brakes on all international travel.
Three years later, Smith and Searles, who are now both graduating seniors, will be part of a team of about a dozen students traveling May 9-16 to Sabana Rey, a community in the Dominican Republic, to finally finish their mission.
"We've been building up the anticipation for this moment for years now," said Smith, the team's president as well as a Mechanical Engineering student. "It's an exciting moment to see it fulfilled."
Dr. Marc Compere, associate professor of Mechanical Engineering, founded Project Haiti in 2010 with the goal of sending students like Smith and Searles abroad to install water filtration systems at orphanages and schools, and in cholera-stricken communities, providing thousands of Haitians with clean water. The students design and install the equipment, leaving a legacy of positive impact for generations of Eagles.
Every one of my internships and jobs, I don't think I would have gotten [them] if I didn't have this experience. You better yourself by helping people.
However, travel to Haiti, which is currently experiencing a period of political unrest and gang violence, has become increasingly dangerous, forcing the student organization to look for partners in new locations in which to continue their work. During the past few years, for instance, the team designed, built and shipped a purifier to its previously established partner, Grace Malnutrition Center, in Passe, Haiti, as well as partnered with Derbyshire Community Center in Daytona Beach, Florida, to install a solar system to reduce the facility's electric bill.
Project Haiti officially changed its name recently to the Pure Water Project to be more encompassing of its mission, said Smith. Additionally, the team has partnered with the Institute for Latin American Concern (ILAC), which is connected with Creighton University, for upcoming projects.
"Since we can't go to Haiti, we looked for the right strategic partner, and ILAC in the Dominican Republic met all our partner selection criteria," said Compere. "They have safe places to stay, they know people that need clean water, they have ongoing projects that we can fit into, and our purifier can be sustained to start a small business, which will improve community health and provide jobs."
As part of the selection process, Pure Water Project leadership visited the Dominican Republic last summer to survey four different sites with ILAC.
"They have an intermittent water supply," said Compere. "They need clean water. Right now, they drink bottled water, which is costly."
Pure Water Project references a set of six criteria when selecting a partner, said Compere, to ensure success.
"Each one of those six criterion is a criterion because we have made mistakes and have gained experience," he said.
In terms of lessons learned — first, the community needs to have a water source since the project does not include drilling a well. Good, reliable communication is also needed with the local partner so that Pure Water Project can coordinate the design of the system and other details. Further, the site must be secure so the equipment is not damaged or stolen, and the system needs ongoing support locally to ensure continued operation.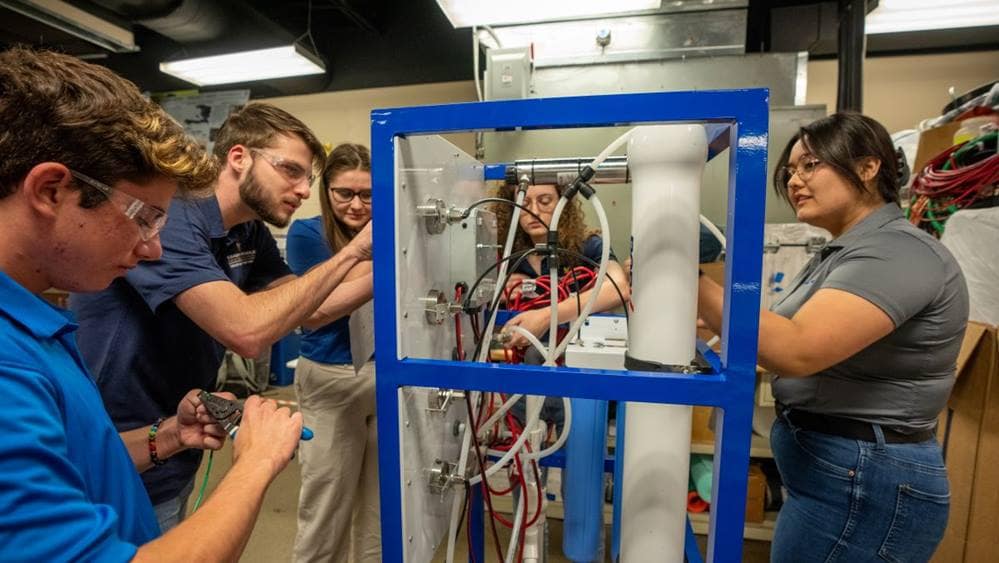 Embry-Riddle students designed and built a solar-powered water purification system that they will install during a trip to the Dominican Republic in May. (Photo: Embry-Riddle/David Massey)
Projects are associated with a local school or church to train and invest in the community's youth. Plus, the partner needs to have the desire to start a small business to sell the water and provide local jobs, creating a revenue source for the purifier's repair and maintenance.
Education is another key component of the multidisciplinary project. Local people are trained on how to operate the system, and children in the community are taught about why clean water is important.
"If you install technology without community buy-in, the technology will break, and no one will care about it," said Compere. "But if you provide technology and education, that will solidify the community impact."
Pure Water Project offers students a unique opportunity to gain hands-on engineering experience while helping people, Compere said. One of the requirements is to design the system so it can be taken on the plane as checked luggage to ensure it gets through customs and is delivered to the team successfully.
The purification system has a series of filters that lead up to the reverse osmosis membrane, said Smith. It includes a mesh filter, a carbon filter for taste and an ultraviolet disinfection system. The approximate daily production of clean water while powered by solar power is 1,000 gallons.
"This is an electrical, mechanical and hydraulic design project," Compere said. "And at the installation, students are going to learn how to operate and meet engineering design goals in a very fluid, dynamic and uncertain environment — and still succeed at the end."
These are also the skills employers look for, he said.
Honors Program Director Dr. Geoffrey Kain, a professor who has gone on three previous Project Haiti trips, is excited to return to the field. He recalled the 2017 trip, which was at a site in a rural, cholera-stricken community in Haiti. The Project Haiti team was amazed to see long lines of people waiting for water as soon as the water purification system was operational.
"That experience hooked me because it was very powerful," he said. "And seeing students' ability to overcome obstacles on the installation trips is just incredible. These students are creative, bright, focused and resourceful."
Searles, who is vice president of Pure Water Project and an Aerospace Engineering major, agreed. She has interned at the Naval Air Systems Command and Raytheon Technologies Corporation, and she has a job lined up after graduation as an engineer in Northrop Grumman's aeronautics sector.
"Every one of my internships and jobs, I don't think I would have gotten [them] if I didn't have this experience," she said. "You better yourself by helping people."
The Pure Water Project has launched a crowdfunding campaign and welcomes donations to cover costs, such as the purifier. Make a donation today.
Posted In: Applied Science | Engineering