Students and Professors Spend Eighth Year Bringing Clean Water to Haiti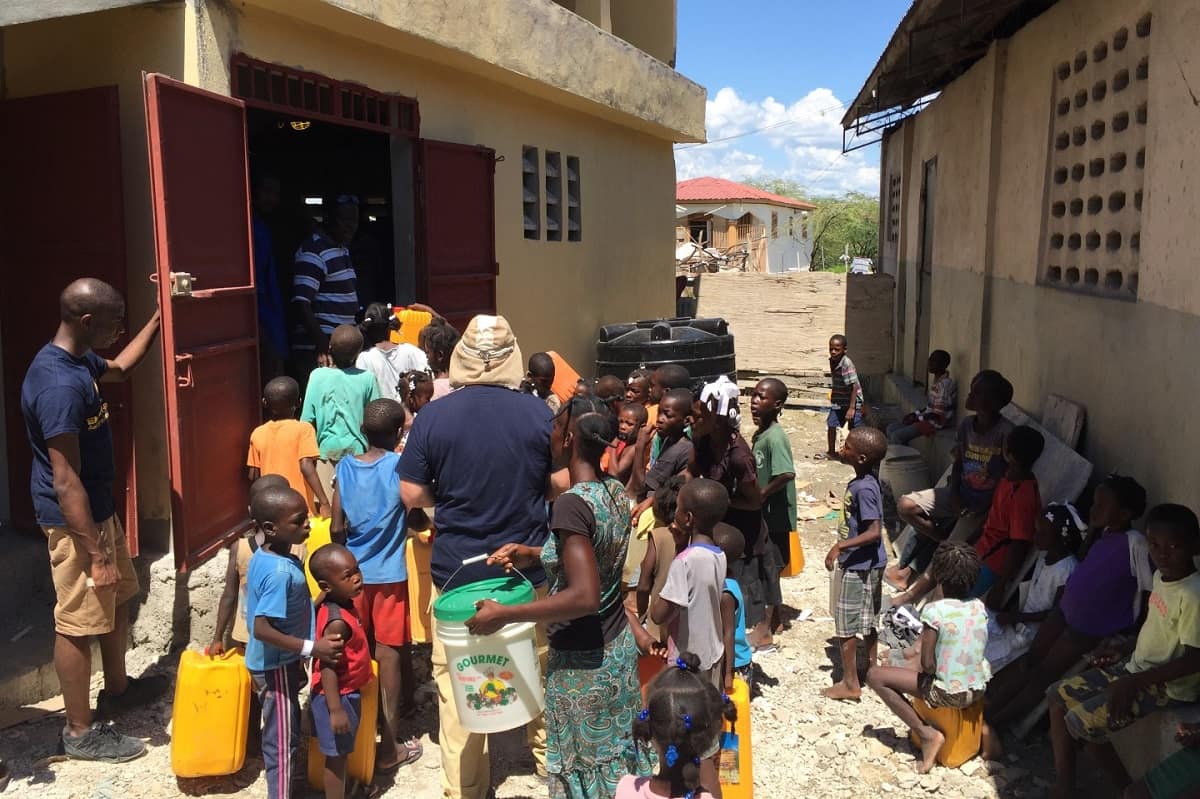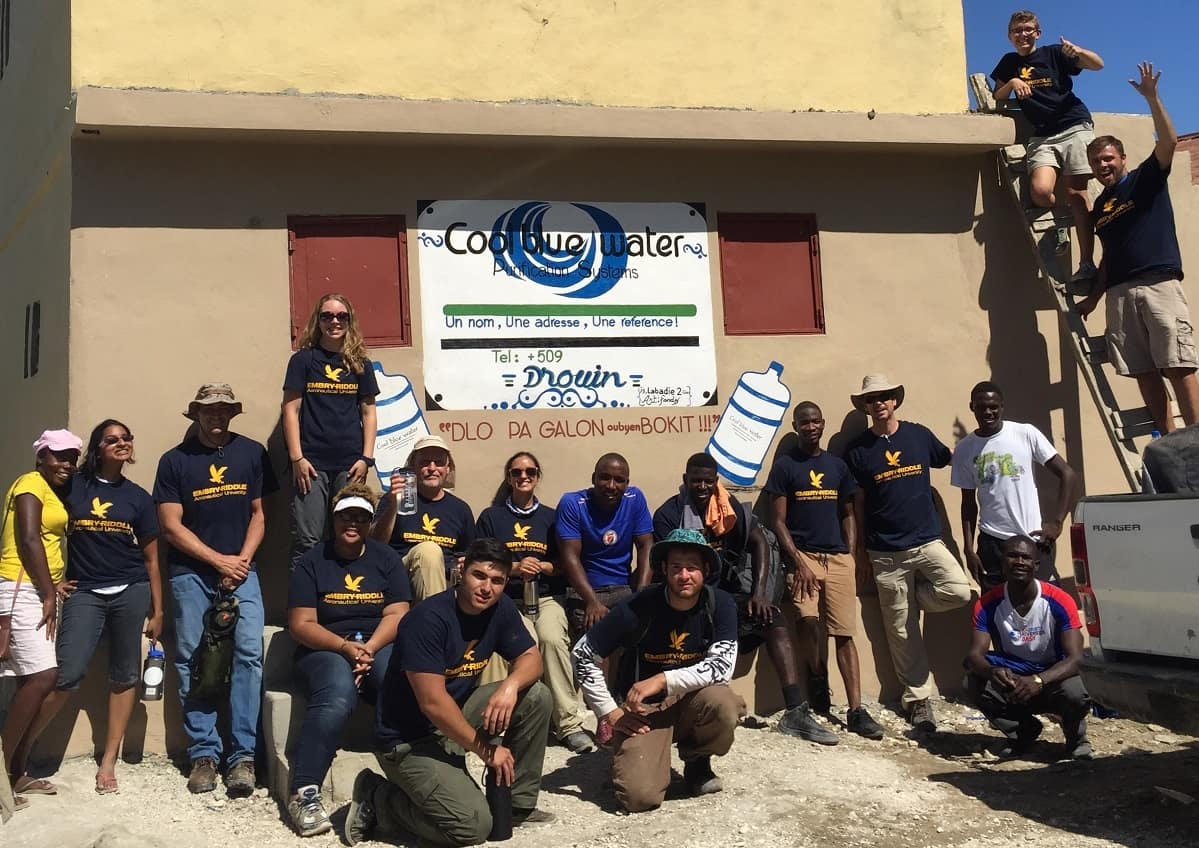 The 2017 summer project helped a village with no electricity, plumbing or sanitation, and battling cholera by building a solar-powered water purification system.
After a team from Embry-Riddle Aeronautical University's Daytona Beach Campus handed over the operator's manual this past summer for a new purifier system to bring thousands in Haiti clean water, they were shocked at what happened next.
The local pastor in the small cholera-stricken community of Drouin told the children to go home and bring back their empty jugs. No one could anticipate how quickly the children would rush home and return with their containers. Before the Embry-Riddle students could finish cleaning up, they heard droves of children and adults from the village outside.
The message on the importance of clean water to stay healthy, which Embry-Riddle brought to the small village along with building a solar-powered purifier system, was heard loud and clear.
"It was so emotional. I was crying. Most of us were crying," said Joe Noto, 24, an Aerospace Engineering master's student from Chicago, who was the president of Project Haiti 2017. "They knew what they wanted, but they couldn't get to it. We were able to provide that. It's so powerful. It's life changing."
Noto, 10 fellow students and Dr. Marc Compere, associate professor of Mechanical Engineering, and Dr. Geoffrey Kain, professor and director of Embry-Riddle's Honors Program, were part of the project to build a solar water purifier system in Drouin. The community's main source of water, originating from the Artibonite River, had been contaminated with raw sewage containing the bacterium Vibrio cholerae.
Kain said that Drouin has no electricity, plumbing, sanitation or apparent government services of any kind.
"The people are just there making due in the most rudimentary, unimaginable conditions," Kain recently told a group of students and faculty about the experience. "You could see in some of the kids and some of the adults that there were serious issues there, but they have no choice. It's either that water or nothing."
This was the eighth year where Embry-Riddle students built purifier systems throughout Haiti. The first project was in 2010 in Chambrun, Haiti, following an earthquake and outbreak of cholera, an intestinal infection.
For 2017, Embry-Riddle partnered with World Renewal International in Haiti who also has a long-term U.S. partner, Brandywine Community Church in Indiana, which helps to maintain the water purifier.
The installation trip in May was followed by another trip in August for some follow-up work on the system.
In addition to two 500-gallon tanks, the 2017 project included constructing an off-grid purification system and a hurricane-proof solar power system for the well and purifier to operate entirely from the sun. The purification system, which is able to remove bacteria, viruses and salts, used Helix disc filters from a local sponsor, Miller-Leaman Inc. in Daytona Beach.
The Embry-Riddle students also conducted quality testing on the water, which was pumped from a well. Prior to the installation, the murky and cloudy water was contaminated, including with the E.coli bacteria.
"This was the dirtiest water we've seen throughout the eight years. This is the type of water they are drinking and bathing in every day," said Jon Prine, 22, a senior Mechanical Engineering student from Coral Springs, Fla., and mechanical team lead for the project.
Afterward, the purified water, which was labeled on containers by the village as "Cool Blue Water," was clear and free of contaminants. The project also included educating school children in the community about why the water makes them sick and how to protect themselves overall from germs. The team also distributed washcloths, toothbrushes, toothpaste and sanitizer.
"The necessities we are used to, but they don't get them that often," said Calli Brown, 20, a sophomore from Pittsburgh, Pa., who led the Water and Sanitation Hygiene (WASH) team.
To ensure the purifier system will continue helping the community, training to maintain and operate the system was provided to the partners and workers in Haiti. Embry-Riddle also helped the Haiti partners establish a micro-business to keep the system operational and to help pay for teacher salaries in the village. The rural location is so impoverished that there is no money locally to pay teachers so the new water business improves education in the community, Dr. Compere said.
The Embry-Riddle team hopes to return next year if funding or donations are available to continue to help other areas of Haiti.
Compere said not only was Embry-Riddle able to bring additional people in Haiti clean water, but the students and professors gained perspective.
"What we brought home was hands-on experience in solving real-world issues with real people and real constraints, and a global perspective and greater appreciation for the life we live here in the United States," he said.
Rachel Hunt, 21, a Mechanical Engineering major from Southborough, Mass., said she was humbled to be part of the trip.
"It's one thing to see images on TV of people suffering through poverty and another thing to see it in person," she said. "Haiti is a beautiful and vibrant country full of resilient and resourceful people. Their generosity and gratitude, in spite of their circumstances, taught me just how much I have to offer."
The other students involved in the 2017 project included Felina Chotoo, Noah Driggers, Audrey Hallam, Zahra Khan, Fevens Louis-Jean, Dynamite Obinna and Daniel Tellez.
Other sponsors for this trip, in addition to Miller-Leaman and World Renewal International, included Solar-Fit in Holly Hill, Procter & Gamble, VIQUA, Embry-Riddle's Student Government Association and Embry-Riddle's Ignite research initiative.