Eagle Donor Q&A: Phyllis Jackson Parker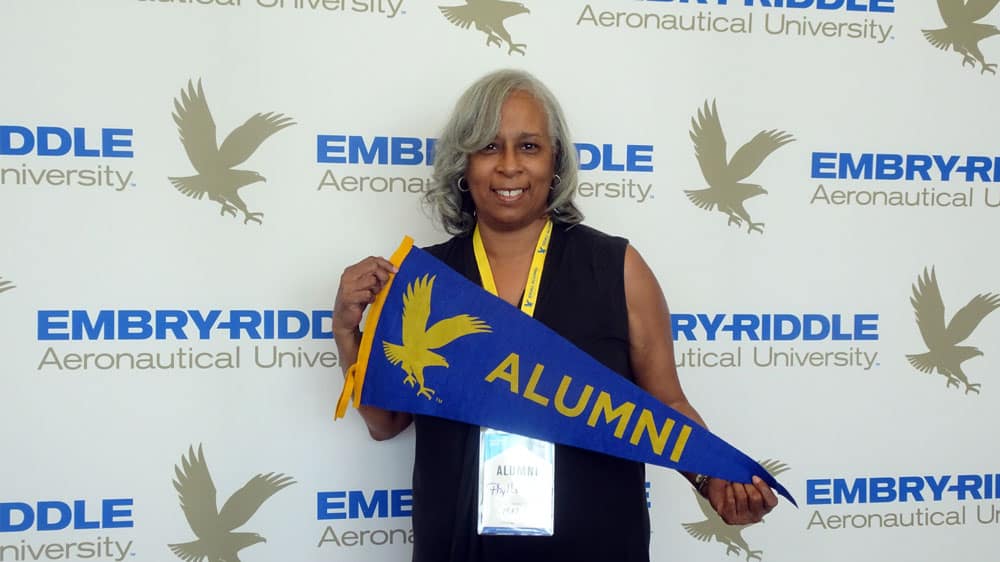 Phyllis Jackson Parker ('83) remembers when she was one of only a few female black students attending the Daytona Beach Campus. She volunteered to be secretary for the Brothers of the Wind (BOW), Embry-Riddle's first African-American student organization, while she pursued her degree in aviation management.
Established in 1974, BOW was dedicated to supporting the aviation dreams and ambitions of black students and was an important campus community support network for the better part of two decades at the university.
Jackson Parker came "home" to the Daytona Beach Campus this past fall to attend the 2018 Black Alumni Network Reunion at Homecoming. While here, she made her first gift to the university as an alumna: A contribution to the newly established Black Alumni Network Scholarship. The Black Alumni Network hopes to grow the scholarship fund to provide annual financial support for underrepresented students at Embry-Riddle.
Now living in Savannah, Georgia, Jackson Parker is earning another Embry-Riddle degree, a Master's of Business Administration in Aviation (MBAA), specializing in Accounting, at Embry-Riddle's Worldwide Campus.
We asked her about her Embry-Riddle experience and her recent gift to the university. Her responses follow.
Why do you give to Embry-Riddle?
I was the secretary of Brothers of the Wind and enjoyed my four years at Embry-Riddle, which makes it easy to give to the Black Alumni Association.
What is one of your best memories of being a student at Embry-Riddle?
I had the opportunity to meet John Paul Riddle (co-founder of Embry-Riddle) as he walked through the Dorm II.
What do you tell others about Embry-Riddle?
Today, whenever I meet someone interested in aviation, especially other African-Americans, I always tell them to consider Embry-Riddle. I have so many friends who are aviators and work in the aviation industry. It is such an honor to have attended school with them. I admire seeing them in the news and working in their field of study. It makes me smile and think of our experiences on the Daytona Beach Campus in the early '80s when we were trying to just get through.
What do you hope to achieve with your donation?
The expense of attending Embry-Riddle or any university has increased. I am certain the students who are helped by this scholarship will appreciate the donations and support of alumni.