Eagle-Designed Space Drones Target In-Orbit Construction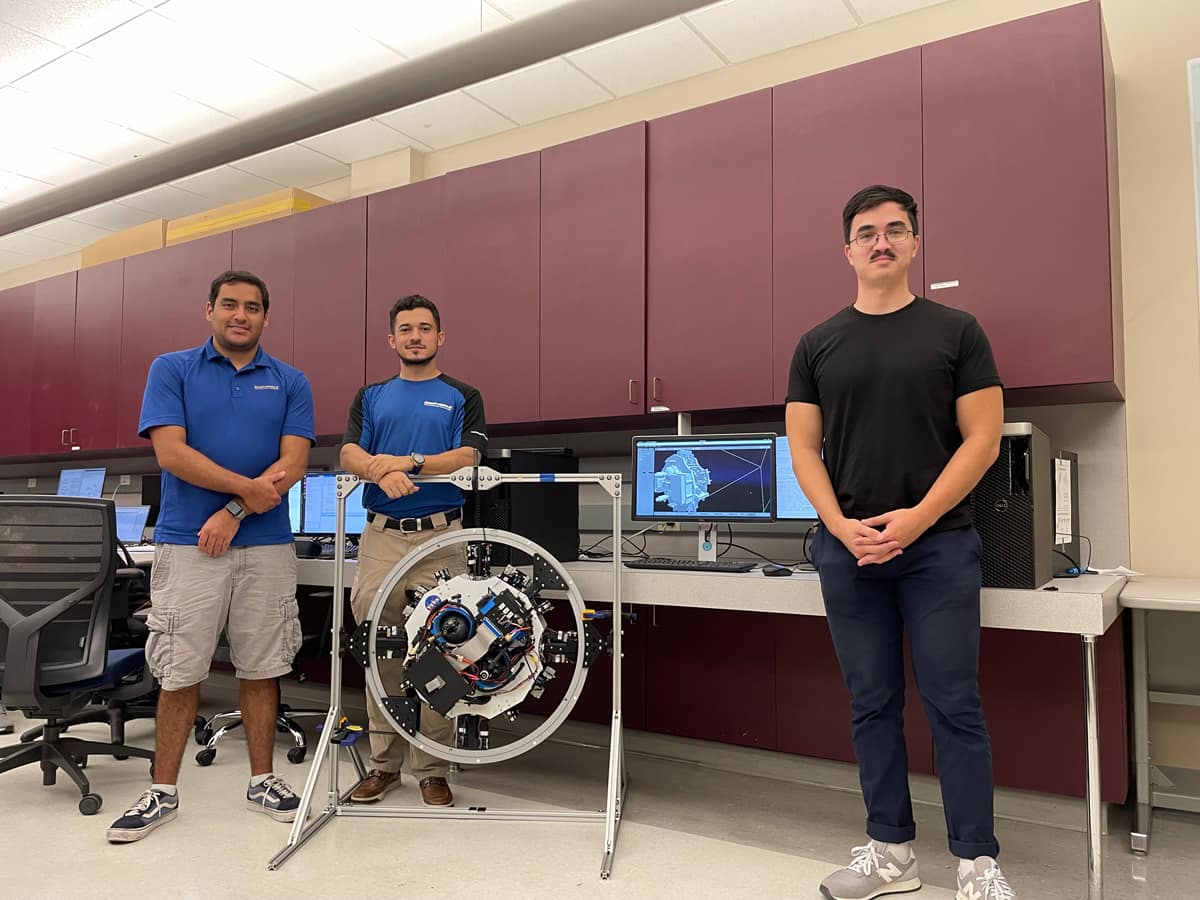 What if vehicles could be assembled in space without human supervision? What if autonomous spacecraft could conduct routine maintenance and inspections on satellites, while flying in orbit around the Earth?
Dr. Hever Moncayo, Embry-Riddle Aeronautical University associate professor of Aerospace Engineering, believes all of this is possible, and he's helping push the technology that will accomplish these goals forward by developing high-precision navigation algorithms that would allow space systems to get to work building a better future.
"In the aerospace industry, there is an increased interest in enhancing autonomy of space robotic systems," he said. "All these applications make relevant the goals of this project."
Additionally, the research will greatly advance the United States Space Force's plans for robust space system target acquisition and intelligent space system operations, which is part of the reason why Moncayo recently received a Small Business Technology Transfer award from the U.S. Air Force to continue his research through Embry-Riddle's Advanced Dynamics and Control Lab (ADCL). He is partnering with Modularity Space to tackle the complex problems associated with in-orbit servicing, assembling and manufacturing operations, especially within multi-agent, systems-based applications.
This is not the first time Moncayo has worked to develop artificially intelligent spacecraft. Previously, he focused on building robotic systems capable of prospecting asteroids for natural resources. Later, that work evolved to integrate 3D-printed robotic vehicles that could "jump" on asteroids to collect research samples.
"Our previous work relied on vision-aided relative position estimation of agents flying within a distributed network," Moncayo explained, adding that the technology supported "adaptive control systems with fault-tolerant and health monitoring capabilities."
In short: The new iteration of the research, on which Dr. K. Merve Dogan is serving as co-principal investigator, allows autonomous spacecraft to not only identify and travel toward moving targets but also repair them, inspect them or assemble new objects entirely from scratch, using a vision-based navigation system that employs wireless communication for tracking and formation flight. The algorithm also uses neural network-based machine learning to identify, track and estimate the positions and intent of other nearby flying agents.
Moncayo has a team of student researchers to assist him in the work: Ph.D. students Andrei Cuenca and Nathaniel Sisson, master's student Eduardo Morillo and undergraduate students Hasan Apkunar and Stephen Brutch.
"As an engineer who's eager to explore what is beyond our Earth, it is such an honor to be part of developing technologies that can provide support to space-exploration missions and the servicing of space vehicles," said Cuenca, a final-year doctoral student who also earned his Aerospace Engineering master's degree at Embry-Riddle. "One of my tasks as a senior Ph.D. is to provide support to all the different projects that we develop — and thankfully, the experience I have gotten over the years here has allowed me to take the lead in some of these developments."
Cuenca admits that working on this type of high-level, high-precision space equipment can be stressful at times, requiring constant learning and iterative testing. But feelings of frustration soon turn rewarding for the Bogota, Colombia, native each time he starts seeing results — results he hopes will ultimately push the boundaries of human space exploration.
"I always have dreamed of working in robotics," he said, adding that NASA's Jet Propulsion Laboratory has served as a constant source of inspiration for him as he's trained in the field. "Contributing to projects like this can open up doors for me to convert those dreams into reality."
"In-space manufacturing is still a long way off, but a big step forward to unlocking these capabilities on a large scale is intelligent, swarm-based, formation flying for spacecraft," said Nolan Coulter, chief technology officer of Modularity Space.
The goal is to be able to assemble large structures, like space stations or satellites, without requiring expensive large-scale rockets to launch humans into space to perform the construction, he added. To accomplish this, however, many robotic systems working collaboratively, and without human intervention, would be required.
"If we can get to that point, we could expand the boundaries of space exploration since we could then construct whatever equipment is needed at the destination of interest — say, lunar orbit, Mars' surface or elsewhere — before humans arrive," Coulter said.
Posted In: Engineering | Research | Space | Uncrewed Systems