Diversifying STEM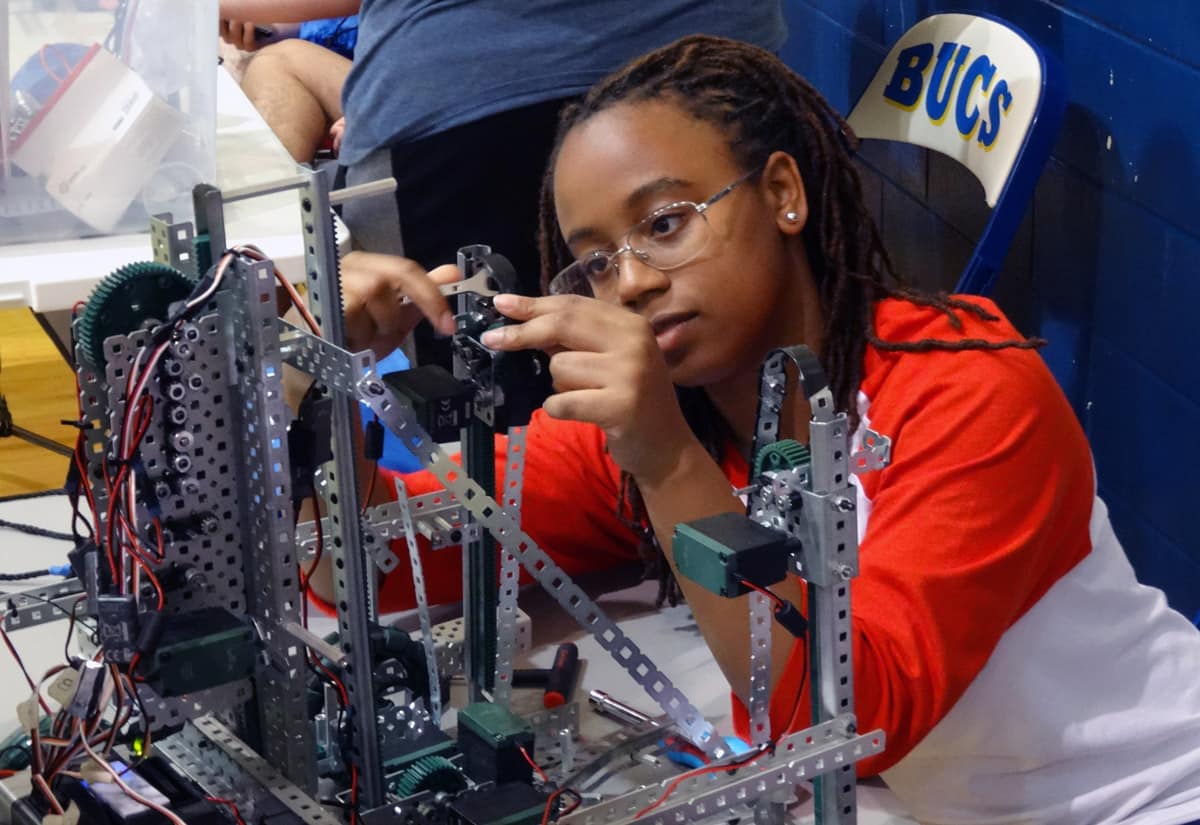 Donations help underrepresented students attend STEM event at Embry-Riddle.
With generous support from the Paul B. Hunter & Constance D. Hunter Charitable Foundation, Florida Engineering Foundation (FEF) and Raydon Corporation, this summer Embry-Riddle helped encourage 177 middle and high school students to pursue a future career in science, technology, engineering and mathematics (STEM).
The students and their chaperones participated in the 42nd Annual SECME (formerly the Southeastern Consortium for Minorities in Engineering) Summer Institute, held June 20-22 at Embry-Riddle's campus in Daytona Beach, Florida, and other local venues. About 85 elementary through high school teachers attended STEM-related teaching workshops, which were also offered through the summer institute earlier in the week.
"We are pleased to have the opportunity to offer support to the recent SECME conference," said Pam Clifton, director of the Hunter Foundation. "We believe it allows us to expand our mission by providing a diverse group of young students the opportunity to participate in a unique STEM summer program and be exposed to the unlimited possibilities as future students of Embry-Riddle's College of Engineering,"
The SECME Summer Institute aims to enhance STEM classroom instruction for underserved and underrepresented K-12 students; expose them early to the possibilities of college; and introduce them to role models working in STEM careers.
This summer's student cohort had the opportunity meet Embry-Riddle alumnus, NASA astronaut Col. Alvin Drew Jr. ('95, WW), who was the guest speaker at institute's finale on June 22.
Embry-Riddle, which is a member of SECME, hosted the student portion of the summer institute, providing lodging and meals for the students, who were chosen by SECME to attend and participate in robotics and engineering competitions, and their chaperones. It also offered campus tours, college-readiness workshops and competition support. Donations from the Hunter Foundation, FEF and Raydon assisted with the students' lodging and food costs.
Expanding Horizons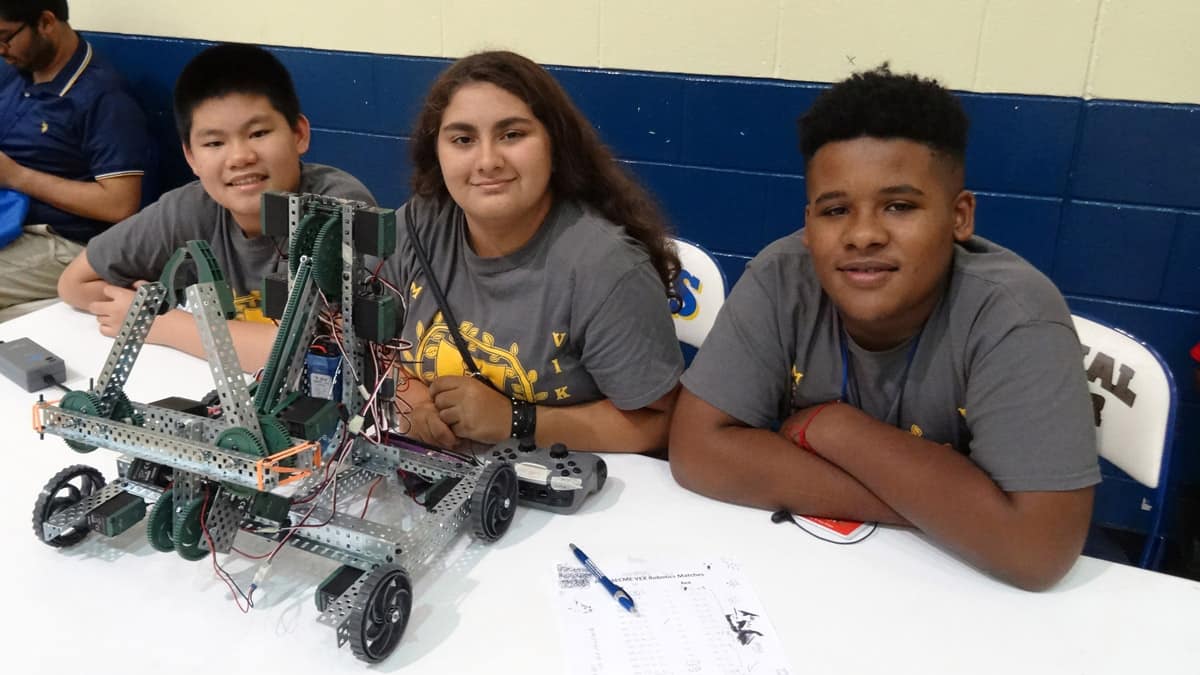 Walker Middle School students Kevin Nguyen, Yeali Irizarry and Lonnie Brailsford-Colon prepare their robot for competition. Photo by (Alan Marcos Pinto Cesar)
One student who benefited from the institute this year was Lonnie Brailsford-Colon, a seventh grader on a robotics team from Walker Middle School in Orlando, Florida.
It's like we have magic in our hands and I want to figure out how it works.
He said he enjoyed staying in the university's dorms and meeting kids from around the country. Interested in robotics and building things since he was 5 years old, Brailsford-Colon said he wants to become a computer or software engineer.
"I like the technology," he said. "It's like we have magic in our hands and I want to figure out how it works."
Brailsford-Colon's team competed against student teams from Alabama, Florida, Georgia, New York, Texas and Grand Bahama, all vying for top honors in SECME's Mousetrap Car Engineering Design and VEX Robotics competitions.
Sara Berriz, the Walker Middle School robotics coach and a science teacher, said the experience was great for her students. Not only did they learn how to build and program a robot, she said, "they also learned what it is like to be at a university — most of them have never been to a university."
Berriz said it is important to expose a diversity of student populations to STEM, including teens who are from lower income families.
"They have fewer resources, so they need to be creative and motivated," she said. "(But) they are very smart and capable of solving problems."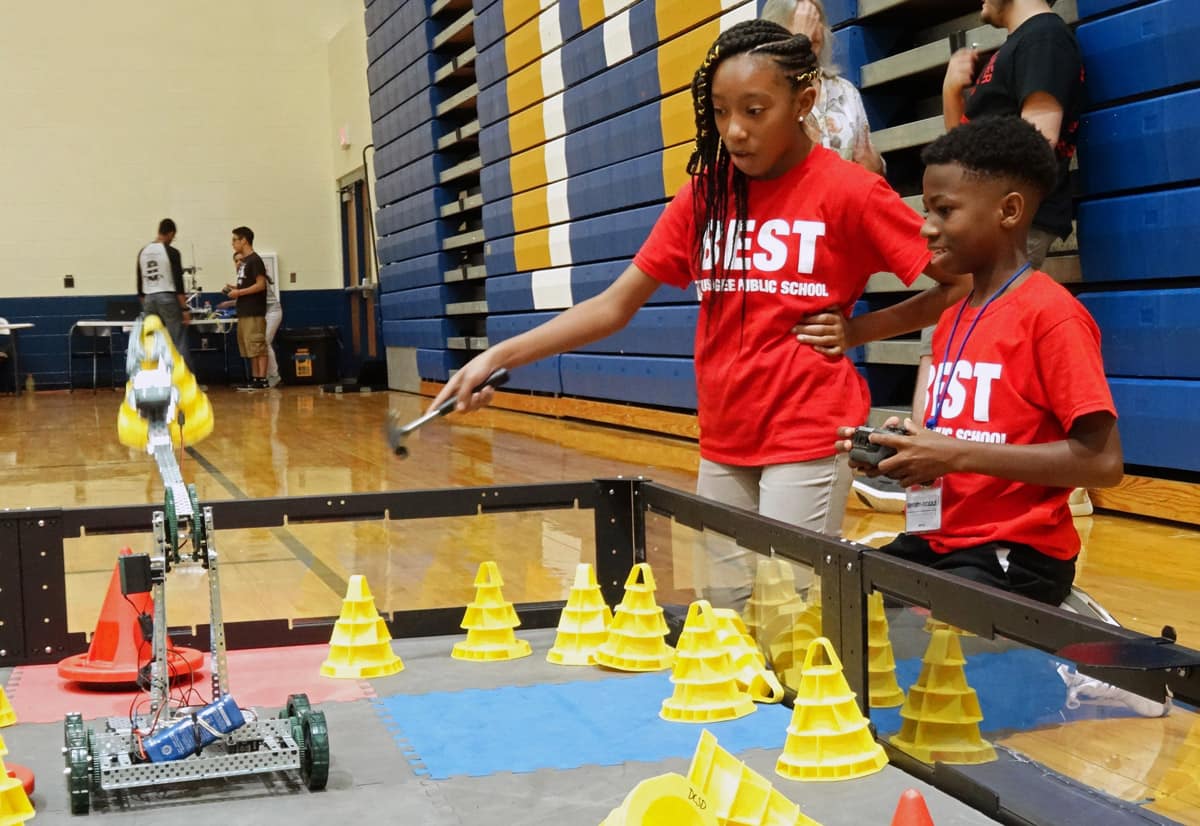 Students from Tuskeegee Public School practice operating their remote-controlled robot. In this portion of the competition, the robot must be able to lift and place small plastic pylons in various locations. (Photo by Alan Marcos Pinto Cesar)
About SECME
SECME was formed in 1975 by deans at six engineering universities who wanted to prepare underrepresented populations, including girls, for careers in STEM. The nonprofit organization now has programs in 15 states and Washington D.C., and partners with more than 30 universities. Students attending elementary through high school participate in SECME.
A 2017 survey conducted by SECME showed that 92 percent of the students who participated in the summer institute reported a desire to pursue a STEM major in college.
Support Embry-Riddle with your gift today.