Daytona Beach Campus Homecoming for Embry-Riddle Alumni to Include Block Party, Fly-in, Athletics and More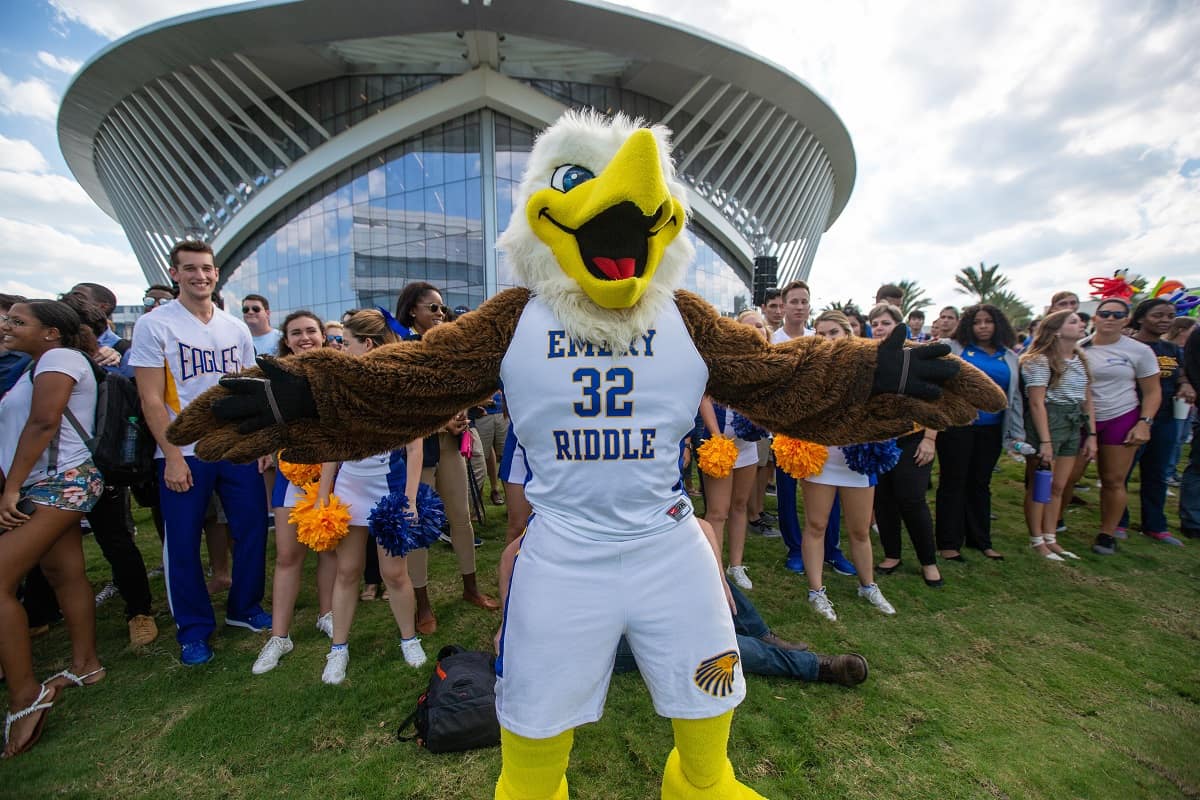 Embry-Riddle's upcoming Homecoming weekend on the Daytona Beach Campus, Oct. 11-12, titled "The Eagle Has Landed," combines fun, networking and learning, with opportunities for alumni to meet student-researchers, and for the Embry-Riddle community to celebrate all things Eagles.
"I enjoy the special spin that we put on Homecoming," said Embry-Riddle President P. Barry Butler, Ph.D. "It's not just a tailgate party or a football game for us. Eagles past, present — and future — come together. We share our passion for the world of aviation and our pride that Embry-Riddle is at the center of that world."
Leading up to Homecoming, on Tuesday, Oct. 8, the fall Industry/Career Expo will give students and alumni a chance to meet with more than 110 business and industry recruiters from leading aviation, aerospace and technology companies from around the world, including Airbus Americas, in their first visit to the event.
After the expo, the Office of Alumni Engagement will host its eagleNIGHT Reception. Sponsored by Republic Airlines, eagleNIGHT brings industry representatives, alumni and upcoming graduates together for social and career networking opportunities.
On Friday, Oct. 11, Homecoming 2019 officially kicks off with the Eagle Open Golf Tournament, with funds raised benefiting Embry-Riddle's student-athletes. Returning alumni and current students will connect in the robotics and rockets labs, as well as in the Mori Hosseini Student Union during the day.
The Homecoming Block Party that afternoon will bring the entire campus community together for fun, games, food and a pep rally. The evening will feature Eagles Volleyball, Embry-Riddle Ice Hockey vs. Florida State University and an open-to-all dance in the Q Hangar, sponsored by the Embry-Riddle Dancing Eagles.
Saturday morning, Oct. 12, will start early with the True to the Blue 5K run, honoring alumna Ashley Guindon ('10), a police officer who died in the line of duty. All alumni, students, faculty, staff and friends are invited to enjoy a pancake breakfast, sponsored by JSSI, at the Pancakes and Planes Static Aircraft and Fly-In, outside the Emil Buehler Aviation Maintenance Science Building.
Returning graduates will have a chance to enjoy lunch with President Butler and then interact with students as they discuss ongoing class projects and research initiatives in the Mori Hosseini Student Union.
A highlight of the weekend will be the launch of the Embry-Riddle Women's Network, which will include a panel of successful alumnae business leaders discussing their roles as "trailblazers," as well as the importance of community. This panel discussion is sponsored by Envoy Air and will be moderated by Dr. Audrey A. Butler. The goal is to highlight opportunities for mentoring, outreach and engagement for women seeking degrees in the aviation and aerospace fields. This initial discussion will also lay the foundation for the Embry-Riddle Women's Network to expand support for women in all degree programs on campus and, eventually, to the entire university.
Saturday evening will be filled with athletics events, including women's volleyball, men's soccer — featuring a Student Government Association-sponsored tailgate party and homecoming court — and Embry-Riddle Ice Hockey vs. the University of Alabama in Huntsville. Due to unforeseen circumstances, a concert featuring AJR, which was originally scheduled for Saturday night, has been rescheduled to Sunday, Nov. 10. The concert, set to take place on Embry-Riddle's Student Center Annex Lawn, will be free to those with an Eagle Card or Alumni card, and $20 for members of the public.
Story updated at 4:50 p.m. Wednesday, Oct. 9