`Before You Get Out of Your Car, Put on Your Mask'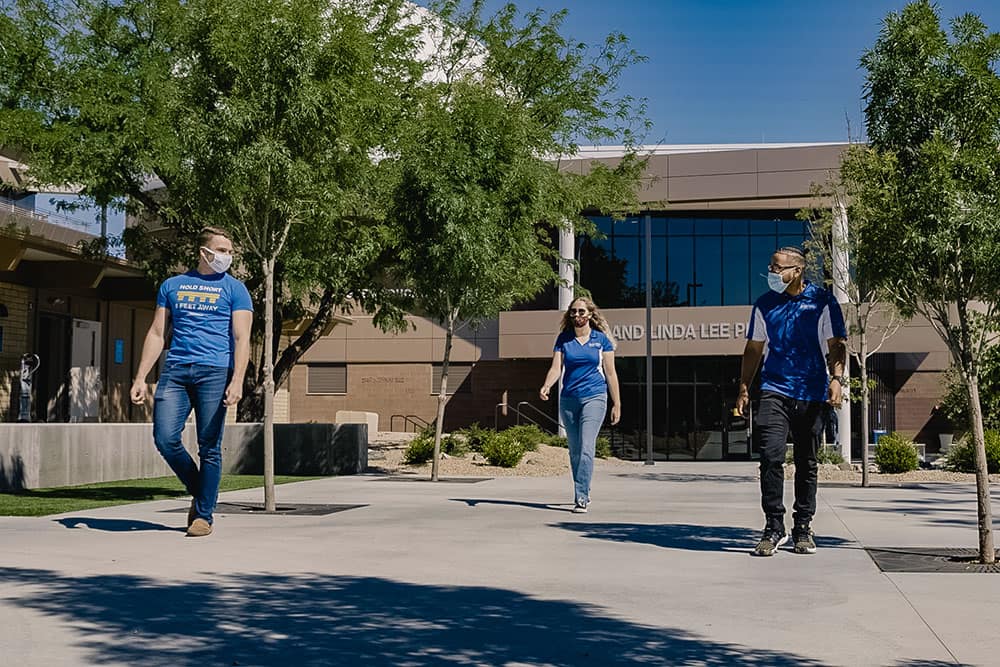 As students prepare to return to Embry-Riddle's residential campuses in Prescott, Arizona, and Daytona Beach, Florida for face-to-face fall 2020 classes, university leadership reaffirmed its rules for wearing face coverings at all times.
Face coverings are mandatory in all common areas on Embry-Riddle's campuses, both indoors and outdoors, in classrooms, laboratories, residence halls and other facilities. In addition, EagleCards must be visible at all times, either on a lanyard or clipped to an article of clothing, and daily wellness checks are mandatory.
Wearing face coverings, in keeping with U.S. Centers for Disease Control & Prevention guidelines, reflects Embry-Riddle's strong safety culture and Eagle commitment to caring for others. Embry-Riddle'sfall 2020 Path Forward plan emphasizes the importance of taking personal responsibility.
"We're working hard to provide a safe environment, but it's up to all of us to make it work," Embry-Riddle President P. Barry Butler said at a recent virtual town hall event organized by Student Government Association leaders. "When we look back on this time as history, how you as individuals reacted will say a lot about you as a person. It will go with you throughout life and in your careers – how you behaved, how flexible you were in adapting to a new situation and the choices you made."
"Before you get out of your car on campus," Dr. Butler said, "put on your face covering and display your Embry-Riddle ID badge. Stop at a wellness check station before entering any Embry-Riddle facilities."
More specific instruction regarding face coverings is provided below.
Wear Face Coverings Correctly
Your entire nose and mouth should be covered by your mask.
Do not wear face coverings pulled down under your nose or chin, or on your forehead.
Review these CDC tips for putting on, wearing and removing a mask.
Workspaces
Masks may be removed only by individuals who are working alone behind a closed office door.
Those who work in cubicle-type offices must wear their face coverings at all times.
Residence Halls
Face coverings are mandatory in all residence hall common areas and in hallways and stairways.
Students may remove their face coverings only in their residence hall rooms with the door closed.
Dining Facilities
Plexiglass barriers have been installed in dining areas so that students can remove their face coverings to eat.
Put your face covering back on as soon as you have finished your meal or snack.
Be aware that hanging onto partially consumed drinks or food for long periods of time as a way to "get around" the face covering requirement will not be tolerated.
Classrooms and Labs
Students and faculty must wear face coverings at all times.
Faculty may request plastic face shields via their college dean.
Faculty who are wearing face shields may remove their cloth face covering to lecture.
A limited number of voice amplifiers may be available to faculty upon request.
Physical Activity
Face coverings must be worn whenever you are walking, skateboarding or running on campus – whether or not anyone is within six feet of you.
Face coverings may be removed only if you are taking part in an organized, supervised, required group activity (i.e., cross-country running or PT), under Embry-Riddle or ROTC supervision.
Those activities will take place on the perimeter of campus or within a designated outdoor recreation facility, with physical-distancing in place.
As soon as the organized, supervised group activity ends or you leave the designated area, resume wearing your face covering immediately.
For more information about Embry-Riddle's fall 2020 plan, visit our Covid-19 information page. Be sure to review the Frequently Asked Questions and watch our Return to Campus videos.