Award-Winning Online Engineering Programs Take Off, Empowering Students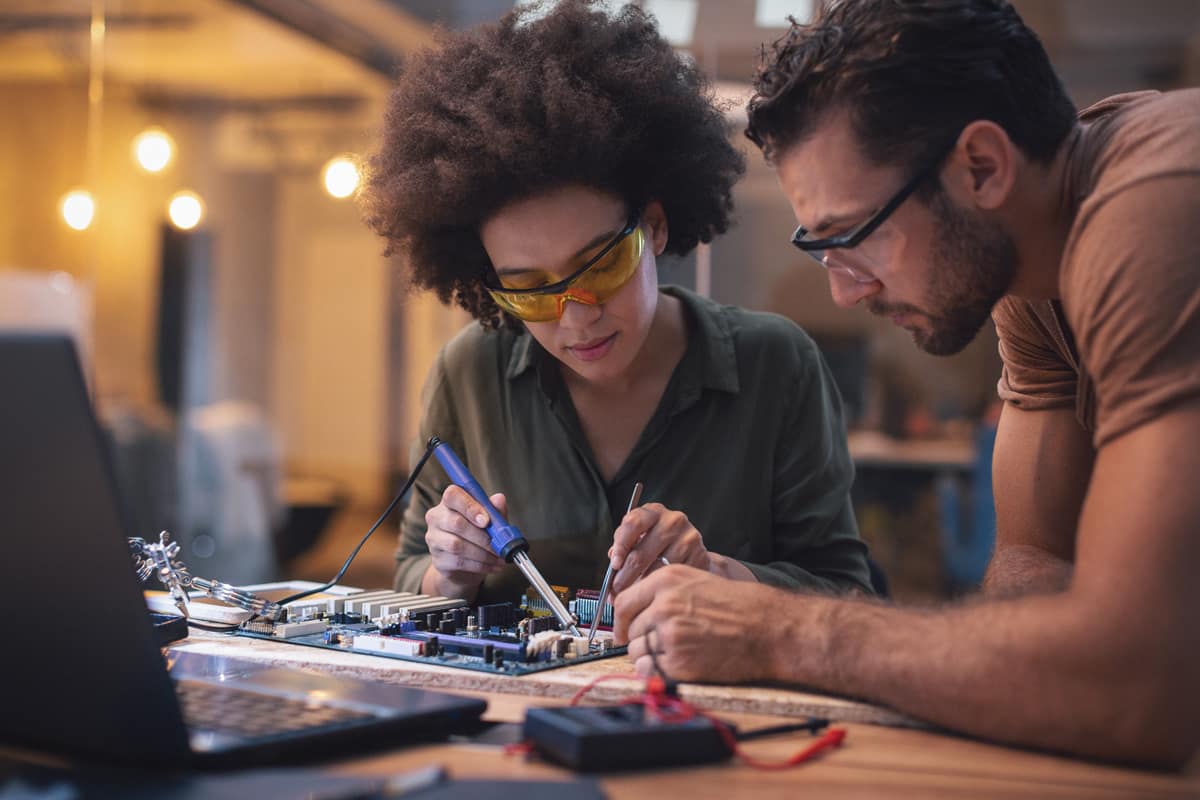 As Berlin Martinez-Rivera prepared to graduate with a B.S. in Engineering from Embry-Riddle Aeronautical University's Worldwide Campus, she already had a full-time position lined up with The Boeing Company, where she is now on the wiring engineering team, doing challenging work that she loves.
Born in Guatemala, Martinez-Rivera came to the United States when she was 7 years old. Her parents had not attended college and her family's financial situation was tight, but from the time she was in high school, she was determined to earn a college degree. She enlisted in the military and was stationed in Japan when she started taking classes through Embry-Riddle Worldwide, earning her associate's degree by the time she left active duty in 2017. She then continued her studies through the award-winning Worldwide Campus, happy to have found the path to an engineering degree that "had many different disciplines." Ultimately, she chose circuits and design as her focus and, while earning her bachelor's degree, she worked part-time while interning at Boeing, which was her entree to her full-time job at the corporation.
In December, Martinez-Rivera will earn her master's degree in Airworthiness Engineering with a concentration in structures, again through Embry-Riddle's Worldwide Campus.
Martinez-Rivera is an example of how Worldwide's online engineering programs are empowering students, by making higher education more accessible and affordable to a broader population of aspiring professionals.
Nationally Recognized Programs
Online bachelor's degree programs offered by the Worldwide Campus, which is directed by Chancellor John R. Watret, Ph.D., FRAeS, were once again ranked as No. 1 by U.S. News & World Report Best Online Programs for Veterans this year and tied with the University of Florida for the No. 1 spot overall in Best Online Programs. So it is perhaps not surprising that one of the university's online undergraduate engineering programs was ranked No. 4 nationally in the Best Colleges ranking from among aerospace/aeronautical/astronautical engineering programs (at schools without a Ph.D. option) in 2022. They were also swiftly accredited by ABET, the Accreditation Board for Engineering and Technology. Student demand has powered continuing growth for Worldwide's engineering programs.
"Over the last seven years, the Department of Engineering and Technology has grown from one associate's degree and one graduate degree, with a combined student population of less than 100 students, to three undergraduate programs and four graduate programs, with a total student population in excess of 1,680 students," reported Dr. Ken Witcher, dean of the Worldwide Campus College of Aviation, adding that the Department of Engineering and Technology has recently been renamed the School of Engineering in recognition of its successful evolution and growth.
"We are extremely proud to offer undergraduate and graduate engineering programs to students wanting to pursue their degrees online," said Watret. "These programs, developed and taught by highly qualified instructors with subject matter expertise, prepare students to enter the workforce and excel."
Dr. Bruce Conway, a former NASA Langley Research Center engineer who joined Embry-Riddle in 1978 and chaired the School of Engineering since its first incarnation in 2004, said that the B.S. in Engineering (BSE) program, which was established most recently and passed its ABET accreditation with flying colors in September soon after a first cohort of students had graduated, was a logical extension of Worldwide's engineering programs. Other degree options in the field – the associate's degree in Engineering Fundamentals and a bachelor's in Engineering Technology – have an applied focus.
In contrast, the BSE offers a broad theoretical engineering curriculum.
"Graduates of the BSE program can serve companies like Boeing, Airbus, Lockheed Martin and many others because they receive a broad education in robotics as well as the electronics, mechanics, virtual reality, augmented reality and simulations involved in making aircraft, spacecraft and long-range missiles," Conway explained.
Teaching excellence has been key to Embry-Riddle Worldwide's success, Conway said. "I think that the care and feeding, if you will, that our instructors receive, and the professional development through our Rothwell Center for Teaching and Learning Excellence is probably unsurpassed anywhere in the world. It makes the whole educational experience an A+ for students."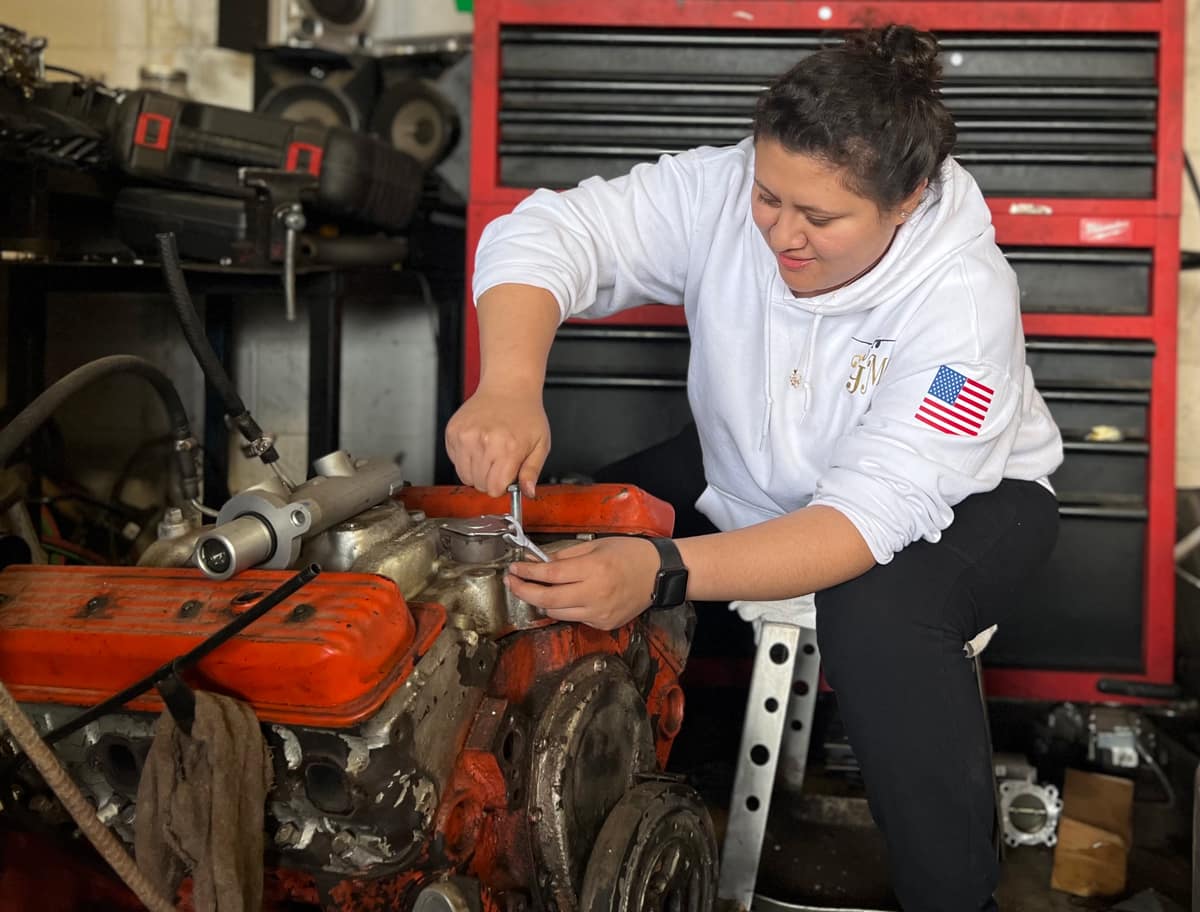 Berlin Martinez-Rivera, who will earn her master's degree in Airworthiness Engineering from Embry-Riddle's Worldwide Campus in December, began her studies while serving in the United States military. The program also earned her an internship at The Boeing Company, where she now works full-time. She is pictured here, helping to rebuild a friend's engine. (Photo: Berlin Martinez-Rivera)
Enriching the Talent Pipeline
Russell Griffin, Embry-Riddle's chief diversity and inclusion officer, said that the BSE, because it is so accessible and affordable, is "a fantastic example of how Embry-Riddle Worldwide can reach out to underserved and underrepresented markets."
He added: "We can reach into communities that might not be aware of the opportunities that we, Embry-Riddle, are in a position to facilitate through partnerships, both with those communities and with corporations."
Witcher explained such a scenario.
"What this degree program allows us to do is to go into a place like downtown Mobile, Alabama, and connect with an industry partner such as Airbus, and say to students, 'We can create a pathway to higher education and a high-paying job for you,'" Witcher said. "We're looking for the brightest students in those environments, and we have an industry right down the street that's dying for talent that will bring fresh perspectives and new solutions."
To further such goals, Griffin said, outreach by the university will include programs for K-12 students, helping to guide students from an early interest in science, technology, engineering and math subjects to college and then to associated career opportunities.
"We look for community partnerships to attract diverse talent and to structure long-term career opportunities," Griffin said, adding, "We have been intentional all along, ensuring we considered how to structure Embry-Riddle's online engineering programs to be inclusive."
For Martinez-Rivera, the career benefits have been rewarding and, soon, the young engineer intends to use her skills to volunteer with Engineers Without Borders.
"It'd be great to bring my skills to a volunteer situation to help others," she said. "It's definitely something that I want to do."
Posted In: Engineering | Institutional News