Attention, Freshmen! Boeing Scholar Offers Tips To Help You Thrive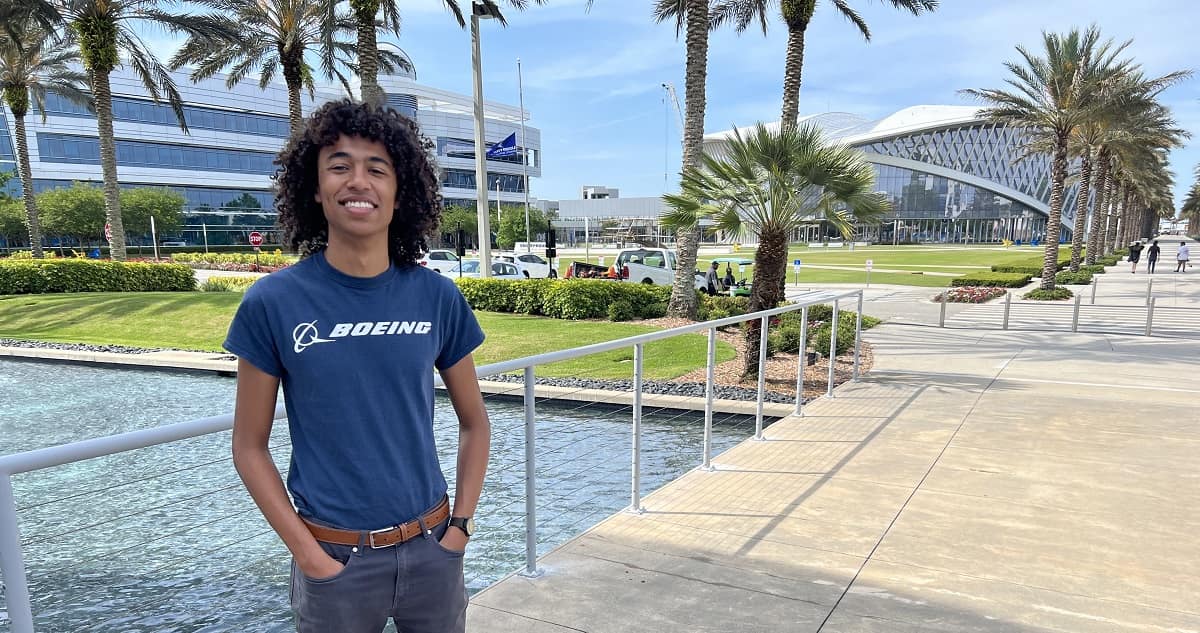 With two internships under his belt and a Boeing Scholarship to his name, Embry-Riddle Aeronautical University Aerospace Engineering senior Alijah McDonald is closer now than ever before to achieving his dream of working in the aerospace industry. He still remembers when he began his college career, however, and the nerves he felt in his first days. At that time, the road ahead felt long and uncertain, and he craved clarity.
In that spirit, McDonald offered advice to incoming college students in the hopes of helping them stay focused and motivated as they pursue their own personal paths toward their dreams.
Tip No. 1: Remember Why You're Here
McDonald grew up going to airshows, planetariums and robotics competitions, so he was excited to study aerospace engineering in college. Acclimating to a new environment and more rigorous courses, however, can be an adjustment for new students, he said.
Persistence is the key.
"Sometimes you don't get it on the first try," said the Little River, South Carolina, native. "You have to work for it. Remember why you are here and keep going."
One thing that helped him maintain focus when he felt stressed, he added, was a trip his freshman year to Kennedy Space Center to see the vehicle assembly building and tour the Boeing facility. It reminded him of his love of space and why he wanted to work in the field.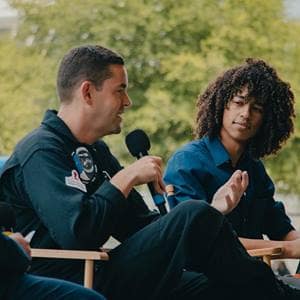 This past April, McDonald was chosen to interview entrepreneur and Polaris Dawn Commander Jared Isaacman ('11), the Embry-Riddle alumnus who led the first-ever all-civilian space mission. (Photo: Joshua Asiaten)
This past April, McDonald also was chosen to interview entrepreneur and Polaris Dawn Commander Jared Isaacman ('11), the Embry-Riddle alumnus who led the first-ever all-civilian space mission. Isaacman visited Embry-Riddle's Daytona Beach Campus during Aviation Week 2022 to talk about his space flight and how commercial space missions can help create a better world.
"Being reminded why you are here can help you stay focused through rigorous times," McDonald said.
Tip No. 2: Focus on Your Strengths, Then Use Them To Contribute
When McDonald first became interested in flight, he decided to focus on the positives: what he excelled at and could bring to the aerospace industry.
"I have moderate to severe hearing loss, and I wear hearing aids in both ears, so I know there may be certain limitations on what I can do," he said. "I may not be able to be an astronaut or pilot because you have to meet certain medical requirements."
On his high school robotics team, however, he stood out as one of the few members who were highly skilled in programming and electronics. When he came to Embry-Riddle, he was able to bring those same technical strengths to the campus organizations he joined, such as the Embry-Riddle Future Space Explorers and Developers Society.
"Leadership has many different definitions, but, to me, it means building something that benefits yourself and the people around you," he said.
When McDonald joined the Future Space Explorers as a freshman, he found the club lacked members with an expertise in electronics. So, he helped create an electronics specialist group within the organization that worked on avionics, payloads and flight computer development. This focus on integrating technology into flight vehicles changed the club a lot, as well as Alijah's trajectory through the aerospace industry.
"We now see students from majors we had never seen in the past. [The specialists] act as a stepping stone for new members to come in and learn about electronics and software and its important role in the aerospace industry," he said.
Tip No. 3: Get Hands-On Experience Outside of the Classroom — A Lot of It
For McDonald, Embry-Riddle's Rocket Laboratory became his refuge when he was not in class or studying.
"The rocket lab has given a lot of people a home and a family to work with," he said. "Everybody in that lab is passionate about spaceflight. I think it is a great place for people to come in and get project experience."
During the summer, McDonald sought internships to learn more about the aerospace industry, benefitting from the university's extensive network of global aerospace companies.
Last summer, he was a controls engineering intern with Rolls-Royce, for example, working on gas turbine engine software controls in Indianapolis, Indiana. This past summer, he was a guidance and controls engineering intern with The Boeing Company in St. Charles, Missouri.
McDonald said his goal when he chose Embry-Riddle was to grow not only as an engineer but also as an individual — one who can make an impact. Looking back, he said he picked the right place.
"The experiences I've had at Embry-Riddle, the lifelong friendships I've made and the lessons I've learned are all worth it," he said.
Posted In: Aviation | Engineering | Space