Embry-Riddle's Asia Campus Sparking Young People's Interest in STEM through Aviation Lecture Series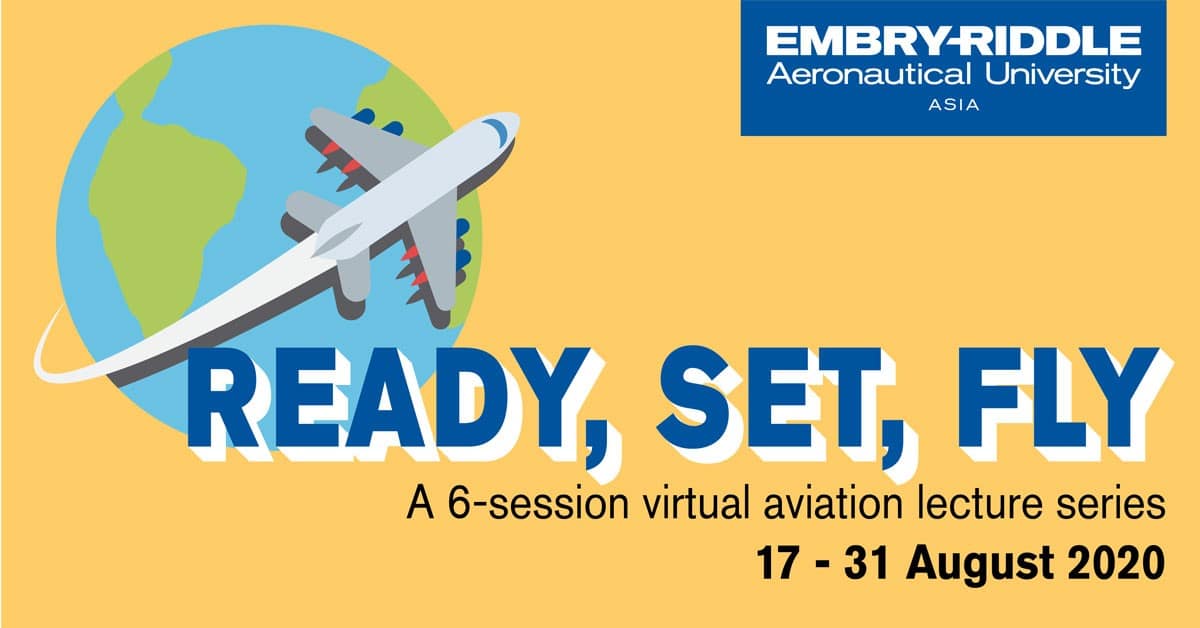 The Asia campus for Embry-Riddle Aeronautical University – the world's leading aviation and aerospace educator – recently ran the free Ready, Set, Fly: Aviation Lecture Series from Aug. 17 - 31, 2020, for middle and high school students, but open to all. The six-session series, which occurred on Zoom, attracted over 600 registrations.
From aviation in popular culture to aerodynamics, the aviation lecture series covered a diverse spectrum of aviation topics, including:
Flying is Safer than Driving! – An Introduction to Behavioral Science
Presented by Assistant Professor Dr. Somi Shin, the first session introduced students to the concept of behavioral science, combining economics and psychology to understand why people make irrational decisions.
Freakonomics: What Determines the Supply and Demand for the Aviation Industry
In this second session, Assistant Professor and Academic Officer Dr. Jack Patel introduced the concept of supply and demand, then guided attendees on how to apply it to the aviation industry.
Who Owns the Airspace? How Can You Enter It and What Do You Need?
Assistant Professor Michael Scheurich broke down the complex topic of aviation security and law in this session, going through the air's different freedoms and how certain restrictions for international air travel came about.
Camera, Lights and Action! Aviation through the Lens of Hollywood and Popular Culture
In this session, Instructor Kim-Chua explained aviation's evolution in popular media and how films have adopted it to express various themes.
Application Aircraft Design – Learn to Design, Create and Fly a Virtual Aircraft
Adjunct Instructor David Cirulli introduced basic aerodynamics concepts in this session then used the university's Aerial Robotics Virtual Laboratory design tool and simulator to build an Unmanned Aircraft System.
Management: What is it, Really?
In the last session of the aviation lecture series, Adjunct Instructor Ignatius L. Chan introduced the concept of management to students, exploring the four main stages comprising of Planning, Organizing, Leading and Controlling.
Each session saw the faculty using various engagement methods, similar to those used in their classes, showcasing Embry-Riddle's technology and expertise to provide interactive remote instructional experiences.
This lecture series reflects the university's commitment to developing enrichment activities to spark young people's interest in aviation and aerospace. The lecture series is now available for playback online.
Free Online Options to Further Your Passion in Aviation
For those looking for more online classes related to aviation, Embry-Riddle offers two free massive open online courses (MOOCs) that are open and available to everyone.
Aviation 101 is a self-paced introduction to aviation. This nine-video lesson covers various aviation topics, including aerodynamics, aircraft systems and aviation weather.
Aviation is Your Future is suitable for learners between eight and 17 years old. Taking place over a span of nine weeks, this course introduces aspects of aviation and aeronautics. This includes exploring major parts of an airplane, describing the flight characteristics of a helicopter and discussing space exploration.
Ranked top five for the past seven years in the U.S. by U.S. News & World Report
for its undergraduate offerings, Embry-Riddle Worldwide has a track-record of delivering world-class distance education.