Alumna Kim Becker, President & CEO of the San Diego County Regional Airport Authority, Joins Webinar Series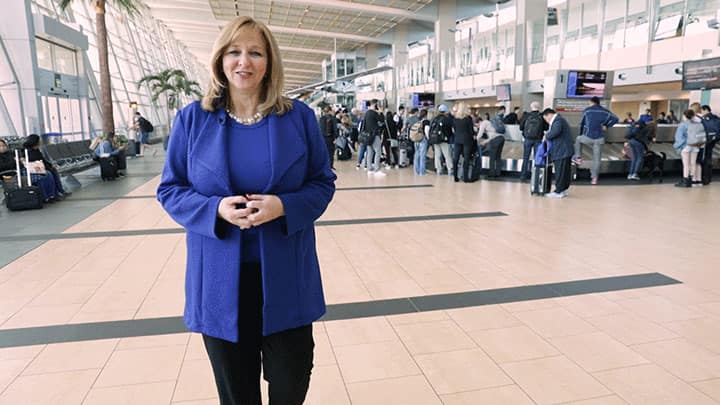 Embry-Riddle's Deans of Aviation welcome Embry-Riddle Alumna Kim Becker, President & CEO of the San Diego County Regional Airport Authority, to Aviation Outlook, a live, interactive webinar via Zoom. Becker will discuss managing a major American airport, the impact of the pandemic on airport operations and future plans for SAN, plus answer your questions during the webinar.
Becker is responsible for management oversight of the Airport Authority and San Diego International Airport (SAN), which generates $11.9 billion annually in economic impact for the southern California region.
In 2019, San Diego International welcomed 25 million passengers, of which more than one million were international passengers. SAN is the busiest single runway airport in the U.S. and third-busiest single runway in the world, behind Mumbai Airport and London Gatwick.
Becker's career in aviation and airport management also has included four years as Director of Aviation for Mineta San Jose International Airport and operations and environmental positions at Lockheed Air Terminal in Burbank, Calif. and Teterboro Airport in New Jersey.
Becker holds a bachelor's degree in business administration from Indiana University of Pennsylvania, and a Master of Business Administration in Aviation from Embry-Riddle Aeronautical University.
Aviation Outlook is a live interactive webinar series with key aviation and aerospace leaders who offer their insights on the current state of aviation and what the future holds for these most dynamic and technical of industries. You may watch videos and/or recaps of Aviation Outlook's previous guests, including Airbus Americas CEO Jeff Knittel ('80), FAA Administrator Steve Dickson, NTSB Chairman Robert Sumwalt ('14, '18), Zipline UAS Director of Flight Ops Joseph Marshall ('10) and many more. Go to erau.edu/aviation-outlook.
Register for this Aviation Outlook event on Wednesday, Sept. 23, 6 p.m. (EDT) via Zoom.