Aerospace Industry Leaders Boeing, Embry-Riddle Partner to Support Tech Startups at Research Park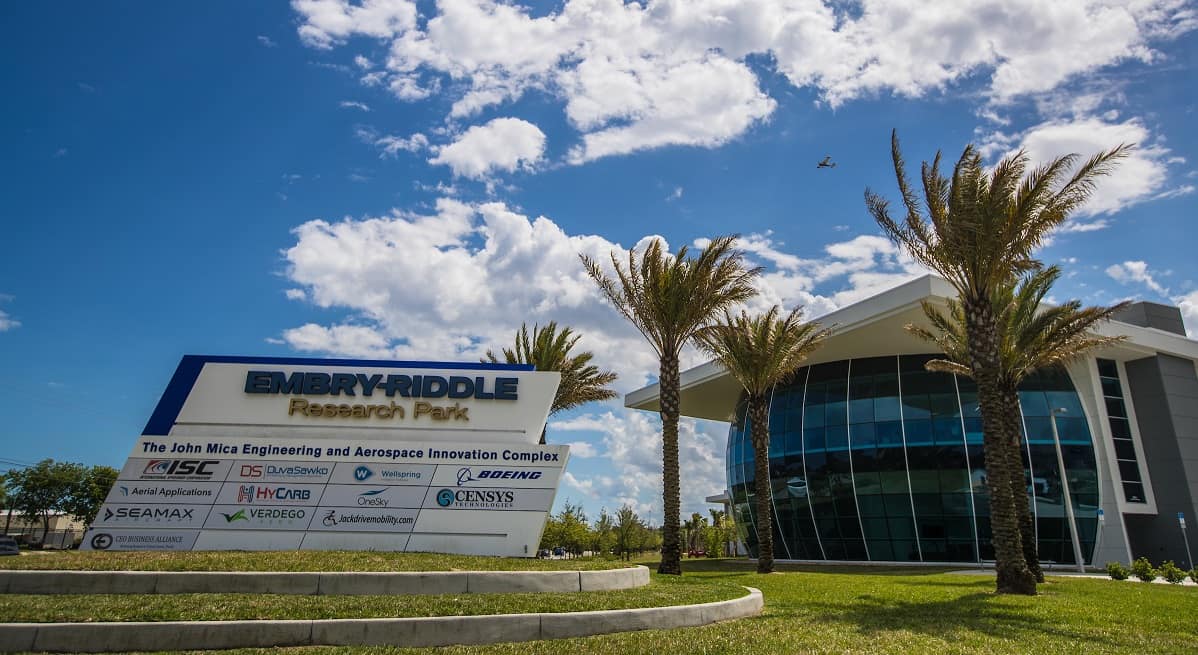 With the shared mission to launch and ensure success of emerging enterprises seeking to innovate the future of engineering, aviation, aerospace and beyond, Boeing HorizonX has signed on as a Nexus Partner at Embry-Riddle Aeronautical University's Research Park.
Boeing HorizonX will join the John Mica Engineering and Aerospace Innovation Complex (MicaPlex), located adjacent to the Daytona Beach Campus, to help influence and contribute to burgeoning businesses that will bring new enterprises to market. With access to onsite startup companies with transformative technology and industry-disrupting products, the organization will also be able to foster, facilitate and impact innovative business creation within the Research Park's Technology Business Incubator.
"Embry-Riddle is shaping the next generation of aviation and aerospace leaders. This specialized focus and its new innovation complex is the perfect combination to help startups strengthen and scale their ideas as part of the aerospace ecosystem," said Steve Nordlund, vice president of Boeing HorizonX. "We are proud to partner with Embry-Riddle to support Research Park entrepreneurs and foster their technological innovations that will help transform how we approach the future of transportation, aviation and aerospace."
Embry-Riddle's 90-acre Research Park is well positioned to take advantage of its location and its resources to meet industry needs for research and skilled employees in the state and beyond. Florida ranks No. 2 in the nation for aviation, aerospace and space establishments. More than 2,000 aviation and aerospace companies call Florida home and employ a talent pool of nearly 80,000.
"This level of global partnership is exactly what we envisioned when we created our Research Park as a business incubator. As our Nexus Partner, Boeing HorizonX will enable Embry-Riddle to support exciting opportunities for next-generation innovators launching start-ups and enrich the technology and business environment we provide for our faculty and students," said Embry-Riddle President P. Barry Butler.
Boeing HorizonX joins three existing Nexus Partners at the MicaPlex – global software solutions leader Wellspring, motorsports entertainment promotor International Speedway Corporation (ISC) and healthcare industry provider DuvaSawko EM Billing & Management Solutions.
Launched in April 2017, Boeing HorizonX uncovers and accelerates potentially transformative aerospace technologies, manufacturing innovations and emerging business models. The pathfinder organization invests in new ventures and startups, seeks unique business opportunities for Boeing's aerospace technology, and assesses aerospace industry disruption. Its investment portfolio is made up of companies specializing in autonomous systems, energy storage, advanced materials, augmented reality systems and software, machine learning, hybrid-electric propulsion and IoT connectivity.
For more information on the MicaPlex, go to erau.edu/micaplex. For more information about Boeing HorizonX, go to boeing.com/horizonx.
Media Contact:
---
About The John Mica Engineering and Aerospace Innovation Complex (MicaPlex)
Known as the MicaPlex, this cornerstone building of the Research Park at Embry-Riddle Aeronautical University will house collaborative workspaces and a wide range of laboratories and business support services collocated to ensure that technology-focused startups will have every advantage for success. The first building phase also includes a large wind tunnel and test facility with cutting-edge instrumentation. Named for former U.S. Rep. John Mica (R-Florida) in honor of his key role in supporting the university's educational and research endeavors, it is strategically located in Central Florida's "Convergence Zone" of innovation and discovery. This collaborative atmosphere is designed for incubating new technologies across 10,000 square feet of flex lease space to meet tenants' needs. For more information, go to erau.edu/micaplex. For information about partnership opportunities, call (386) 226-4928 or email micaplex@erau.edu.