Summer 2021 Co-op Assistance Award Winners
The Co-op Assistance Award Program currently provides financial awards to a number of deserving students during the summer who apply, are selected and participate in the University's Co-op/Internship Program earning credits towards their curriculum. The Awards aid students in minimizing their financial concern by helping them defray some additional expenses that would be incurred during the work term and allowing the students to gain the maximum benefit from a co-op or internship practical work experience opportunity. The Award Program which has been in existence since summer 2003 has awarded a total of $99,200 to 192 students. It is funded by employers, alumni and the Career Services Team. Many thanks to Gulfstream Aerospace Corporation for the sixth year of a generous $10,000 Grant and Collins Aerospace for their fourth year of a generous $5,000 Grant which have become a part of the Co-op Assistance Award Fund. Congratulations to the following 18 Daytona Beach students who received a monetary Co-op Award for the Summer C 2021 totaling $21,500.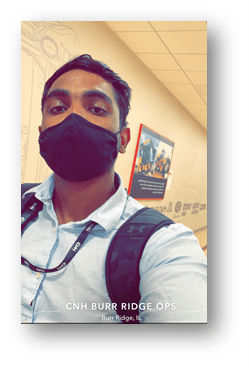 Allan Jones Babu– Master of Science in Mechanical Engineering
CNH Industrial, Burr Ridge, IL. Vehicle Dynamics Simulation Engineering Intern
I was part of the Vehicle Dynamics Team that was involved in the R&D process for developing Tractors, Sprayers and Aircarts for the North America Region. The initial two weeks were invested in training me on software such as n-code, Simcenter 3D motion and Dewesoft. And revising concepts of multibody dynamics and Vehicle Dynamics. In Weeks 3- 4, I analyzed test data for various boom models and performed a load comparison study. The next 3 weeks were focused on building a 135ft sprayer boom sub mechanism that was used for correlating the accelerations from physical test data. Weeks 8-12, Modelled 4-wheel drive tractor, Aircart and seeder to simulate a collision avoidance maneuver and study the lateral Dynamics of Vehicle. In the final two weeks, I simulated tilling equipment hitched to a self-driven 4wd tractor to mitigate the weaving issue. Also, modelled a seeder, Aircart and 4wd tractor to simulate a downhill headland turn.
All these projects were challenging engineering problems and they gave me a better understanding of Vehicle Dynamics and the complexity involved in designing off-road vehicles. most importantly by being part of CNH Industrial I understood the importance of Agricultural and construction equipment and the impact they have globally.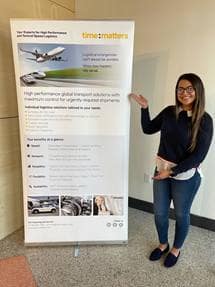 Maria Gabriela Kaselow Salas – Master of Science in Aviation Finance
time:matters Americas, Inc.,Miami, FL; Finance Intern
time:matters is a 100% subsidiary of the aviation group Deutsche Lufthansa AG and highly specialized in emergency airfreight transport solutions. In July 2020, time:matters opened their Miami HQ for operations in the Americas region. The new company is currently working on establishing processes in finance, controlling, and accounting.
The content of the internship was to get a deep understanding of the finance processes at the interface of both management and operations and analyze existing reporting functions to create a flowchart including this information. After this was defined, flaws within the diagram were identified and potential solutions were presented.
The overall goal was to evaluate which services in finance are best to be established at time:matters Americas versus finance services that can be realized centrally at the global time:matters HQ in Germany or in the Lufthansa finance shared service center in the US.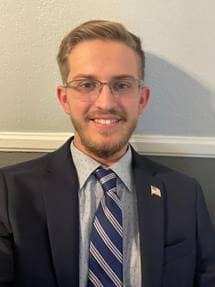 Matthew Robinson – Bachelor of Science in Mechanical Engineering
Northrop Grumman Corporation, Palmdale, CA; College Intern Quality Engineering
I interned at Northrop Grumman as a Quality Engineer for the 2021 summer. I was involved in many aspects of the manufacturing line and worked with many other departments to come to a solution on how to fix various issues on the shop floor. This enabled me to work with technicians, managers, and even some directors of the company! I also had a special opportunity to tour Naval Air Station Lemoore and get up close to the F-35C and talk with the pilots about their experiences flying the aircraft!
I have plans to return for a third internship at Northrop Grumman for the summer of 2022
Zachary Powanda – Bachelor of Science in Aerospace Engineering
Pratt & Whitney – East Hartford, CT; GTF Component Repair Industrialization Intern
During my internship, I was a part of the Commercial Engines Aftermarket at Pratt & Whitney. I was able to get first-hand experience with Geared Turbofan components and parts being repaired through different non-destructive tests. I coordinated with multiple different teams throughout the organization to ensure different parts are being industrialized at a pace sufficient for the clients. Towards the end of the summer, I worked closely with the military side of the organization to ramp up industrialization efforts of F135 engines.
John "Jack" Mungillo – Bachelor of Science in Aerospace Engineering
Sarasota-Bradenton International Airport – Sarasota, FL; Operations Intern
My internship at Sarasota-Bradenton International Airport as an Operations intern was very exciting and informative. I was able to take part in maintaining security and order within the airport while also learning more about aviation in general. In operations, the main focus was ensuring that all operations taking place in the airport were up to the FAA standards. Operations work encompass ensuring the experience for both employees and passengers was as smooth and safe as possible. If the airport was not up to the FAA regulations, it is the job of the Operations department to ensure the issue is reported and rectified before any business may resume.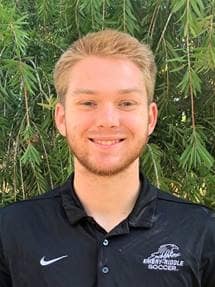 Nathan Hubbs – Master of Business Administration (Finance)
Collins Aerospace, Remote Position; Co-op FP&A
"In my position with Collins Aerospace, I was a Co-op within the FP&A organization. FP&A is financial planning and analysis that consists of everything that goes on with the business. The team that I was on was the Synergies and Cost Reduction team. In our team, we tracked the cost reduction through a few different avenues. This included the overall headcount of Collins, the supply chain, and our restructuring projects. Each quarter, our team collected the total cost reductions for the quarter for each of our business units. These numbers get reported up through our parent company, Raytheon Technologies for use in the Quarterly Earnings Report. In my role, I was able to reach different functions from the supply chain to HR. This allowed me to gain knowledge and network outside of the finance organization. One of the best experiences that happened throughout the Co-op was when all of the interns got to sit through a meeting with Collins President, Stephen Timm. This gave us all great exposure to hearing the President of a major company speak and ask questions to. Overall, my experience working with Collins Aerospace was incredible and I know that it has helped set me up well for my future career."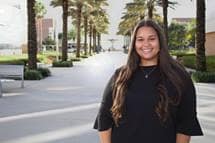 Alexandria Cogdell – Bachelor of Science in Aviation Business Administration
Lee County Port Authority, Fort Myers, FL; General Aviation Airport/FBO Operations & Management Intern
As an Intern for the Lee County Port Authority, I feel as though I received a thorough understanding of both general aviation and commercial service airport operations. As part of the internship, a main takeaway I was able to experience was rotating to different departments. I was able to visit the Air Service Development Team, Marketing and Communications Team, Contracts and Properties Team, Airport Police Department, Maintenance, and more. This was a perfect way of getting a general overview of the many pieces that come together to make an airport run effectively and efficiently, and helped me realize what departments I'm personally interested in. A majority of the large group sessions with other interns were held at Southwest Florida International Airport (RSW), where I spent time in the Airport Operations department learning about wildlife mitigation and protection, weather preparedness plans, and why it's important that we protect the aircraft just as much as the factors surrounding it. Alongside airport operations, I learned more about aircraft identification, and even collaborated on a large-scale project with the Marketing Coordinator at Page Field Airport, where I used benchmarking to assess strengths and weaknesses of surrounding airports to create a better environment for their own. This was implemented into many years to come, as Page Field hopes to receive even higher ratings once knowing how to improve their amenities and services in private aviation. I also got to experience my first ever discovery flight in a smaller aircraft, which was in a Piper Navajo! Overall, I have to thank the O'Maley College of Business' professors, faculty, and staff for always believing in me, and for Career Services for financially allowing me to relocate this summer without expense! Thank you all so much for all you do for students like me!
Sydney Jones – Bachelor of Science in Aerospace Engineering
Textron Aviation, Wichita, KS.; Environmental Control Systems Engineering Intern
Over the summer, I interned on the environmental control systems and Ice protection systems team. This team did certification and testing on various pneumatic components such as HVAC systems, smoke detection systems and refrigeration systems. I authored and ran a smoke detector qualification test plan, one that was to be installed on the new Cessna SkyCourier aircraft. I also assisted with various certification documents for the team.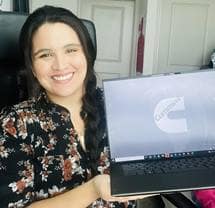 Paulina De La Torre – Master of Science in Aerospace Engineering
Cummins Inc.,Columbus, IN; Current Product Improvement Intern
During this summer, I had the opportunity of working within the Engine Business Customer, Service, and Product Improvement (CSPI) organization at Cummins Inc. As part of my role in Current Product Improvement, I had the opportunity of working with internal FEAD (front-end accessory drive) experts to support the development for a simulation-based tool. This project also allowed me to work with Cummins Application engineers and suppliers. I also had the opportunity to support the CAD assembly of an engine to include the various components required for belt drive analysis. Additionally, I completed several trainings in failure and root cause analysis, cross-functional work, project management and fatigue and fracture of components, which not only helped me to gain a better understanding of the company's tools and processes, but also allowed me to connect what I had learned in class and apply it into real-world applications.
Although my internship was remote, I still had the opportunity to participate during intern events like "Meet and Greet's", game nights, and guest speakers with various leaders of the company including Cummins CEO, Tom Linebarger. Moreover, I had the opportunity to interact with the leaders of the CSPI organization and several members of my team through different activities and 1-on-1's. These interactions were amazing because they not only shared their experiences in the company, but also gave me advice on my personal and professional career making it a highlight of my summer.
Since then, I have graduated with my M.S. in Aerospace Engineering and accepted an offer to return to Cummins full-time as a CPI On-Highway Customer Tailoring Engineer where I'm currently working to meet our customers' needs while supporting the company's mission in "powering a more prosperous world".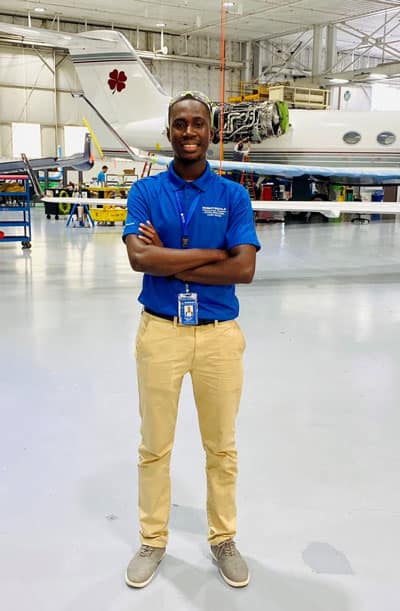 Sada Sey – Bachelor of Science in Aviation Maintenance Science
Duncan Aviation, Battle Creek, MI; Avionics Mods Spec Intern
My role at Duncan Aviation was an Avionics install intern. I was involved in testing all the electrical, electronics and computer systems within the aircraft. We assembled and install the avionics equipment on mostly cooperate aircrafts, including radar systems, radio communications equipment, ELTs and flight controls. In addition to servicing and installing avionics equipment, We also tested some crucial avionics systems to ensure they function properly before an aircraft can take off. This was a great opportunity for as it did not only provide with a verse knowledge in Avionics system, but also prepared me to well for my GROL examination, which I've completed successfully earlier this month. The experience also provided me a verse understanding of how the aviation actually industry operates. Such will help me to know what to expect out there.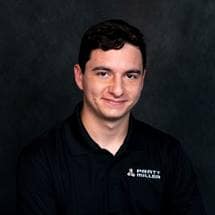 Matthew Grabasch – Bachelor of Science in Electrical Engineering
Pratt Miller Engineering,New Hudson, MI; Electronics Intern
My summer position entailed working on wiring harnesses for Project Z, which Pratt Miller is working on for Hino trucks North America. I worked on electrical designs to help get prototype semi-truck vehicles on the road to go through rigorous testing for possible future large-scale production. Something cool about Pratt Miller is the multiple businesses they have in house, one being motorsports. Because of this, I got to also see a little bit of how the world of motorsports work, where I hope to be able to move into in the future.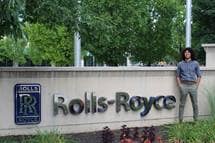 Alijah McDonald – Bachelor of Science in Aerospace Engineering
Rolls-Royce, Indianapolis, IN; Controls Engineering Intern
At this internship, I was a part of an engine controller application software team developing software for control laws testing environments. It was an amazing summer getting to work with the team and I learned a ton about how gas turbine engines and their FADECs are developed.
Winners without summaries below.
Amanda Jacob – Bachelor of Science in Aerospace Engineering
GE Aviation, Peebles, OH; Engineering Intern
Frederick Kennedy – Bachelor of Science in Aerospace Engineering
Northrop Grumman Corporation, Redondo Beach, CA; College Technical Intern
Lauren Kibler, Bachelor of Science in Aerospace Engineering
L3Harris Technologies, Malabar, FL; Quality Engineering Intern
Knowles-Bailey, Bachelor of Science in Aeronautical Science
Tuskegee NEXT, Wheaton, IL; Flight Intern
Prajwal Srikanth, Bachelor of Science in Aerospace Engineering
Cummins, Inc., Seymour, IN (VIR); Systems Engineering Intern
Anonymous