Embry-Riddle Worldwide is one of only three academic institutions of higher learning to earn the honor and joins a diverse list of organizations spanning automotive, technology, business, banking, aviation, insurance and nonprofit services including Adobe, UPS, United Airlines, Sprint, General Motors, IBM, Farmers Insurance and others.
Embry-Riddle Worldwide was one of the first universities to offer online degrees 25 years ago. As a pioneer in online education, Embry-Riddle Worldwide provides technological advancements such as virtual aerial robotics and crash labs, virtual classrooms, and real-time collaboration to its more than 20,000 students globally.
"To receive this recognition is not only an acknowledgement of our IT, Academic Technology and faculty team's success and tireless efforts to continuously be at the forefront, but it also serves as further motivation to find and implement even more cutting-edge digital technology to best serve our online students around the world," said Embry-Riddle Worldwide Chancellor Dr. John R. Watret.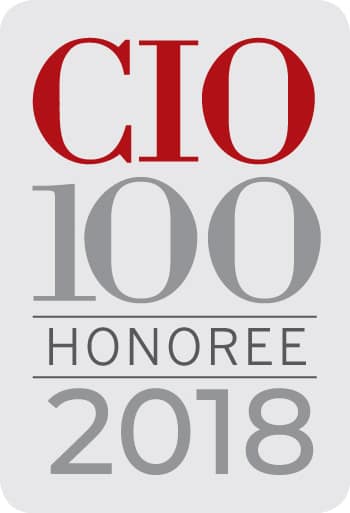 Recipients of this year's CIO 100 Award, now in its 31st year, were selected through a three-step process. First, companies filled out an online application form detailing their innovative IT and business initiatives. Next, a team of external judges (many of them former CIOs) reviewed the applications in depth, looking for leading-edge IT practices and measurable results. Finally, CIO editors reviewed the judges' recommendations and selected the final 100.
"Every year, we are honored to showcase the technology innovation and business value delivered by our CIO 100 award winners. Each of these companies has achieved notable success in accelerating businesses to the front lines of the digital revolution," said Maryfran Johnson, Executive Director of CIO Programs for CIO Events and the CIO Executive Council. "This year's winners are inspiring examples of how IT leadership, business partnerships and customer engagement can reshape the future."
Executives from the winning companies will be recognized at The CIO 100 Symposium & Awards Ceremony, to be held Wednesday, Aug. 15 at the Terranea Resort in Rancho Palos Verdes.
Earlier this year, Embry-Riddle Worldwide was the first institute of higher learning to successfully complete and excel in all categories of The University of Professional and Continuing Education Association's (UPCEA) National Council for Online Education Hallmarks of Excellence in Online Leadership Review. And for the past five years, it has been the only private, not-for-profit institute out of hundreds of universities nationwide ranked in the Top 5 of U.S. News & World Report's annual list for best online bachelor's degrees.
---
About CIO
CIO from IDG is the premier content and community resource for information technology executives and leaders thriving and prospering in this fast-paced era of IT transformation in the enterprise. The award-winning CIO portfolio--
CIO.com
, CIO executive programs, CIO Strategic Marketing Services, CIO Forum on LinkedIn, CIO Executive Council and CIO primary research—provides business technology leaders with analysis and insight on information technology trends and a keen understanding of IT's role in achieving business goals. Additionally, CIO provides opportunities for IT solution providers to reach this executive IT audience. The CIO Executive Council is a professional organization of CIOs created to serve as an unbiased and trusted peer advisory group. CIO is published by IDG Enterprise, a subsidiary of IDG. Company information is available at
http://www.idgenterprise.com/
.