He then added, "In my opinion, being an airline pilot is one of the coolest professions known to man."
Captain DePete, a pilot with FedEx with 40 years of experience, is president of the Air Line Pilots Association (ALPA), which represents 61,000 members at 33 airlines in the United States and Canada. The association has helped make airline travel the safest mode of transportation in human history through advocacy, representation and education, he said. ALPA also promotes the piloting profession, mentors aspiring aviators and prepares future generations of pilots to join the ranks of their members.
DePete and other ALPA representatives, many of whom are Embry-Riddle graduates, toured campus and met with Aviation Collegiate Education (ACE) Club members on March 12 as part of ALPA's education, mentoring and outreach program called Cleared to Dream. Embry-Riddle's Daytona Beach ACE chapter was the first university-affiliated ALPA club in the country when it was established in 2010.
In his talk to ACE members, DePete emphasized to the students that air travel reaches far beyond the flight deck and "supports a vast aviation ecosystem that is focused on one thing: to make sure that we all get from one place to another safely."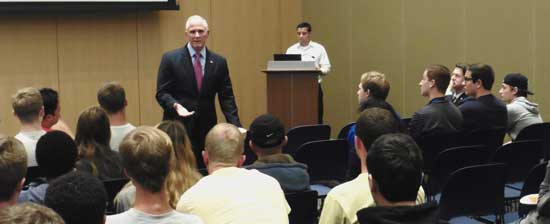 Captain Joe DePete speaks to the Air Line Pilots Association (ALPA). (Photo: ALPA ACE Club)
How vast is the reach of America's aviation industry? According to Airlines for America, the airline industry today helps drive $1.5 trillion in annual U.S. economic activity and supports more than 10 million jobs. U.S. passenger and cargo carriers alone employ more than 700,000 people worldwide in the air and on the ground, while supporting approximately 27,000 daily flights.
DePete said his priorities as ALPA president are safety and security, pilot representation and the future of the profession. When asked to name the biggest issue facing flight students who want to become air transport pilots today, he told the club members, "transitioning to the private sector and adjusting to a new work environment."
ALPA's pilot mentorship and peer support programs would be there to support them once they transition to the flight deck, DePete said.
For his visit, DePete was joined by fellow Alpha members, including Fred Kopec, Delta Air Lines; Mark Harrison, FedEx Express and Embry-Riddle alums Justin Dahan, FedEx Express; Nick Bowers, PSA Air Lines; Jason Fox, ExpressJet Airlines; and Costas Sivylllis, United Airlines and Chair of ALPA Education Committee.