Established by Congress in 1986 in honor of former U.S. Senator and 1964 presidential candidate Barry Goldwater, the namesake Scholarship Program is one of the oldest national scholarships in the natural sciences, engineering and mathematics in the United States. The scholarship program supports college sophomores and juniors who show exceptional promise of becoming this Nation's next generation of research leaders.
Thurston, a double major in computer science and computational mathematics, will receive the scholarship for the 2018-2019 academic year, based on scholastic merit from a field of 1,280 students nominated by campus representatives from more than 2,000 colleges and universities nationwide. The one and two-year scholarships cover the cost of tuition, fees, books, and room and board up to a maximum of $7,500 per year.
She is a member of the Omicron Delta Kappa and Upsilon Pi Epsilon honor societies, a student representative of the Women in Engineering Institute, an Adobe student representative, and a SpaceX university ambassador. An active member of the Society of Women Engineers, and founder of the Daytona Beach Campus Hacker Club, she also finds time to tutor other undergraduate students and participates in STEM outreach programs to local middle and high school students.
In addition to a full schedule of classes, Thurston is also an undergraduate research assistant in the FAA designated Center of Excellence, the Alliance of System Safety for Unmanned Aircraft Systems through Research Excellence (ASSURE).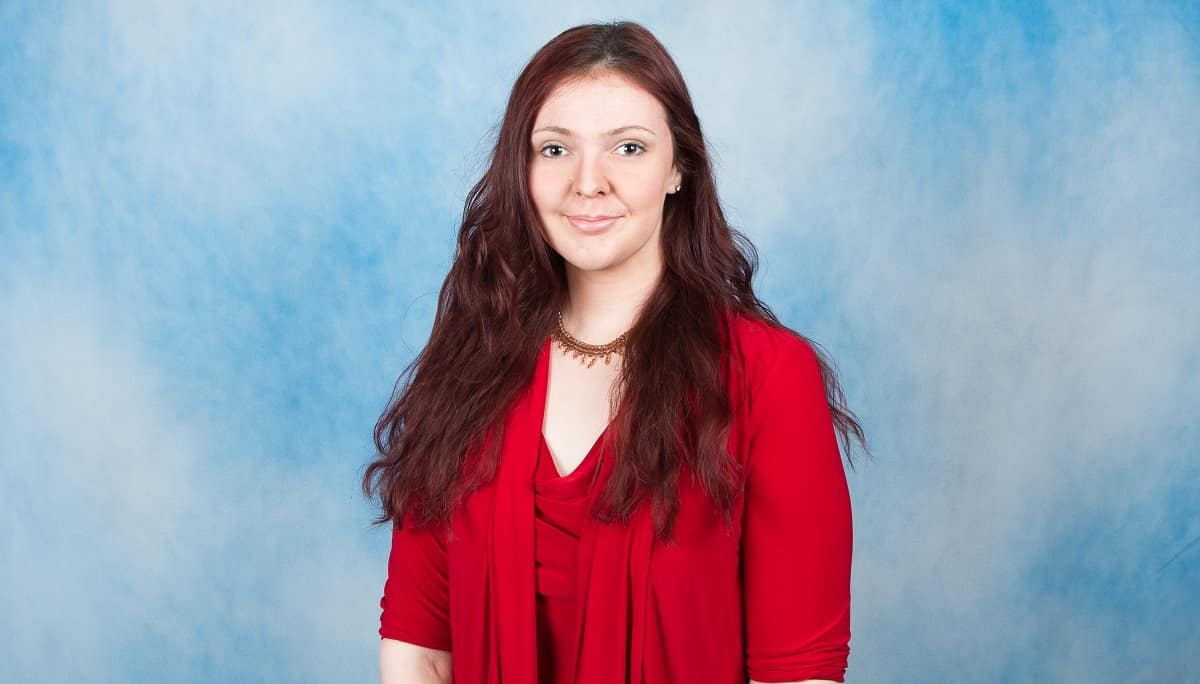 Dr. Richard Stansbury, the Director of ASSURE and associate professor for Computer Engineering and Computer Science, recommended Thurston for the Goldwater Scholarship. He also helped her secure an Embry-Riddle IGNITE Undergraduate Research Program grant, which she is using to study better safety procedures for unmanned aircraft within urban and congested airspace environments.
"She has shown great potential as a young researcher and I have little doubt she will become a successful scientist in the fields of computer science and computational mathematics," Stansbury said.
While at Embry–Riddle, Thurston has spent her summers interning at Microsoft in software engineering and is returning there this summer. She has also interned prior to college at Carnegie Mellon University on projects for NASA; the Office of Naval Research; SpaceX and Northrop Grumman, where she worked on systems engineering for high altitude, long-endurance unmanned aircraft systems.
"I was impressed with the experiences she has gained as a high school student, and her momentum has only increased since becoming a student at Embry-Riddle," said Michelle Restivo Howell, associate director for the Honors Program. "I have not come across an undergraduate student with a more complete list of jobs, internships, awards and research experience."
Mentors are critical in supporting young scholars, and Thurston points to the many professors and advisers helping her at Embry–Riddle, including Stansbury, associate professor and academic adviser Dr. Keith Garfield and Dr. Shafagh Jafer, assistant professor of Software Engineering and her Women's Engineering Institute supervisor.
Thurston said her career goal is to obtain a Ph.D. in electrical engineering and computer science and conduct research on constraint programming applications in control theory, theoretical & applied data structures and algorithms and cloud computing.
"Courtney is one-of-a-kind," said Howell.
The Barry Goldwater Scholarship and Excellence in Education Foundation was established by Congress in 1986 to serve as a living memorial to honor the lifetime work of Senator Barry Goldwater, who served his country for 56 years as a soldier and statesman, including 30 years in the U.S. Senate.
By providing scholarships to college sophomores and juniors who intend to pursue research careers in the natural sciences, mathematics and engineering, the Goldwater Foundation is helping ensure that the U.S. is producing the number of highly-qualified professionals the Nation needs in these critical fields. Over its 30-year history, Goldwater Scholarships have been awarded to thousands of undergraduates, many of whom have gone on to win other prestigious awards like the National Science Foundation's Graduate Fellowship, Rhodes Scholarship, Churchill Scholarship and the National Defense Science and Engineering Graduate Fellowship that support our Scholars' graduate school work. Today, Goldwater alumni can be found conducting research that is helping defend the Nation, finding cures for catastrophic diseases and teaching future generations of scientists, mathematicians and engineers.
The Embry-Riddle Honors Program is highly selective, offering its student members enriched educational experiences. Emphasizing Honors course work in General Education and in the majors, the program involves selected faculty who develop innovative courses and establish mentoring relationships with students. The program is designed to attract and retain top students and to develop their communicative, analytical, critical, and research skills, nurturing a love of life-long learning, leadership and service.