The ability to fly small UAS under NIAS's certificate of authorization (COA) will give faculty members new instructional tools. Embry-Riddle Worldwide offers both undergraduate and graduate degree programs in unmanned systems, along with non-degree, professional education programs.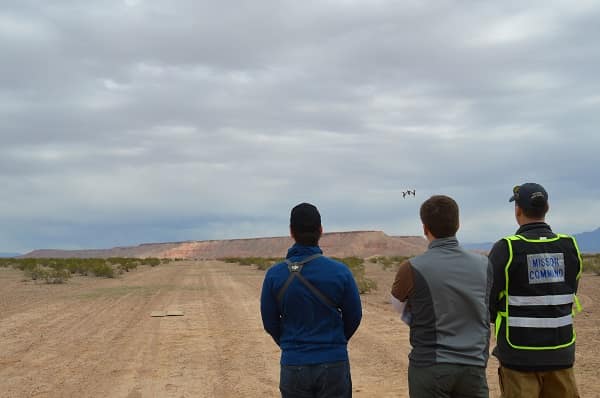 "By working with NIAS, Embry-Riddle now has the ability to fly small UAS outdoors at sites across the nation," said Embry-Riddle Worldwide Assistant Professor David Thirtyacre. "This partnership and training opportunity has truly opened the skies to Embry-Riddle students and faculty."
As the world's largest university specializing in aviation and aerospace, Embry-Riddle Aeronautical University offers education to Nevada students through its two Worldwide campus locations and high school dual enrollment program in the greater Las Vegas area. Over the years, the university has established relationships with state and local partners including the Nevada Governor's Office of Economic Development and NIAS.
"We are excited that Embry-Riddle will be working with NIAS to advance the UAS industry in Nevada and beyond," said Tom Wilczek, an aerospace and defense industry specialist with the Nevada Governor's Office of Economic Development.
Chris Walach, NIAS director of operations for unmanned aviation, was one of the staff on hand during the Embry-Riddle Worldwide team's test flights.
"Despite less than perfect conditions, the Embry-Riddle team outsmarted the desert weather to have a flawless performance," he said. "We look forward to the next Embry-Riddle event."
Future plans for Embry-Riddle Worldwide and NIAS include additional sUAS training at the university's Daytona Beach campus. Both organizations are focused on advancing the UAS industry through awareness, educational outreach, safe flight operations and training.
The Embry-Riddle and NIAS team conducted UAS flight operations at a dedicated UAS test range over uninhabited desert near Mesquite, Nevada, one hour from Las Vegas. The Mesquite UAS range is one of 30 UAS ranges in Nevada that was established to support the state's growing UAS industry through advanced testing and training operations.