Capt. Pat Everly, U.S. Navy commanding officer of the NROTC program and professor of Naval Science at Embry-Riddle, presented the medal for meritorious achievement to Capt. John Richard (Dick) Charles, 94, of Daytona Beach, on Tuesday during a small ceremony.
Everly said Charles is a stellar example of someone who puts service before self.
"It is truly an honor as an active duty Naval officer to be able to talk with you and to be able to present some hard earned declarations that came through years of sacrifice and actually years of probably some points of sheer terror as you were flying around the Western Pacific," Everly said. "It drives home to me the importance of remembering that greatest generation."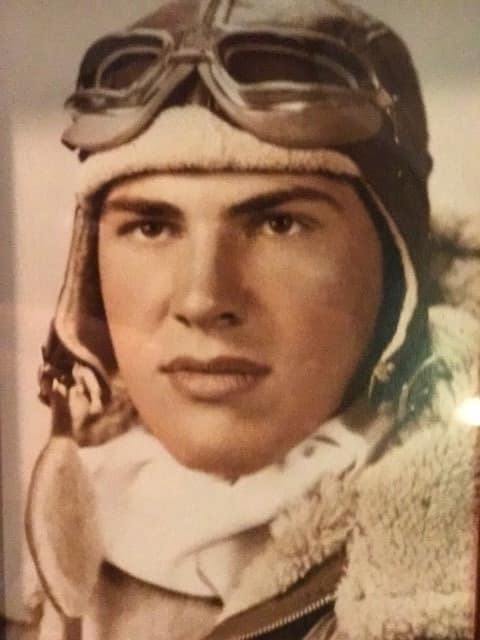 Charles flew transport aircraft in the U.S. Army Air Corps. During deployment from June 1944 to March 1946, he was assigned missions within the combat theaters where enemy anti-aircraft fire and fighter interception were probable and expected. Despite adverse weather conditions and the hazards of long over-water flights, he exhibited professional skill, courage and steadfast devotion to duty which reflected great credit upon himself and the Army Air Forces, according to the Air Medal citation.
Authorized by President Franklin D. Roosevelt by Executive Order on May 11, 1942, the Air Medal is awarded for heroism or meritorious achievement while participating in an aerial flight in or with the U.S. Army, Navy, Marine Corps or Coast Guard subsequent to Sept. 8, 1939.
According to Charles, he was first trained in Piper Cub aircraft by Embry-Riddle during his assignment to the University of Florida in Gainesville. Embry-Riddle trained cadets from the Army Air Corps and the Royal Air Force at various sites in Florida.
He received additional training in El Reno and Enid, Oklahoma before being assigned to fly C-47 transports in the Pacific Theater. He held postings at Hickam Field, Honolulu, Hawaii; Henderson Field, Guadalcanal; and Tontouta Field, New Caledonia with the 64th Troop Carrier Squadron operating Douglas C-47 Skytrains. He later flew a B-25 Mitchell Bomber that had been stripped of the armor as a transport aircraft.
The son of a World War I veteran, Charles was also presented with three additional medals – American Campaign Medal, Asiatic-Pacific Campaign Medal and the WWII Victory Medal that his son, Bill, recently discovered his father earned, but never received.
As was explained, formal ceremonies such as these were often forgone or delayed due to operational commitments during time of war.
Wearing his original khaki Garrison cap from WWII, Charles said he appreciated Embry-Riddle, the Navy and his sons, Bill and Rick Charles, for the ceremony and was astounded "that people cared enough to go through all this trouble to just honor me."
"I thought I was long gone and forgotten," Charles said.
After his discharge from the service, Capt. Charles returned to complete his education at Pennsylvania State University. He went on to have successful careers in the banking and real estate industries in Pennsylvania and Florida. He has four children and resides with his wife, Joyce, in Daytona Beach.