The award was presented by retired Brig. Gen. Timothy P. O'Brien during a private retirement ceremony for Col. Ramos last week at the Jim W. Henderson Administration & Welcome Center for her 30 years of service to the U.S. Air Force. She also received appreciation certificates and a retirement medal.
Throughout her career, O'Brien said Ramos demonstrated a pattern of excellence and ensured cadets had everything they needed to be successful.
According to the Legion of Merit citation read by alumnae Maj. Nicole Bittle, Ramos displayed exemplary leadership, foresight, and ceaseless efforts while providing a consistent superior education, training, and professional development program for the more than 250 officer candidates under her command. Her relentless drive enabled the commissioning of 143 second lieutenants into the United Stated Air Force.
The citation points to a list of accomplishments during Ramos' four years leading the detachment, including working with her staff to secure more than $90,000 for cadet scholarships and detachment funding. She also expanded the involvement of the detachment's alumni, linking cadets and newly commissioned lieutenants with 679 active duty and retired airmen, providing an invaluable mentorship resource. Detachment 157 includes cadets from Embry–Riddle, Bethune-Cookman University, Daytona State College and the University of Central Florida-Daytona Beach Campus with Stetson University students joining in the detachment this fall.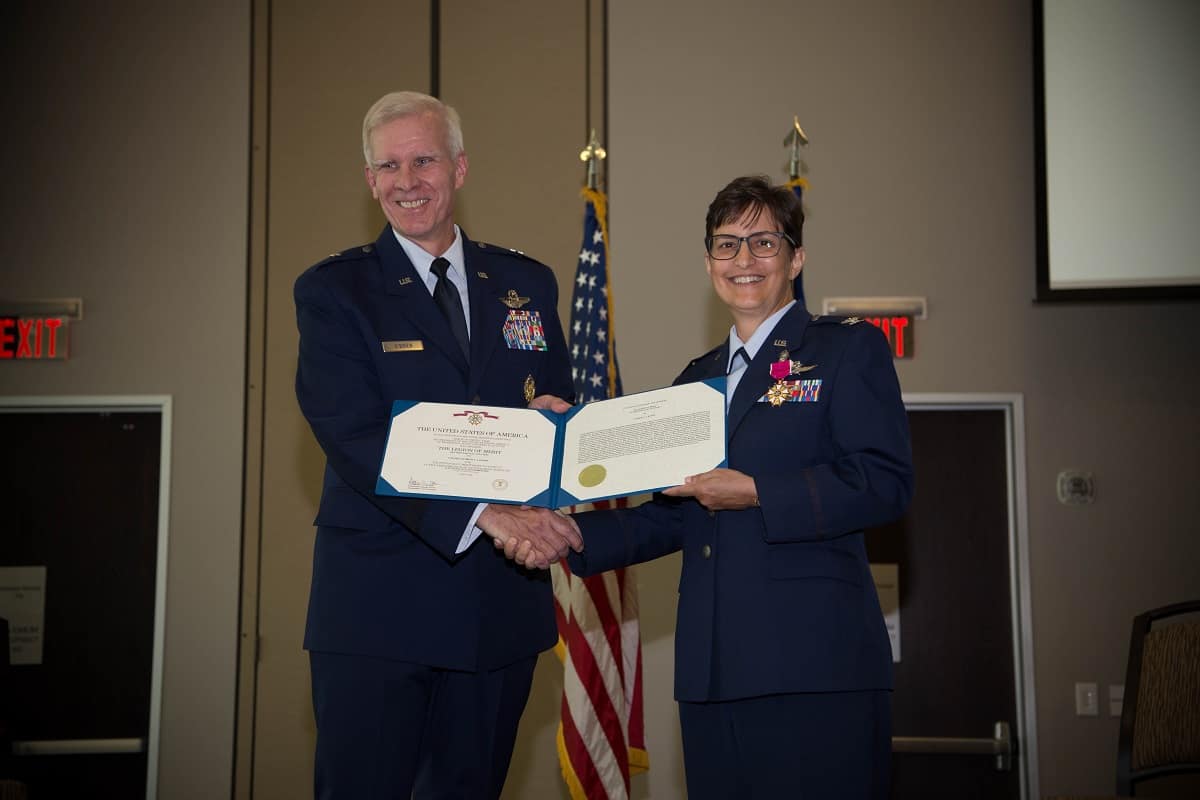 Retired Brig. Gen. Timothy P. O'Brien presents a Legion of Merit award to U.S. Air Force Col. Kimberley Ramos for her leadership commanding the Air Force Reserve Officer Training Corps (AFROTC) Detachment 157 on Embry-Riddle's Daytona Beach Campus. (Embry-Riddle/ Daniela Cabrera).
As a vital participant in the National Pilot Sourcing Forum, Ramos presented innovative concepts to enable universities to partner, thus offering flight degrees to assist in the Air Force's pilot shortage initiative.
Ramos' absolute commitment to instilling a culture of integrity, service and excellence during her tenure at Embry-Riddle was integral to the production of 95 rated officers, ranking her detachment within the top 2 of 145 detachments nationwide. The Air Force Reserve Officer Training Corps detachment at Embry-Riddle's Prescott, Arizona Campus ranked No. 1. The singularly distinctive accomplishments of Ramos culminate a long and distinguished career in the service of her country and reflect great credit upon herself and the United States Air Force, the citation states.
Ramos will remain with Detachment 157 through Sept. 8 during the transition period to a new commander. Col. Jason E. Patla, commander of the 2d Weather Group, 557th Weather Wing, at Offutt Air Force Base in Nebraska, will take command of the detachment Aug. 1. Doing so, he will be leading one of the largest AFROTC programs, and one of the top pilot producing detachments for the Air Force, in the country.