One way to gain insight into a career as a pilot-physician is through the Bachelor of Science in Aerospace Physiology at Embry-Riddle Aeronautical University in Daytona Beach. This new program introduces students to aerospace medicine and ways to manage the effects of a variety of medical conditions on those who travel in air and space. A foundation in aerospace physiology can prepare students for both military training and advanced studies in medical school.
The U.S. Air Force has a limited number of pilot-physicians currently in flight - making their distinct contributions even more vital. According to Col. William Mueller, director of the U.S. Air Force Pilot-Physician Program, the branch currently has 10 active duty pilot-physicians, including three single-seat physician-pilots.
Some physicians may have a pilot license; however, they do not have the necessary training for this specialized occupation. Pilot-physicians train to incorporate health care principles into a mission to optimize human performance. Each pilot is specialized in specific aircraft, which concentrates their expertise and highlights their own unique background and skill set.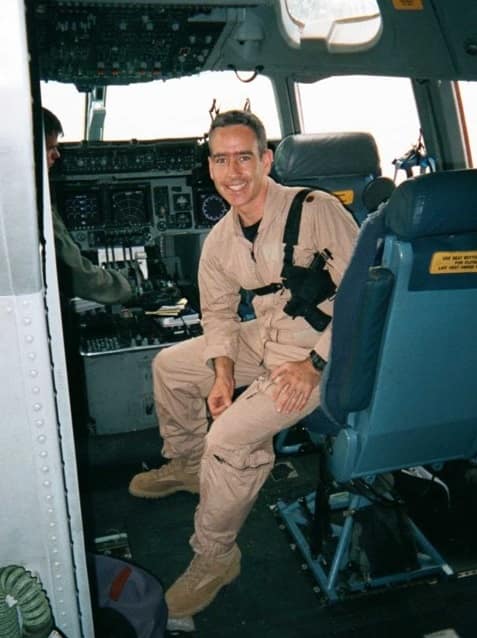 *Pictured is retired Col. (Dr.) Rawson Wood, Embry-Riddle alumnus
"Pilot-physicians differ from flight surgeons because they are trained to pilot the plane," said retired Col. (Dr.) Rawson Wood, an Embry-Riddle graduate who spent 15 years as a pilot-physician and now works as a consultant for the Biodynamic Research Corporation.
His assignments ranged from commanding the 60th Medical Group at the David Grant Medical Center (Travis Air Force Base, Calif.) to developing laser protection devices to preserve visual acuity in the optical pathway, researching gases generated from onboard weapons on an AC-130 and optimizing the man-machine interface in the new MC-130J. He also was involved in several safety and accident investigation boards, worked to integrate pharmaceuticals into fatigue management programs and researched problems with using monochromatic night vision devices in flying.
In contrast, flight surgeons offer medical care to flying personnel and their families while pilot-physicians are qualified to personally fly specific aircraft based on their individual credentials, in addition to providing health care and performing all the duties of a flight surgeon.
"There are times a pilot-physician is qualified to pilot a specific airplane, but still flies in other planes as a flight surgeon. It's all based on their formal qualifications as a pilot," said Wood, who was a qualified pilot-physician for heavier planes such as the C-17 Globemaster III aircraft that is capable of carrying up to 169,000 pounds.
On the opposite end of the spectrum, Woolford is qualified as a single-seat pilot-physician. Currently serving in the United Kingdom as the USAF exchange officer to the Royal Air Force Centre of Aviation Medicine, he provides operational and aeromedical guidance on human systems integration to advance the success and safety of Air Force weapons systems and missions - specifically with the BAE Hawk T-1 aircraft. Woolford was also a pilot-physician of the A-10C Thunderbolt II while at Spangdahlem Air Base in Germany. During this time, he assisted in developing new aircraft, life-support equipment, as well as avionics and software upgrades.
"Single-seat pilot-physicians are key to addressing the challenges that concern our next generation single-seat fighters, such as the F-22 and the F-35," he said. "Since there are no two-seat versions of either, the only way to get a medical professional in flight to make a firsthand assessment is by making them a pilot."
Featured Pilot-Physicians
Lt. Col. Jeffrey Woolford
B.S. Professional Aeronautics, Embry-Riddle Aeronautical University
B.S. Biology, University of Maryland
M.D. Uniformed Services University of the Health Sciences
Master of Public Health, Johns Hopkins University
MBA, Johns Hopkins University
"There's a great degree of science that's required for a comprehensive understanding of how human systems are impacted when in air and space. A basic biology degree doesn't provide enough knowledge to look outside the box and come up with viable solutions."
Retired Col. Rawson Wood
B.S. Aerospace Engineering, Embry-Riddle Aeronautical University
M.S. Aeronautical Science, Embry-Riddle Aeronautical University
M.D. Uniformed Services University of the Health Sciences
Master of Public Health, University of Texas Health Science Center
"The future of pilot-physicians is unlimited. There are a multitude of jobs and ways that they can use their talents to work and contribute."