Nearly 94 percent of all tonsil suction devices are teeming with bacteria, including antibiotic-resistant organisms, 24 hours after use, research shows. Myers realized, given the risk of healthcare-acquired infections, that the haphazard placement of used suction tips was a significant problem.
Enter the Yankaddy®. A disposable holster for the Yankauer suction instrument, Myers' invention features an adjustable arm and a spring clamp that latches onto bedrails, counters and equipment. After Myers secured patent-pending status, Myers Devices LLC gained support from the John Mica Engineering and Aerospace Innovation Complex (MicaPlex) at Embry-Riddle Aeronautical University's Daytona Beach Campus in Florida, where she became an incubator tenant.
Other MicaPlex incubators are pursuing equally audacious ideas. By supporting entrepreneurs, Embry-Riddle hopes to "speed innovation and generate meaningful, high-paying jobs for Volusia County," says Rodney Cruise, senior vice president for administration and planning.
Satellite Services That Fly Higher
Think of it as a kind of space Uber that picks up satellites and hauls them exactly where they need to go — without limits or the hassle of hitching a ride on the International Space Station. Now, imagine that this precision orbital placement service also offers space-based roadside assistance and recycles space trash.
Scott Weintraub, founder of Weintraus LLC, plans to launch his first spacecraft by 2020. A second spacecraft with robotic arms will offer a full range of satellite services, including refueling, debris mitigation and demolition, and assistance with asteroid mining. Ultimately, Weintraub envisions capturing, stripping and rebuilding dead satellites.
"I'm a dreamer," he says. "For a long time, my approach was to try and help one person at a time, but my true passion is aviation and aerospace, and I want to change the world somehow."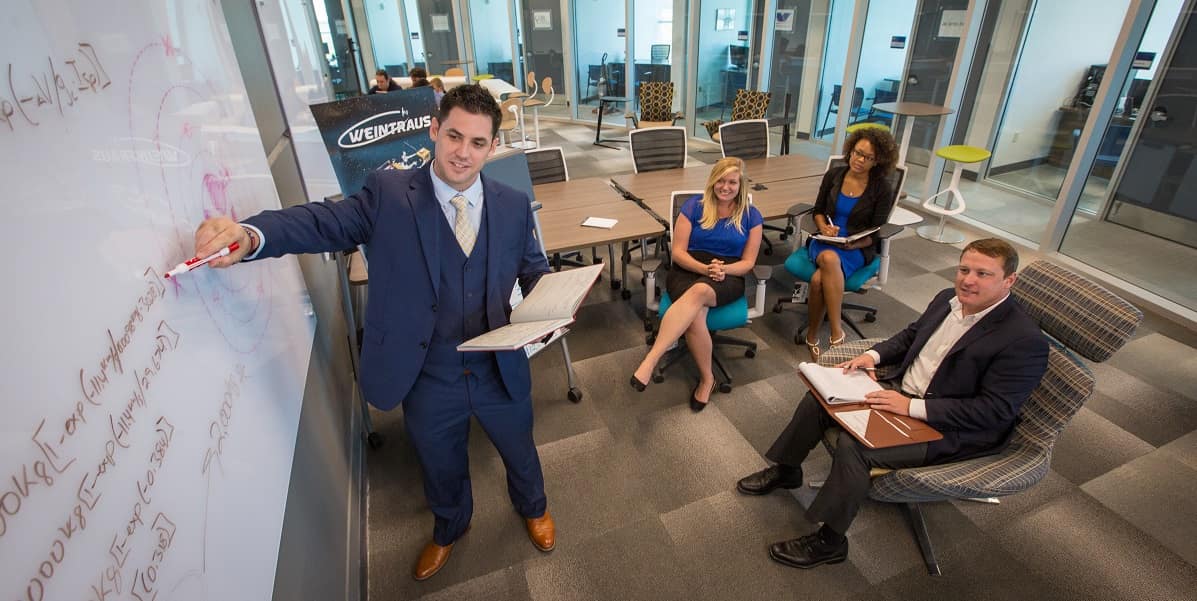 Drone Swarms for Good, Not Evil
Cooperative swarms of drones may sound like science fiction, but Michael Campobasso and Shane Stebler have a noble, real-world plan for Embedded Control Designs LLC. They are building mechanical swarm agents, rigged with communication architecture and control algorithms, to help farmers monitor their crops.
The solution offers reliability since crop inspections completed by multiple drones offer redundancy. Campobasso says a swarm of mechanical flying inspectors could also cover a whole farm in less time and at a lower cost than a fleet of individually operated drones.
The technology, which placed second in the university's recent Launch Your Venture competition, reflects the inventors' passion for innovation.
Campobasso, an Embry-Riddle master's degree student, says he and Stebler "want to be part of the movement to make the best drones in the world."
Focused Beyond the Line of Sight
With the global population predicted to hit 9.6 billion by 2050, farmers need to increase crop yields and reduce losses caused by pests, plant disease and other challenges. While growing up in Illinois, Trevor Perrott regularly heard about farming hardships and came to understand that close, continuous crop inspections are essential to preventing losses.
Inspections are critical for oil pipelines, too; in fact, federal law requires a complete assessment every 21 days.
Aerial inspections offer efficiency, but traditional unmanned aerial systems (UAS) called quadcopters can only fly relatively short distances at line of sight. Manned aircraft and satellites fly farther but cost more.
Perrott and two other former Embry-Riddle students, Payal Chaudhari and John Lobdell, launched Censys Technologies Corp. to develop long-range high-efficiency UAS. Specifically, they are developing drones that can fly beyond the operator's line of sight. They are also evaluating fuel-burning, hybrid and electric propulsion systems.
Censys Technologies Corp. and Weintraus LLC each accepted seed grants of $25,000 from the nonprofit FireSpring Fund.
Editor's Note: This article was originally published in the Fall 2017 edition of ResearchER magazine (Vol. 1, No. 2). The ResearchER archives can be found on Scholarly Commons.