Hauser's grandfather was an Air Force pilot for 22 years, then had a 20-year career with the Federal Aviation Administration. He encouraged her to explore Embry-Riddle because of the University's reputation for having the best aviation and engineering curriculum.
"My mom found the summer camps website and said, 'If you want to follow your grandfather, here's your chance'," said Hauser. "I'm on my fourth camp!"
Hauser has attended Flight Expo, Aerospace Engineering, Astronautical Engineering, and Advanced Flight camps on the Prescott, Ariz. campus. Students in these camps experience life as a college student -- staying in campus housing, eating in the student dining hall, working in the laboratories, and enjoying the student union and athletic facilities. They are taught by current faculty and are working on college-level projects.
"Embry-Riddle's camps are focused on information as much as they are fun and have helped me dial in on what I want to study. I have seen what the curriculum is like and know what I'm getting into," said Hauser. "Yesterday, Professor (Erica) Diels taught us flight planning. We did calculations, read the plane's manual, and reviewed charts and national weather in order to complete our plan. I did something that first- and second-year college students are doing and I did it successfully. Yes, it's advanced, but you can do it."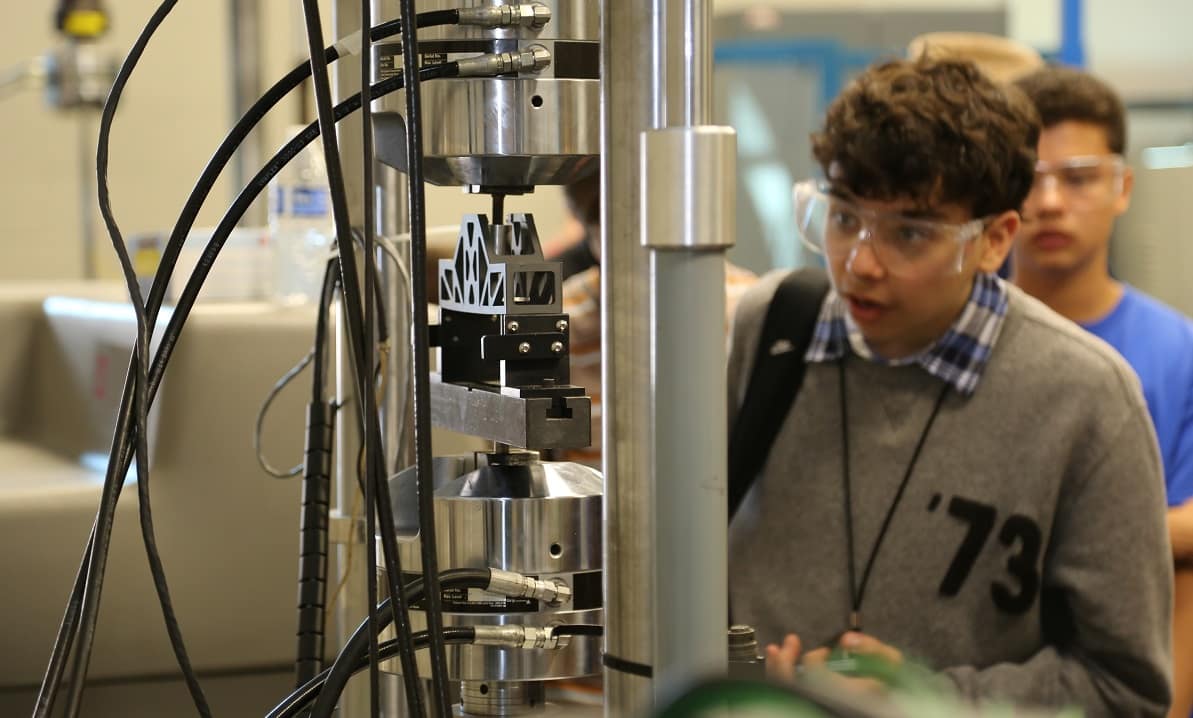 Diels was impressed with the Advanced Flight group. "They were very motivated and their level of questions was certainly advanced," said Diels. "Andreea's group was within one gallon of fuel and one minute of the route. That's incredible considering it was their first time learning this."
In addition to academics, the Embry-Riddle summer camps are a great place for connecting with like-minded students.
"Being in four camps, I've met a lot of students. We choose these camps because we all have a real desire and passion for similar topics. When we get together we have so much in common that the fact/knowledge sharing is great! I'm comfortable here. I've made friends. In fact, I'm still in contact with someone from one of last year's camps who will also be here this fall," said Hauser.
Thanks to the engineering camps, she already has experience using the engineering design process to build and fly balsa wood gliders; has written code for orbital simulation models; and has built a pressurized cannon to experiment with force and velocity. In the flight camps, Hauser has flown from Prescott to Deer Valley in a Diamond DA-42NG and from Payson, Scottsdale and Tucson back to Prescott in a Cessna 172S.
"Each camp supplies a lot of information but they also have given me great resources. I've met faculty and current students who told me to reach out to them when I come back this fall because they want to help with whatever I need," said Hauser. "I'm counting down the days to when I'm officially a freshman at Embry-Riddle!"
Hauser will study Aerospace Engineering in the fall and has already asked to be a Summer Camp Coordinator for next year's summer camp programs.
Find out more about Embry-Riddle Prescott's summer camps. Registration opens in November of each year. Learn about Engineering and Aviation degrees at Embry-Riddle.