Yet service-learning is not limited to high schools. Integrating community service into education is a philosophy also used by colleges and universities to incorporate applicable lessons with community service projects.
"The biggest difference between service-learning and volunteering is that service-learning integrates service with the academic content being covered in the course," explained Dr. Sally Blomstrom, chair of Humanities & Communication at Embry-Riddle Aeronautical University in Daytona Beach. "Students engage in reflection for service-learning projects, to deepen the learning."
Embry-Riddle puts these concepts into practice for students by introducing them to a variety of opportunities.
Outside the Comfort Zone
In the Cases in Leadership course, Assistant Professor Dr. Matt Earnhardt requires Embry-Riddle Worldwide students to participate in volunteer service.
"We started this course as a way to bring the curriculum in the leadership program alive," said Dr. Earnhardt, who chairs the Department of Organizational Leadership. "This program takes curriculum applicability to a new level by removing students from their comfort zone."
Former student and senior community center volunteer Thomas McNeil echoed that sentiment.
"I am very introverted and usually do not like to be in situations where I have to converse with strangers," explained McNeil. "However, during my service project, the members of the center were very interested in my life, so I was forced to talk about myself. The more time I spent at the center, I realized they just wanted someone to talk to and I became a willing conversation participant."
Throughout the course, students learn about the various types of leadership styles and report their observations to Dr. Earnhardt.
"This type of conversation builds a deeper connection because the professor and students talk about shared experiences," explained Dr. Earnhardt.
Although he was initially uncomfortable, McNeil now recommends service-learning to others.
"There is a real difference between what happens in the textbook and reality," he said. "This service-learning project allowed me to witness and soak in a different form of leadership."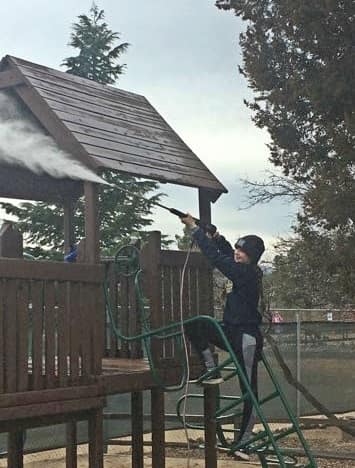 Allyson McClellan worked to renovate a local zoo as part of the HON250 class service-learning project. Students donated approximately 150 hours of community service, recruited ROTC students to donate another 100 hours and raised additional money for the added materials to complete the zoo project.
True Teamwork
At Embry-Riddle's Prescott Campus, Assistant Professor Dr. Matt Haslam instructs HON250, a service-learning class focusing on teamwork and leadership.
"The students go into the community and ultimately choose a service project to do together as a team," explained Dr. Haslam, who chairs the Humanities and Communications department.
Over the past several semesters, Dr. Haslam's students have coordinated unique projects, including a rocket curriculum for a local elementary school.
"Another group revamped a playground at the zoo," said Dr. Haslam. "They put in about 150 hours of community service, recruited ROTC students to donate another 100 hours and raised additional money for the added materials. The zoo was thrilled with the results."
These projects are beneficial to the community and students alike.
"They teach students to communicate with one another," explained Dr. Haslam. "In this assignment, there is no way one person can do it all. Often, this is the first project where students truly work together as a team."
Serving from Afar
In Dr. Blomstrom's speech course, students participate in service-learning that supports a museum in Wayne, Neb.
"Students develop digital video tours of assigned specimen from the A. Jewell Schock Natural History Museum," explained Dr. Blomstrom, who has taught STEM and service-learning for 11 years. "The digital tours include aspects of science, technology, engineering, and math (STEM) and are made available to visitors both virtually and at the museum."
Community Partner Dr. Barbara Hayford, a professor of Life Science at Wayne State College, has benefitted from this contribution for many years. She says the students are very dependable and bring a new perspective both in content and technological details to the subjects.
"Students have made positive impacts by creating interesting and informative digital tours and videos for my audience," said Dr. Hayford. "They created tours about beetles and beetle biomechanics for an exhibit we shared during a local math and science night at Wayne Community Elementary School. The children loved the tours and watched them repeatedly, indicating that part of the evening was their favorite event."
Open Minds
Service-learning is another example of Embry-Riddle's commitment to hands-on learning. The application of classroom principles and philosophies to real world situations often open students' eyes to world around them.
"Through service-learning, I've seen students grow, learn new things, gain confidence that what they're learning can be applied in different settings and expand their horizons in ways they didn't think possible," said Dr. Earnhardt.