A 17-year-old who will receive his high school and associate's degrees at the same time, and a U.S. Marine Corps combat veteran will be among the 1,264 graduates at two separate Embry-Riddle Aeronautical University commencement ceremonies in Daytona Beach, Fla., on May 4 and May 6.
Payton Mercer of Port Wentworth, Ga., earned his Private Pilot's License and remained active in the Civil Air Patrol while completing both his high school and associate's degrees through Embry-Riddle's Worldwide Campus. Mercer was enrolled in the Worldwide Campus Dual-Enrollment program.
Rodrigo Bustamante emigrated from Peru with his parents at the age of 5, enlisted in the U.S. Marine Corps at 17, served as an M1A1 tank operator in Afghanistan, and earned his Bachelor of Science in Spaceflight Operations degree at the university's Daytona Beach Campus.
Mercer and Bustamante are only two of Embry-Riddle's outstanding new graduates.
A total of 869 Eagles will participate in Embry-Riddle Aeronautical University's Daytona Beach Campus Spring Commencement at 10 a.m. Monday, May 6, at the Ocean Center, in Daytona Beach, Fla, representing the campus' largest class in history. Alumnus Dennis Jones ('80), a former National Transportation Safety Board (NTSB) senior official, will serve as the commencement speaker at the ceremony.
The university's Worldwide Campus expects 395 Eagles to participate in its commencement event at 9 a.m. on Saturday, May 4, at the I.C.I. Center on the Daytona Beach Campus, 600 S. Clyde Morris Blvd. Former insurance industry executive David B. O'Maley, a member of Embry-Riddle's Board of Trustees and namesake of the David B. O'Maley College of Business, will serve as keynote speaker.
Daytona Beach Campus
Of the total number of graduates, an estimated 737 will represent the undergraduate colleges of Arts & Sciences, Aviation, Business and Engineering, while another 125 are set to receive master's degrees, and 7 will receive Ph.Ds. The spring 2019 graduating class also includes 76 ROTC students who will receive military commissions: 28 from Air Force ROTC, 26 from Army ROTC and 22 from Navy/Marine Corps ROTC.
To accommodate all families and friends of graduates who are not able to attend the Commencement ceremony in person, a live-streaming broadcast will be available online. More ceremony details, as well as information for families and frequently asked questions, can be found on the Daytona Beach Campus website.
Keynote speaker Dennis Jones completed nearly 40 years of federal service. He investigated about 1,500 aircraft accidents as well as served in training, supervisory, managerial and executive senior leadership roles. He has led investigations in about 60 countries and, in 2005, was designated as the NTSB's representative for the Safe Skies for Africa Program, a White House initiative aimed at strengthening, if not establishing, internationally compliant accident-investigation programs all over the world.
Jones graduated from the Daytona Beach Campus with a Bachelor of Science in Aircraft Technology, and he holds a Commercial Pilot's License with multi-engine ratings.
Worldwide Campus
The 395 Eagles who will walk in the Worldwide Campus Spring Commencement ceremony include 199 receiving Master's degrees.
Among the graduates, 26 Eagles (including 25 receiving Bachelor's degrees and one earning a Master's degree) will commission as 2nd Lieutenants with the Army ROTC. In addition, 15 graduates will commission as Navy Ensigns. Another seven will commission with the Marines as 2nd Lieutenants.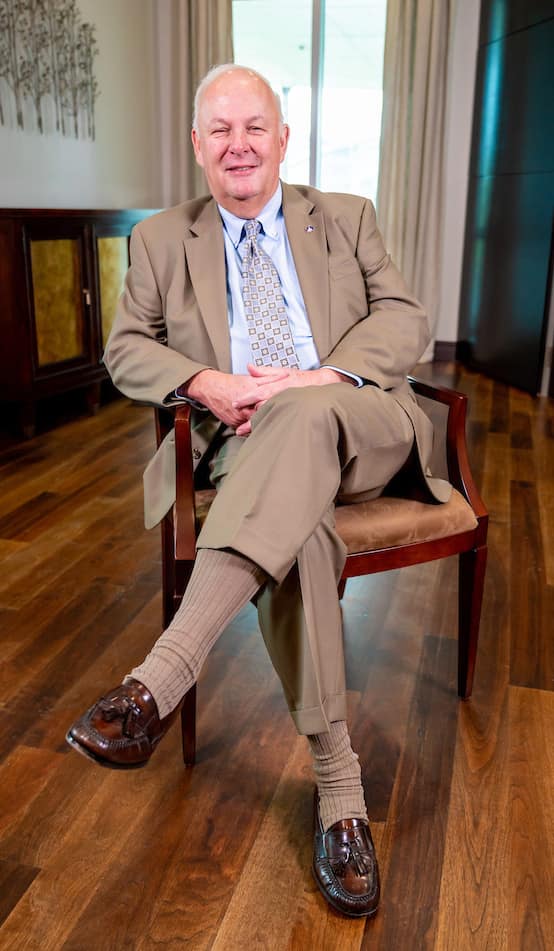 The College of Business was recently named after Trustee and philanthropist David B. O'Maley. (Photo: Embry-Riddle/David Massey)
Keynote speaker David B. O'Maley, a nationally prominent insurance executive until his retirement in 2010, served as Chairman, President and Chief Executive Officer of Ohio National Financial Services, a leading provider of competitive individual life and annuity products with more than 40,000 distributors nationwide. Under his leadership, Ohio National grew from $4.1 billion in assets under management in 1993, to more than $27 billion in 2010.
An active pilot, O'Maley holds both an Airline Transport Pilot certificate and an airframe and powerplant mechanic's license. In 2003, he and his family founded the Tri-State Warbird Museum in Batavia, Oh. He is a valued member of the Embry-Riddle Board of Trustees. A generous gift from David and Karen O'Maley last year prompted Embry-Riddle to rename its Florida-based College of Business in the family's honor.
The Worldwide Campus commencement will be live-streamed from the Streaming Eagles Live website to accommodate all families and friends of graduates who are unable to attend the commencement ceremony. The broadcast will begin approximately 30 minutes prior to the start of the event. Although the ceremony will not be recorded, it will be available on demand on the Streaming Eagles website afterwards.
For more information on the commencement ceremony, a map of campus and more, go to https://worldwide.erau.edu/graduation/worldwide-daytona-beach-ceremony/.
Other Ceremonies
Friday, May 3:
Army ROTC Commissioning Ceremony – Cadets of the Eagle Battalion will take the oath of office to commission as second lieutenants in the U.S. Army at 10 a.m. in the Henderson Welcome Center. A reception will be held following the ceremony.
Sunday, May 5:
Master's Hooding Ceremony – The ceremony will be held at 10 a.m. in the ICI Center. A reception following the ceremony will be held for students and their guests.
Air Force ROTC Commissioning Ceremony – Detachment 157 will commission its cadets as second lieutenants in the U.S. Air Force with a ceremony beginning at 1 p.m. in the ICI Center, followed by a reception.
Monday, May 6:
Naval ROTC Commissioning Ceremony – Embry–Riddle's NROTC Battalion will host its spring commissioning ceremony at 3 p.m. in the Henderson Welcome Center. Graduating midshipmen will take the oath of office to commission as ensigns in the Navy or second lieutenants in the Marine Corps. A reception will be held following the ceremony.
Posted In: Institutional News