Once I got my head out of the sky, we met with Lockheed Martin F-35 Site Director Art Cameron and Kristi Forino of Lockheed Martin Government Affairs. The tour started with a background briefing of the F-35 and overview of the Luke AFB operations. I suppose I knew the F-35 was designed by the partner nations, but I had never given it much thought. You might say the aircraft was designed by committee!
As Cameron provided details on the F-35 design and how the partner nations provided input, it became clear that the collective good for the group was answered in the design. Lockheed Martin implemented a sustainable, innovative approach to meet increasingly global aircraft design processes and the need for a multi-role aircraft.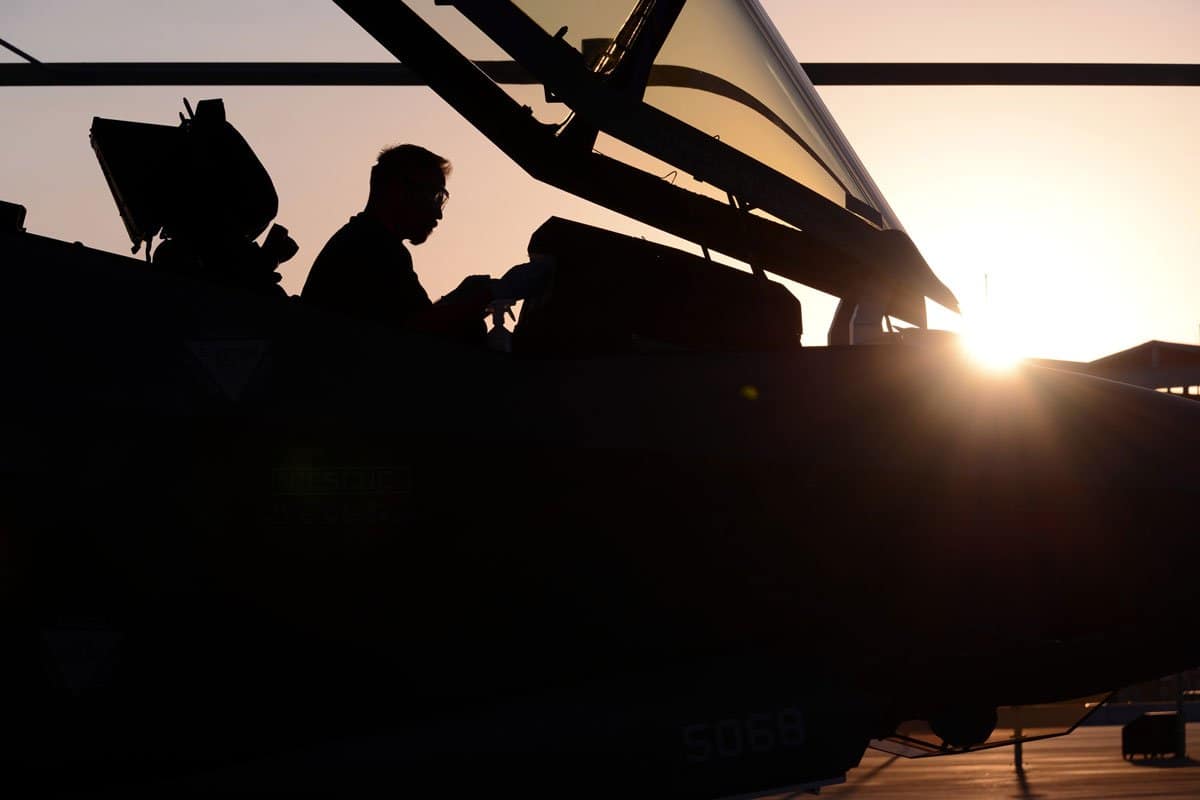 After the briefing, we visited the 62nd Aircraft Maintenance Unit (AMU). My fellow former military maintainers may be thinking "blue suiters" and the typical flight line operations. Wrong! The 62nd AMU is staffed entirely by Lockheed Martin personnel to support the training of U.S., Norwegian and Italian pilots.
Why Lockheed Martin personnel? The U.S. Air Force slowed down aircraft retirements such as the A-10. Airmen meant to transition to F-35 remained with their current aircraft. With the need to stand up new fighter squadrons and for AMUs to stay on schedule with the F-35 training, U.S. Air Force leaders asked Lockheed Martin to provide personnel for ground support operations. Not to mention that they needed to stand up the operation in 60 days. Lockheed Martin not only met the challenge but did so before the deadline.
Bill McElligott, the 62nd AMU Manager, provided an overview of the operation and a short tour of the facilities. Most of the personnel have a military background and possess a phenomenal depth of experience – averaging more than 19 years in aircraft maintenance. Also embedded in the unit are younger military members who train alongside Lockheed Martin employees. Such a great opportunity for the young military members to be mentored by those with such expertise!
I don't know exactly what I expected to learn or see during the tour. And I admit, I was skeptical of the operation's success. However, I was enlightened and pleasantly surprised. I walked away with a better understanding of and admiration for those working on the F-35 project. What was obvious in each person we met was pride and purpose of mission. It also became clear that Lockheed Martin is not only meeting, but surpassing the expectations of its military clients. And they are doing so with innovative solutions.
Dr. Patti Clark is an assistant professor in the College of Aeronautics at Embry-Riddle Worldwide.