"The gunman was not able to get into the school because teachers responded immediately to secure all barriers between him and the children," says Tom Foley, an assistant professor of global security and intelligence at Embry-Riddle Aeronautical University's Prescott Campus in Arizona. "He spent about six minutes trying to get in — trying doorknobs, shooting through doors and windows — but he was never able to get into the classrooms, and after six minutes he became frustrated and left the school."
The incident illustrates how a few minutes of delay can save hundreds of lives during a school shooting. Yet, Foley says, schools have been left with little guidance on which kinds of physical barriers can be used to stave off a shooter before the police and other emergency responders arrive on campus. He and a team of Embry-Riddle researchers want to change that with a new project that helps K-12 schools build what Foley calls "security in depth."
He and his colleagues have received a $769,890 grant from the U.S. National Institute of Justice to evaluate the success of physical barriers in delaying an attack, and to learn more about parent and teacher perceptions of school security.
The researchers aren't looking for barriers that will stop a bullet, since those kinds of solutions are unsuitable for cash-strapped schools — not to mention kindergartners who can't push open a bulletproof door. Instead, they want to know what kind of doors and windows are best for keeping a shooter at bay for critical extra seconds.
Layers of Security
Schools can be wrapped in layers of security like an onion, Foley says, where a perimeter fence occupies an outer layer, outside doors and windows form a deeper layer, and so on. "The basic concept is that at each layer, you're creating a little delay, and each layer has a few seconds or minutes attached to it that represent how fast it can be breached," he explains.
"You find out how long it will take the police to get there and engage the shooter, then you design the physical security of the school to keep the shooter away from the children for at least that long," he adds.
But how many seconds does it take to shoot through a classroom door? As the centerpiece of their project, Foley and his colleagues will measure how long it takes a combination of brute force and 5.56 mm, 9 mm and 357 Magnum munitions and 12-gauge 00 buckshot to breach the three most commonly used solid birch and steel clad doors; plate glass, wired glass and tempered glass in classroom doors and sidelights; as well as each type of glass covered in two different thicknesses of smash-resistant film.
The researchers will also measure and make videos of the range and spread of splintering debris from a gunshot through a door or a window. "We want not only penetration times, but also how much fragmentation will come off a specific product and cause injuries," Foley says.
Gearing up to perform the experiments is Richard Rodriguez, a retired Navy SEAL, former SWAT team commander for the Surprise, Arizona, police department and a recent Embry-Riddle graduate. Rodriguez was a heavy weapons machine gunner and platoon chief who breached everything from doors to armored ship hatches during his time as a SEAL, most of which "were done under less than desirable conditions such as hostile ship takeovers and in combat while in Operation Iraqi Freedom," he says.
Rodriguez has three children. "As a parent, I have a personal interest in this study to possibly help out in making future changes to our schools for the better," he says. "As a former police officer and SWAT team commander, I can only see positive things coming out of this research."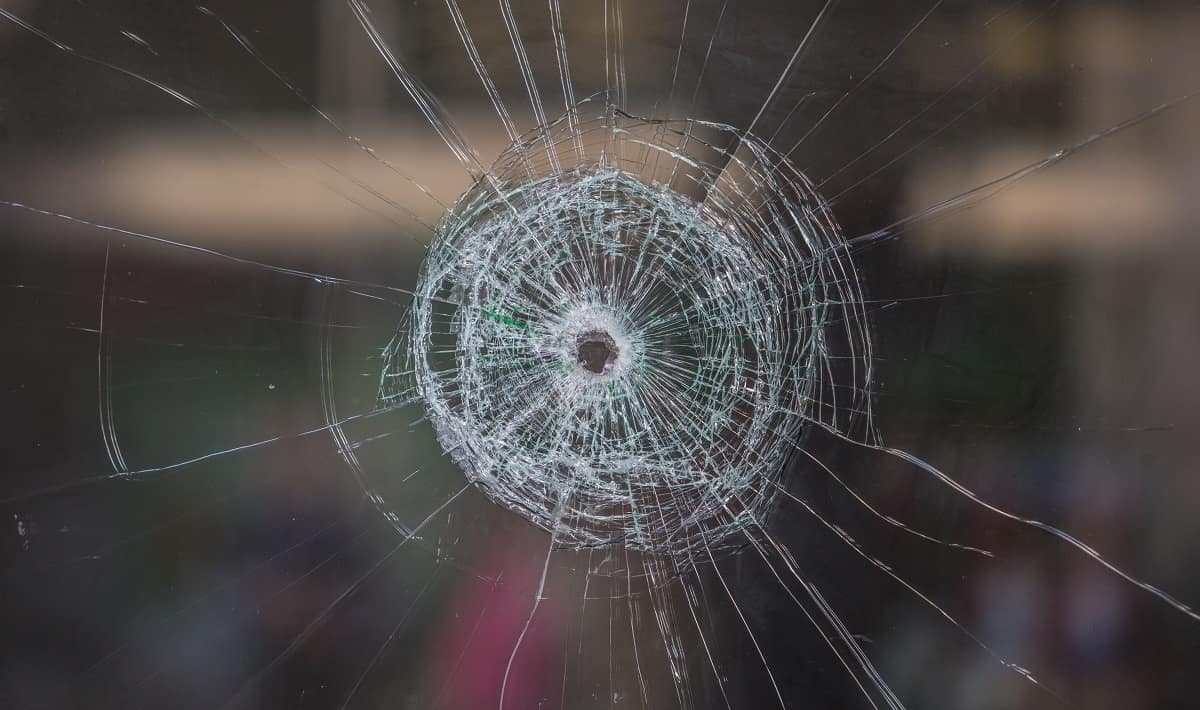 A Community Effort
The study team is reaching out to 447 Arizona schools in 23 districts for another key part of the project: visiting individual schools to determine their current state of physical security and surveying parents and teachers to gauge their perceptions of security. Participating schools in urban, suburban and rural areas and on Native American reservations will receive surveys at the start of the 2018-2019 school year, when parent interest and engagement with the schools runs high.
As part of their senior-year capstone projects, some of Foley's students analyze the physical security of schools, and he says the experience has taught him that security experts and parents and teachers often have different ideas about school safety. He recalls one school that was proud of its locked-door policy, for instance — until he pointed out multiple doorways propped open in hallways that could have been difficult to close or might be blocked by bodies in an active shooter situation.
"They had just heard that it's good policy to have classroom doors locked all the time, but they didn't really think about what they were trying to accomplish by doing that, and how they can best accomplish it," he says.
Inspired by Sandy Hook
The team is also putting together a detailed buying guide for doors, windows and window treatments based on its ballistics results. The idea isn't to recommend particular brands, Foley emphasizes, but to provide information on how many seconds a particular barrier can add to a school's security plan.
There is a "moral panic" after each school shooting that can spur financially stretched school districts to spend money on measures that may not add to campus security, Foley notes. "We hope our buying guide will help schools take whatever their limited funds are and spend them on what's most effective."
Foley was motivated to examine school safety in greater depth after the 2012 Sandy Hook elementary school shooting. At a meeting that year of ASIS International, a global security professionals organization, "we started off the meeting with a moment of silence for the victims, and it occurred to me that we had 500 years' worth of combined work experience in here — I should be doing something other than hanging my head in silence," Foley recalls.
"The Sandy Hook shooting took six minutes from the first to last shot," he says. "In essence, we are figuring out how to enhance security design to give the kids at the next Sandy Hook six minutes before the bad guy can get to them."
Editor's Notes: This article was originally published in the fall 2018 edition of Embry-Riddle's ResearchER magazine (Vol. 2, No. 2). The ResearchER archives can be found on Scholarly Commons.
---
Tom Foley, assistant professor of global security and intelligence, leads this research effort to keep K-12 schools safer. The team also includes Erin Bowen, director of the Robertson Safety Institute and chair of the Behavioral & Safety Sciences Department; Michele Gazica, an assistant professor in Behavioral & Safety Sciences; Reginald Parker and Brooke Shannon, both assistant professors in the College of Security and Intelligence; Michael Brady, the director of Campus Safety & Security in Prescott; and Muna Slewa, an assistant professor in the Mechanical Engineering Department.

*Written by Becky Ham