The roundtable included the Hon. Robert Sumwalt, chair of the NTSB, as well as an astronaut and representatives from the Federal Aviation Administration, the Aircraft Owners and Pilots Association, the Experimental Aircraft Association, aerobatic champion pilot Patty Wagstaff and others.
"Loss of control in flight kills more general aviation pilots than any other factor," Sumwalt said in opening the April 24 event, which can be viewed online. The event focused in particular on fixed-wing aircraft flown by pilots with visual flight restricted licenses. Discussion encompassed training and mentoring options for general aviation pilots, common pilot errors, safety culture and professionalism, new flight deck technologies to improve situational awareness, flight-data monitoring technology, potential challenges to reducing loss-of-control accidents and more.
Combating a Deadly Problem
Over the past ten years, said John DeLisi, director of the NTSB's Office of Aviation Safety, 978 pilots have lost control of aircraft, resulting in 1,672 lives lost. Within the next five years, DeLisi said, he hopes many deaths can be prevented through innovations such as, for example, extra hours of slow-flight practice with an instructor skilled at preventing stalls and low-cost angle-of-attack indicators to help pilots safely execute turns.
Anderson, who also earned her M.B.A. degree in aviation business administration from Embry-Riddle, said there were two primary topics of discussion at the NTSB event – "how can we train pilots more effectively to avoid loss of control, and how can we provide them with newer safety technologies?"
Many privately owned general aviation aircraft tend to be older, she explained. Aircraft certification requirements can complicate or prevent the installation of autopilot technology and other safety equipment into older airplanes. Moreover, the cost to retrofit an older aircraft can exceed the plane's value.
Anderson, an aerobatic pilot who has developed a course on "upset recovery," or swiftly regaining control of an aircraft, discussed the importance of fundamental "stick and rudder skills" as well as an understanding of basic aerodynamics. General aviation pilots also need energy-management skills to ensure safe landings and knowledge of aircraft slips, in which a plane slides into a turn, versus more dangerous skids, in which the aircraft yaws into a turn. An industry-directed incentive program might be developed to reward general aviation pilots who pursue additional training, she said.
Alan Stolzer, dean of the university's College of Aviation on the Daytona Beach Campus, said Anderson's unique expertise and focus on safety are a winning combination for Embry-Riddle. "Carolina's experience as a teacher, a pilot, and a researcher is invaluable to our students' education," he said. "She lives and breathes aviation and is a wonderful asset to the college. We were honored that she represented Embry-Riddle on the NTSB's prestigious panel on safety in general aviation."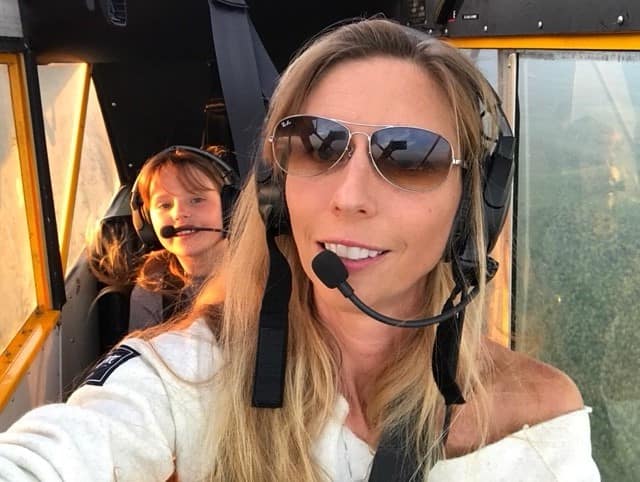 Drawing Youth into Aviation
Anderson's love for aviation was encouraged by her late father, a pilot for Avianca in Colombia, where she grew up. She flew gliders at age 14 and she soloed at 16, towed by her father in a Super Cub.
Today, she has more than 4,000 hours of flight time and has provided more than 3,500 hours of flight instruction. She holds Airline Transport Pilot and commercial pilot certificates in single-engine, multi-engine, instrument airplanes, gliders and seaplanes.
In addition to her teaching and research, Anderson works to share her love of aviation with young people. Anderson and her husband, Richard "Pat" Anderson, an Embry-Riddle professor and director of the Eagle Flight Research Center, founded the Eagle Sport Aviation Club. She is the Vice President of the International Aerobatic Club chapter and president of the Daytona Chapter of the 99s. She has also served in official coaching and mentoring roles for women aviators through the Air Race Classic and the Women Soar initiative.
"We need to be reaching young people, and especially girls, at a much younger age, well before middle school," Anderson said. "Gliders are a very good way to get children into aviation and STEM [science, technology, engineering and mathematics]."
Over the years, Pat and Carolina have initiated several programs to put youth into gliders, which don't have an engine and therefore require a tow. "Flying a glider is more of a community effort," she said. "Glider-pilots can solo at 14 instead of 16. You see how it has changed lives and how some kids who otherwise might be lost can gain a sense of belonging as well as discipline."
The Andersons have two daughters, Caroline, 3, and Sidney Piper, 9. Both girls are already well immersed in aviation. They live in a fly-in community and their mother's passion for aviation is a constant.
"I might take off on a Saturday morning in my pajamas, fly upside down a couple of times, come back and have breakfast with my family," she said. "I love helping young people enjoy that same freedom, but I want them to do so safely."