On Monday, March 5, artist and retired astronaut Nicole Stott, a member of Embry-Riddle's Board of Trustees since 2012 and a champion of the Spacesuit Art Project, paid visits to both Florida Hospital and Halifax Hospital. Young patients were encouraged to create colorful fabric paintings that will be sewn onto the spacesuit. They also painted postcards that will be shared with astronauts as part of an electronic art compilation and story to be projected inside the International Space Station (ISS), ideally in time for International Children's Day on June 1.
At one of the hospitals, Stott was joined by Embry-Riddle students Nicholas Lopac and Michael Fornito II, who had volunteered to participate in in the visits. "I've known about Nicole and the Spacesuit Art Project for a while," Lopac said. "I have a personal connection with pediatric cancer in my family, so I was very motivated to visit the hospitals and thankful to be involved in the effort."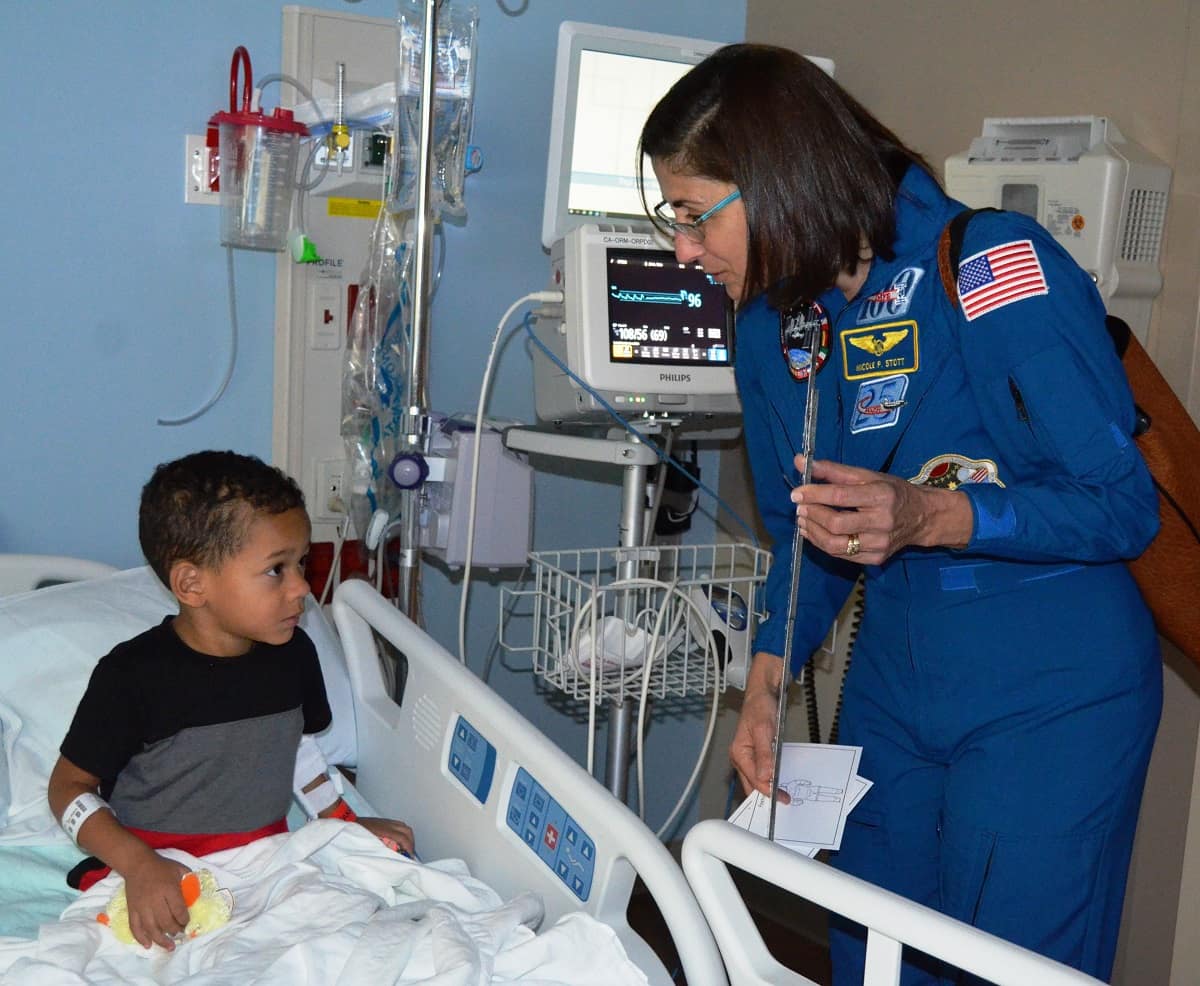 Duane Jones, age 3, of Orlando, Fla., was one of the young patients who met with retired astronaut and artist Nicole Stott during a visit to Florida Hospital Memorial Medical Center on March 5. Stott is both an Embry-Riddle alumna and a member of the Board of Trustees.
Stott retired from NASA in 2015, following a 27-year career that included living for 104 days in space on the ISS. Also an artist, Stott now combines her spaceflight experience and artwork to inspire creative thinking about solutions to our planetary challenges, to raise awareness of the surprising interplay between science and art, and to promote the amazing work being done every day in space to improve life here on Earth.
Advancing Innovative Medicine
Stott's recent hospital visits, organized by Embry-Riddle's Department of Human Factors and Behavioral Neurobiology, were only the latest outcome of the university's long-standing partnerships with local hospitals, said Karen Gaines, dean of the university's College of Arts and Sciences at Daytona Beach.
For example, Gaines said, advancing innovative, research-based healthcare strategies is the focus of Embry-Riddle's joint work with Florida Hospital. In particular, human factors faculty and students are helping medical professionals optimize teamwork and communication to benefit patients.
That research leverages unique and well-regarded systems for classifying workflow disruptions in healthcare settings. The systems, called RIPCHORD (Realizing Improved Patient Care through Human-Centered Operating Room Design) and RIPCHORD-Threat Windows Analysis, were developed by Professor and human factors department Chair Scott Shappell, in concert with graduate students and colleagues at Embry-Riddle as well as other institutions.
Improving Patient Care
Embry-Riddle's efforts to help optimize patient care, conducted by researchers such as Professor Albert Boquet and former graduate student Tara Cohen, now a research scientist at Cedars-Sinai Medical Center, have appeared in many peer-reviewed journals. Other faculty members, such as Assistant Professors Elizabeth Lazarra and Joseph Keebler, have investigated the potential benefits of standardizing protocols for "patient handoffs" – a vulnerable moment when patients transition from one care provider to another.
Going forward, joint research will focus on seamless, integrated care for each patient at Florida Hospital, Gaines said. "Embry-Riddle has been fortunate to establish positive relationships with our area hospitals," she added. "We value those partnerships because they benefit the community while also providing student researchers with real-world learning opportunities."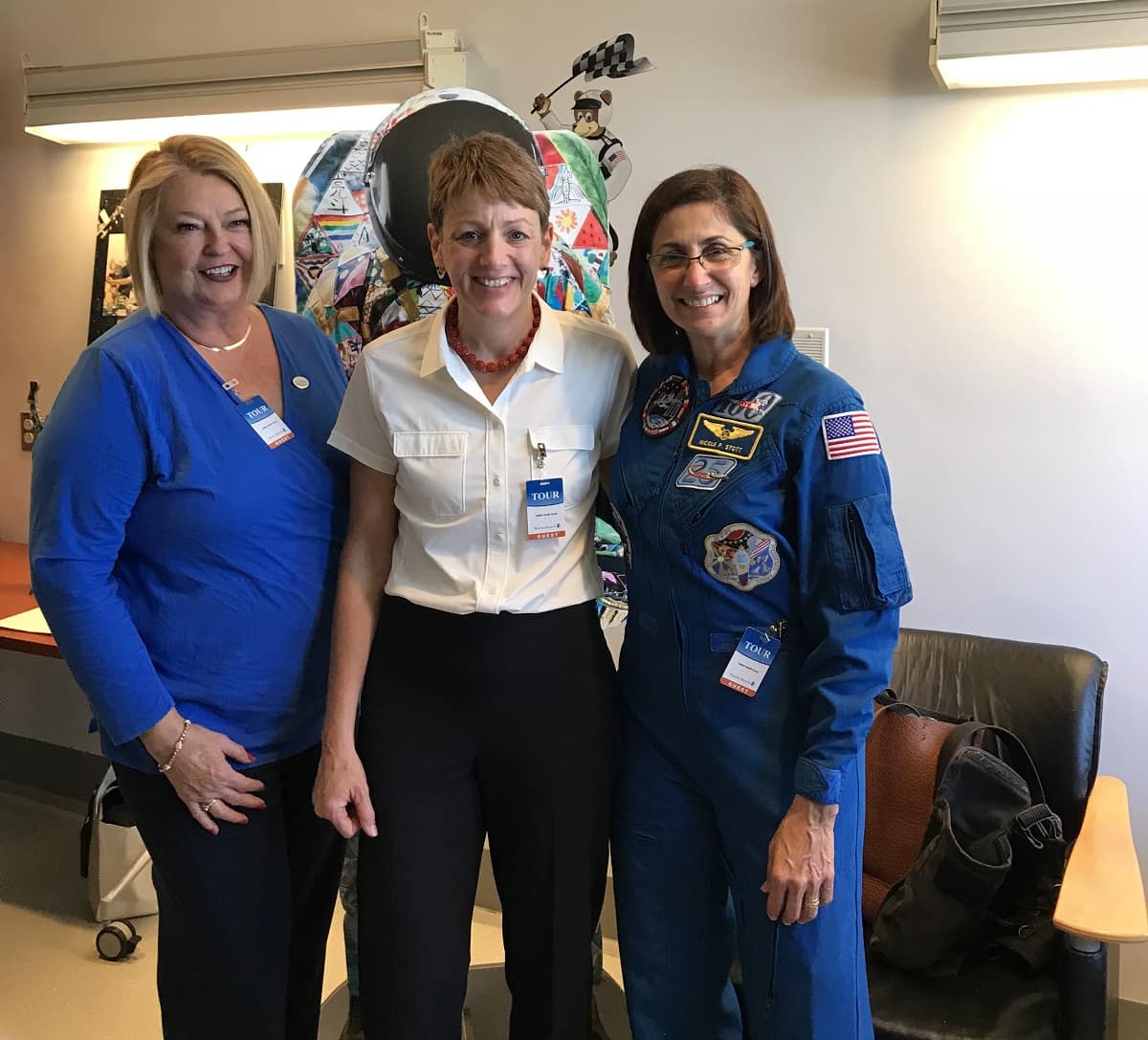 At Halifax Health Medical Center, Nicole Stott (right) and Dr. Karen Gaines, dean of Embry-Riddle's Daytona Beach-based College of Arts and Sciences (center) were joined by the Hon. Deb Denys, vice chair of the Volusia County Council.