Embry-Riddle Worldwide Officially Opens South Korea Campus at US Osan Air Base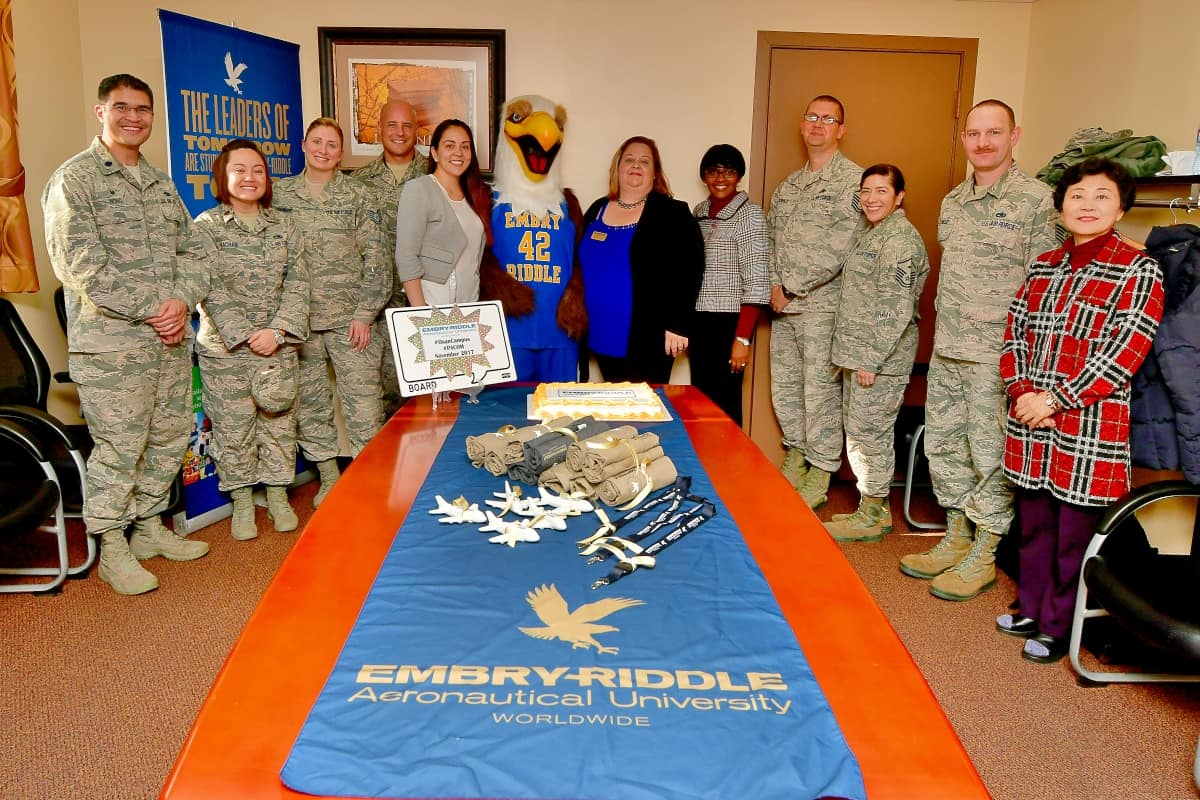 In its ongoing mission to provide higher education opportunities and degree programs for military service members in the Pacific, Embry-Riddle Aeronautical University's Worldwide Campus has officially launched its U.S. Air Force Osan Air Base (South Korea) campus with courses starting in January 2018.
On Nov. 21, representatives of the base's leadership, including the Aircraft Maintenance Squadron (AMXS) commander, Lt. Col. Bryan Wong, joined Embry-Riddle Worldwide Osan Campus staff, students, faculty and alumni to attend the grand opening and ribbon-cutting ceremony at the base located about an hour from of Seoul, South Korea.
Led by Embry-Riddle Worldwide Campus Director Kristina Ejike and Assistant Campus Director Bree Messina, the Osan Campus will provide onsite and online instruction for an expected 80 to 100 students pursuing undergraduate and graduate degrees during the next few years.
"The opening of the Osan Campus continues to expand our footprint in Japan and Korea plus provides an opportunity for Embry-Riddle Worldwide to provide exemplary support to our military members located overseas," said Dr. Bob Walton, Embry-Riddle Worldwide Executive Director of International Operations.
Osan Air Base, is located near Songtan Station in the city of Pyeongtaek. The 51st Fighter Wing headquartered at Osan Air Base provides combat-ready forces for close air support, air strike control, forward air control-airborne, combat search and rescue, counter air and fire, and interdiction in the defense of South Korea. The Air Base currently has a population of approximately 8,400 military personnel, civilians and family members.
For more information on Embry-Riddle Worldwide locations and degree programs, go to worldwide.erau.edu.
---
About Embry-Riddle Aeronautical University
Embry-Riddle Aeronautical University, the world's largest, fully accredited university specializing in aviation and aerospace, is a nonprofit, independent institution offering more than 80 baccalaureate, master's and Ph.D. degree programs in its colleges of Arts & Sciences, Aviation, Business, Engineering and Security & Intelligence. Embry-Riddle educates students at residential campuses in Daytona Beach, Fla., and Prescott, Ariz., through the Worldwide Campus with more than 125 locations in the United States, Europe, Asia and the Middle East, and through online programs. The university is a major research center, seeking solutions to real-world problems in partnership with the aerospace industry, other universities and government agencies. For more information, visit www.embryriddle.edu, follow us on Twitter (@EmbryRiddle) and facebook.com/EmbryRiddleUniversity, and find expert videos at YouTube.com/EmbryRiddleUniv.