As the rapidly growing UAS industry prepares for wider commercial use, the potential benefits of these systems are changing the aviation industry. Government and emergency rescue organizations are increasingly turning to UAS to venture into remote or dangerous areas in order to transmit sensor data to search teams during emergencies, such as natural disasters and plane crashes.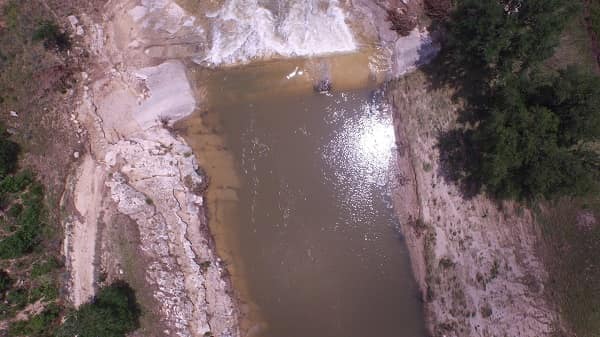 Photo of the Blanco River flooding, taken by unmanned aerial systems
By searching for survivors, investigating accident scenes and surveying damage from natural disasters, UAS provide the potential to protect lives and significantly reduce the cost of emergency response.
At Embry-Riddle's Daytona Beach campus, students in the Unmanned Aircraft Systems Science program are in the initial partnering stages with the Volusia County Beach Safety Office to help design UAS protocols that could help detect drowning victims and could possibly drop down flotation devices.
"The idea is that as we mature this relationship and support the county's needs, students may operate to gain practical and real-world experience for the UAS bachelor's degree," said Embry-Riddle Aviation Professor Joe Cerreta.
In addition to working with UAS application in industry, the Prescott, Arizona, campus students pursuing a bachelor's degree or minor in Unmanned Aircraft Systems are exploring the ever-changing regulations in the US as well as internationally in the new spring semester course Global UAS Regulations.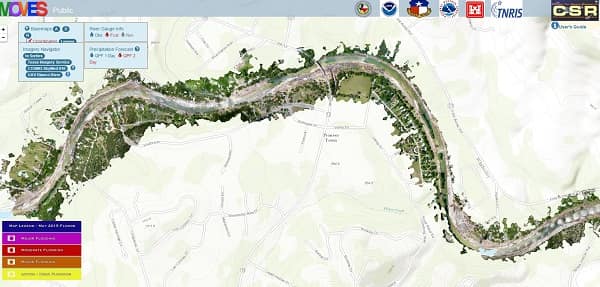 UAS footage helped the Wimberley Fire Department put together this mosaic of the flooding along the Blanco River.
As a nation, the United States has enacted some 100 laws in about 30 different states dealing with unmanned aircraft. Internationally, 68 countries have some form of UAS regulation in their laws. Our new course, that to date is only being offered at the Prescott campus, explains this complex legal environment as we move forward toward solutions," said Dr. Sarah Nilsson, Esq., UAS, Aviation and Law faculty in the College of Aviation.
Using UAS for emergency response still has several hurdles for widespread use. During the floods in Texas, for example, UAS could not be deployed until the third day of the disaster due to a crowded airspace of emergency responders and the time it took to obtain permission to fly from the Federal Aviation Administration (FAA), due to limited cell phone signal and power outages. Legislation and regulations that restrict the use of UAS are obstacles that must be cleared for this technology to be more effective during emergencies, Embry-Riddle Worldwide researchers Dennis Vincenzi, David Ison, and Brent Terwilliger concluded in the 2015 paper "The Role of Unmanned Aircraft Systems in Disaster Response and Recovery Efforts: Historical, Current and Future."
For special authorization into the airspace, public entities operating UAS must obtain a certification of waiver for authorization (COA) that requires a detailed description of intended flight operations and the classification of the airspace to be used. Because the location and classification of airspace is not typically known prior to an emergency or natural disaster, this often delays UAS from being utilized in a timely manner.
In an effort to address these issues, Embry-Riddle has co-founded The Alliance for System Safety of UAS through Research Excellence (ASSURE), a consortium of 22 research institutions that will provide information to help the FAA quickly and safely integrate UAS into the National Airspace System (NAS). The use of UAS for emergencies falls under the consortium's Low Altitude Operations Safety research that examines issues associated with the substantial increase in air traffic below 400 feet that is expected with the integration of small unmanned aircraft systems.
"The use of UAS provide a significant opportunity to extend the capabilities of emergency service providers and responders," said Terwilliger, Program Chair for the Master of Science in Unmanned Systems at Embry-Riddle Worldwide. "However, it is essential for users to fully understand the limitations and constraints, in addition to best practices and operational regulations, to ensure safe, effective, and appropriate use."