Dailey, an engineer with the U.S. Naval Research Laboratory (NRL) who has broadly communicated her research through programs such as Science Friday and AUVSI RoboNation TV, is putting Embry-Riddle alumnus Mike Geldart's award-winning orthopedic invention to the test.
Based on a flexible, aerospace-grade composite material used for aircraft wings and fuselages, Geldart's invention – the Ascend™ knee brace with patent-pending Varying Radius Spring technology – was designed to provide continuous assistance to the quadriceps and help strengthen muscles during orthopedic rehabilitation.
Dailey explained her research plan during an Aug. 30 class offered by Victor Huayamave, assistant professor of mechanical engineering, who has mentored Dailey, with support from Eduardo Divo, department chair of mechanical engineering.
Working initially with one human subject, Dailey will study flexion and extension movements with and without the aid of Geldart's knee brace. The research will make use of a motion-capture system in the Robotics and Autonomous Systems Laboratory in Embry-Riddle's John Mica Engineering and Aerospace Innovation Complex (MicaPlex). Dailey's plan also leverages the open-source software, OpenSim, which will allow the broader research community to provide real-time feedback.
"If you guys learn this workflow," Dailey told Huayamave's students, "you'll be able to use it for so many different projects."
Dailey, who wore a knee brace for many months after tearing her MCL or medial cruciate ligament, also spoke with Embry-Riddle students about scientific integrity. What happens, one student asked, if your research results aren't positive? "My job as a scientist or engineer is to stay neutral," Dailey explained. "I'm just looking at the data. My job is to publish the work, and then other researchers can test my results."
The project will serve as Dailey's Ph.D. thesis.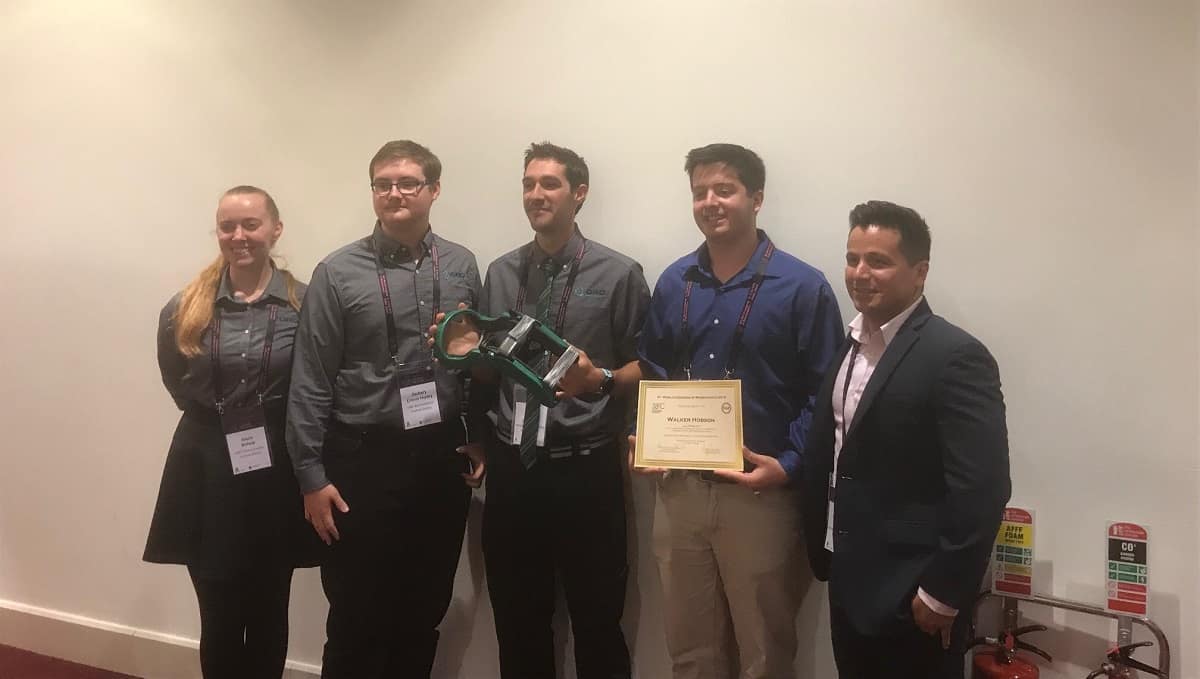 Accepting First Prize at the World Congress of Biomechanics Undergraduate Design Competition were (L-R): developers Alexis Bishop, Zach Cronin Hurley, Mike Geldart, Tyler Farnese and faculty member Victor Huayamave.
Bracing for Success
In an earlier pilot study involving 20 student athletes, sensors measured a significant reduction in muscle activation in the during the extension phase when subjects were wearing the 3-D printed knee brace, Geldart has reported. Geldart conducted that investigation with peers Tyler Farnese and Walker Hobson.
Geldart, a mechanical engineering alumnus, built his invention on a nylon fiberglass frame and spring technology in order to provide the wearer with a full range of motion. The Ascend™ composite is a carbon fiber more flexible than a metal spring. When the wearer sits, mechanical energy is stored and released back into the leg when the wearer stands.
"When you reduce load on muscles, you reduce contact forces in the joints that are the primary cause of knee pain," said Geldart, who designed his first prototype following a go-kart racing accident and knee surgery.
In addition to top prize at the World Congress of Biomechanics, Geldart, CEO of GRD Biomechanics and his business partners Zachary Cronin Hurley and Alexis Bishop have won two $10,000 prizes — at the Cairns Foundation Innovation Challenge and Embry-Riddle's Launch Your Venture competition.
-Ginger Pinholster contributed to this report
Editor's Note: A portion of this article was originally published in the fall 2018 edition of Embry-Riddle's ResearchER magazine (Vol. 2, No. 2). The ResearchER archives can be found on Scholarly Commons.