UAS and Law Enforcement Skills Lead to Career Success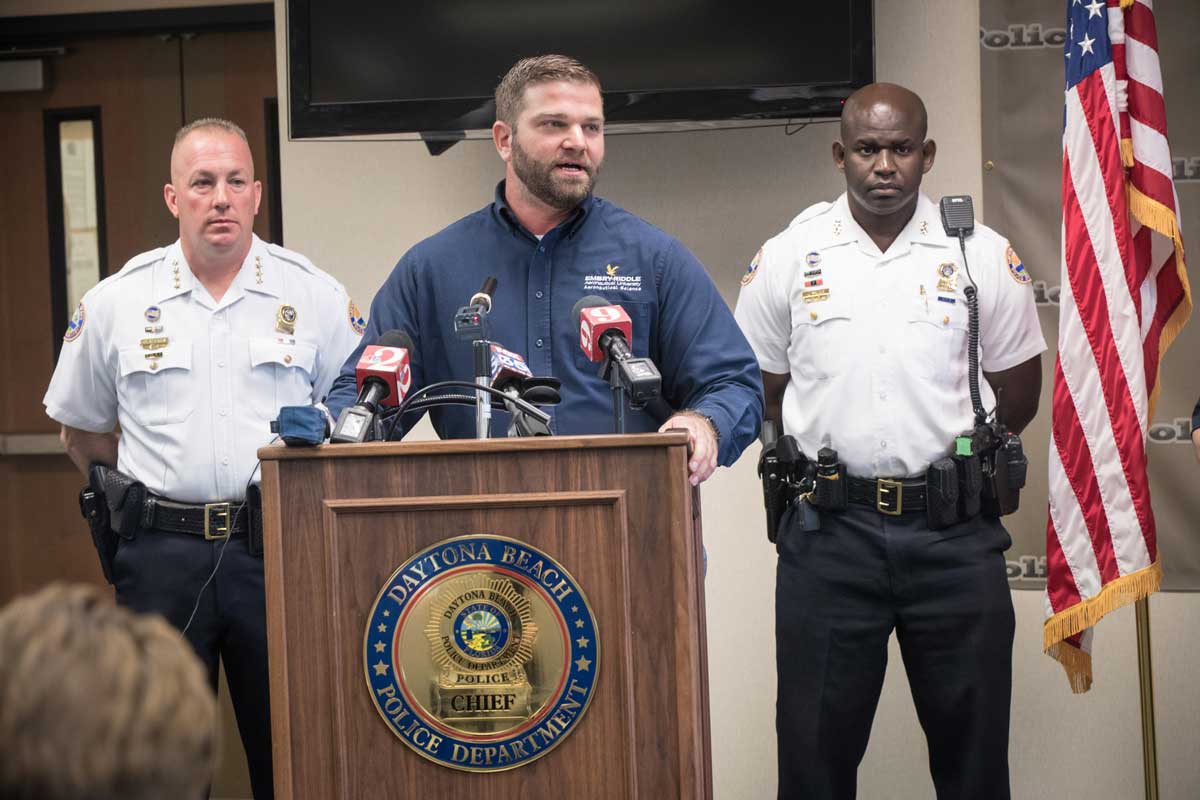 The starting point of a career can be traced to a moment, while the route of that career is often determined by life's twists and turns. Luckily, solid education provides the equivalent of power steering and a set of shock absorbers as we travel from career dream to career reality.
Anthony Galante's formative career moment occurred when he was 8 years old. His family had decided to go to Florida for vacation. Most importantly, they decided to fly. Boarding the plane in New York, the young Galante peered into the flight deck and was hooked.
"I saw all of the control buttons up in the flight deck, and I wanted to push all of them," Galante said in a recent interview. "I wanted to get how a piece of metal could fly."
Fast-forward to 2002. Galante graduated from Embry-Riddle Aeronautical University with a bachelor's degree and a master's degree in aeronautical science. He was well on his way to becoming a commercial airline pilot — except for one obstacle. The 9-11 attacks had just occurred, and the airline industry was battered. Employment levels at U.S. passenger airlines fell 14.6 percent between 2000 and 2003.
Galante's career took a detour, but one that he ultimately used to his advantage. After attending a law enforcement academy at Daytona State College, he took a job as an officer with the Daytona Beach Police Department (DBPD). Excelling in the patrol division, he was transferred to the maritime unit, where he coordinated with the county sheriff's office, the U.S. Coast Guard and the Florida Wildlife Commission and Beach Patrol. He also worked on the DBPD's SWAT team, becoming the team's lead trainer, as well as being directly involved with high-risk arrests and hostage rescues.
As Galante worked in his office, he often found himself glancing up at his diplomas from Embry-Riddle, which were hanging on the wall. Interestingly, by 2011, he had become interested in drones, or unmanned aircraft systems (UAS). At the same time, Embry-Riddle had developed a UAS program. It was one of the first and largest Unmanned Aircraft Systems Operations degree programs in the nation.
By 2012, Galante was working on safely integrating UAS operation into DBPD operations.
"I put two and two together and said, 'I can do law enforcement and UAS,'" Galante said. Using drones in law enforcement "enhances the safety of everyone involved, the community and the officers themselves. We can save more lives and make the job safer."
Today, Galante is an assistant professor of aeronautical science at Embry-Riddle, specializing in UAS, and the DBPD aviation safely officer. DBPD owns five drones. Intended for different missions, they differ in size (from 1.5 pounds to 15 pounds) and function. The department's DJI Matrice 210s, for example, can carry two payloads. One is an electronic optical camera that can zoom in on an area to assess damage such as after a hurricane or indicate where a criminal suspect is hiding. The other payload is an infrared camera, which detects heat, such as hot spots on a burning building's roof, or the body heat of a person hiding or needing to be rescued.
"The deployment of UAS for DBPD has become invaluable," said DBPD Sgt. Tim Ehrenkaufer. "We are seeing increased requests from officers for a UAS response. A bulk of the requests have been for missing Alzheimer's patients from assisted living homes, and also to help locate suspects fleeing from a house or car burglary."
Galante is quick to point out that the DBPD's UAS operation follows the same U.S. Department of Justice rules and regulations as any other law enforcement work. The same rules apply regarding warrants and the overall protection of civil liberties.
Galante also emphasizes that DBPD's UAS operation follows all of the same safety regulations as any aircraft aviation unit.
"We follow the same rules as manned aircraft," Galante said. "The only difference is we don't sit in the planes."
These days, Galante has taken his expertise on the road. He makes presentations on UAS integration into public safety agencies nationally and internationally. His presentations walk other agencies through the steps to ensuring a safe, effective program, including identifying an agency's specific objectives in incorporating UAS; securing permission from the community, mayor, city commission and city attorneys; acquiring the right equipment; and even planning media and social media marketing.
When not on the road, Galante is developing an internship program for Embry-Riddle UAS students to work with DBPD. He said that having earned so many degrees himself — he also holds master's degrees in criminal justice and homeland security — he has a firsthand appreciation for hands-on learning.
"This is great opportunity to offer the kind of education that I think is ideal — `service learning' that is the real-world application of knowledge," Galante said.
"The expansion of our Unmanned Aircraft Systems in Public Safety minor along with service learning courses will allow students to contribute to community-based projects, further growing relationships with law enforcement and emergency response providers," said John Robbins, associate professor of aeronautical science and undergraduate program coordinator for Unmanned Aircraft Systems.
With Galante passing the baton, his students and former students from the Embry-Riddle UAS program are having their own fascinating career trajectories in a booming field.
Three students have gone overseas to fly Predator and Reaper drones in order to gather intelligence in war zones. Working for the Department of Defense on classified operations, they earn $140,000-160,000 a year, Galante said.
"I'm not allowed to say who, or where, they are," Galante said. "But they're doing well."
Read more about Embry-Riddle's use of UAS for law enforcement and public safety here.
— By Michaela Jarvis