Rocket Team Breaks Prescott Campus Records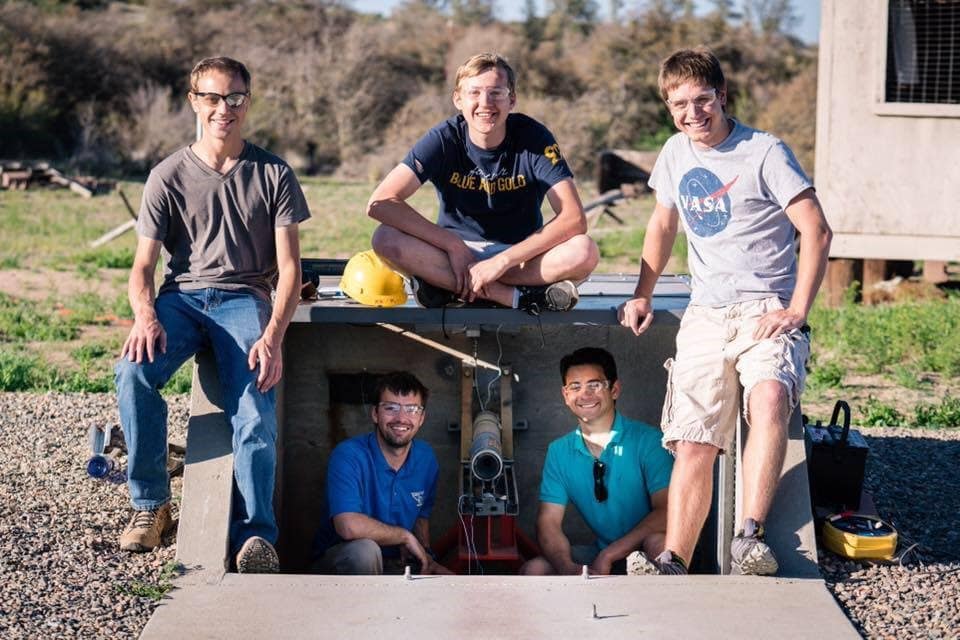 On Sunday, April 23, a group of six Embry-Riddle students set out with the intention of breaking as many Prescott Campus records as there were members of their team. That same afternoon, the team flew an extreme rocket-- known as M3R (Mach 3 Rocket)-- in hopes that it would carve their names into Prescott Campus history.
Flying over 36,000 feet at a top speed of Mach 2.5 (1,900 mph), the rocket exceeded all team members' expectations before it was recovered intact upon landing. The flight was successful in breaking a number of campus records, including:
Longest series of successful motor tests (13)
Most motors tested for a single project (13)
Highest thrust motor tested (1,450 pounds)
Highest impulse motor tested (11,600 Newton-seconds)
Highest altitude achieved (36,072 feet)
Highest velocity achieved (Mach 2.5)
The team accredits Chad Reinart, a senior graduating in May with a BS in both Aerospace Engineering and Electrical Engineering, with the formation of the project and the assembling of the five other students who would help break these campus records. Reinart was an inspiration to other rocket project teams by demonstrating a fast and safe progression toward advanced projects and the development of more complicated rocket designs. The passion exhibited by Reinart and his team is what drove the development of the most powerful rocket motor ever produced by students at Embry-Riddle Prescott's Campus.

While five of the six team members focused on the motor test campaign, Bryce Chanes, a senior graduating in May with his Aerospace Engineering degree, was tasked with the design of the vehicle.

"The rocket needs to be extremely light, but extremely strong to withstand the aerodynamic forces during flight," explained Chanes. The advanced pre-preg carbon fiber fin section, minimalistic recovery portion, and efficient flight computer design, all allowed their rocket to weigh as little as five pounds before the motor was even installed. Once the 27 pound rocket motor was implemented, the projectile was capable of producing over 1,400 pounds of thrust, making it possible to achieve Mach 3 speeds just 3 seconds after liftoff.

The project was instrumental in guiding the team toward many extracurricular lessons in rocket conception, design, building, and application.

"I learned so much about propulsion, carbon fiber layups, and more," remarked Cameron Kurtz, one of two sophomores on the team. Daniel Dyck, a sophomore Electrical Engineering major, described how being able to work with seniors on M3R forced him to develop his ideas quickly and professionally, served to develop his strengths in working within a team dynamic, as well as providing him with valuable and practical engineering experience.

"We set a bunch of campus records this year," commented Project Lead Reinart after the flight. "Some may hold, but I think we got the right people excited and hopefully we will be seeing crazier flights and tests next year."

The team would like to thank Dr. Anne Boettcher, Virginia MacGowan, Dr. John Pavlina, Dr. Brenda Haven, Dr. Michael Fabian, Michael Brady, John Jerome, Tripoli Phoenix, the Eagle Space Flight Team, and Eagle Aerospace for their tremendous support of this project.
For additional videos, visit these YouTube channels with angle options, and a 360° view.