Embry-Riddle Receives Unmanned Aircraft Systems Valued at Over 260K from Bosh Global Services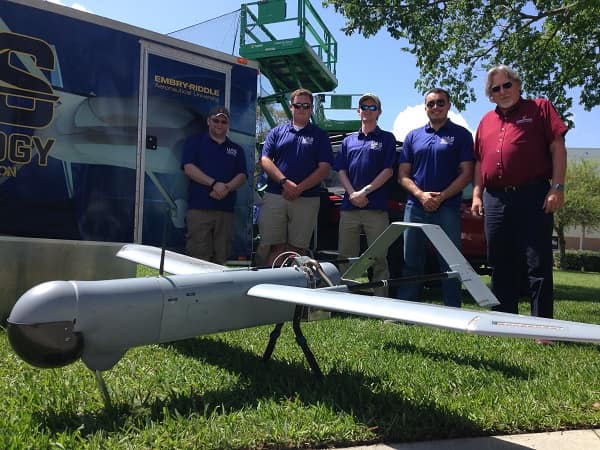 The Unmanned Aircraft Systems Sciences program at Embry-Riddle Aeronautical University has received a generous donation of four MartinUAV Super Bat unmanned aircraft systems (UAS) from BOSH Global Services worth over $260,000. Embry-Riddle's Daytona Beach Campus has the largest baccalaureate UAS program in the United States. BOSH Global Services is a world leader in UAS command, control, communications, computers, intelligence, surveillance and reconnaissance services.
The Super Bat is one of the most sophisticated small unmanned aerial vehicles (UAV) flying today. It is part of a complete unmanned flight system that includes ground stations, launchers, accessories and components. The system is being used in the United States for aerial missions such as airborne law enforcement reconnaissance, wildfire monitoring, agricultural crop analysis, atmospheric science research, disaster reconnaissance and emergency management.
Catapult-launched with an 8.5-foot wingspan and a mission duration aloft of 10 hours, the Super Bat uses the industry standard Piccolo Flight Management System autopilot, which provides a complete integrated avionics solution that includes the flight control processor, inertial sensors, ported air data sensors, GPS receiver and datalink radio.
"Having the four Super Bats has opened up a great opportunity for us," said Joany Ramos-Erazo, student president of the Embry-Riddle UAS Club. "It will give us hands-on experience with the Piccolo autopilot system that will transfer the skills we learn here into real-world operations. We'll be able to work on real mission planning scenarios while logging flight time with a UAS that's used around the world."
The MartinUAV Super Bat complements the department's fleet of unmanned and autonomous aircraft including:
The Latitude Engineering HQ-40: A long-endurance UAS with hybrid quadrotor technology that combines the vertical takeoff and landing (VTOL) capabilities of a quadrotor and the efficiency, speed and range of a normal fixed-wing aircraft. The HQ-40 also uses the Piccolo-based autopilot system.
The senseFly eBee: A hand-launched fully autonomous or remote controlled UAS with high-resolution aerial photographic and video capabilities that can be used to create orthomosaics and 3D models.
The DJI Inspire 1: A lightweight carbon-fiber quadcopter with an advanced GPS and sonar positioning system and dual flight control capabilities that can produce high-resolution photographic and video images.
"With the Super Bat UAS, our students will use actual scenario-based learning, reinforcing our extensive simulation capabilities," said Dr. Joseph Cerreta, an acknowledged UAS thought leader and Assistant Professor of Aeronautical Science in the College of Aviation at Embry-Riddle's Daytona Beach Campus. "The Piccolo autopilot system in the Super Bat gives our students actual flight time and transferable experience to many other leading unmanned systems, including Textron's Aerosonde, the Northrop Grumman Bat, Raytheon-Sensintel's Silver Fox and Latitude's HQ-40. This experience helps produce highly skilled, in-demand graduates."
Embry-Riddle was one of the first schools in the nation to offer a degree in UAS. Both the Prescott and Daytona Beach Campuses offer a Bachelor of Science in Unmanned Aircraft Systems Science. The Daytona Beach Campus also offers a Master of Science in Unmanned and Autonomous Systems Engineering. The university's Worldwide Campus offers a Master of Science in Unmanned Systems, a Master of Aeronautical Science with UAS Specialization and a Bachelor of Science in Unmanned Systems Applications. All three campuses offer a minor in Unmanned Aircraft Systems.
Embry-Riddle is also a co-founder of the ASSURE Coalition (Alliance for System Safety of UAS Through Research Excellence), a Federal Aviation Administration Center of Excellence in Unmanned Aircraft Systems (UAS).
---
About BOSH Global Services
BOSH Global Services, headquartered in Newport News, Va., is a provider of mission-critical Unmanned Aircraft System services and solutions. From designing, engineering and operating critical operations centers to providing secure and classified data sharing to deployed UAS operations and maintenance, BOSH provides full life cycle support solutions for the most challenging customers. BOSH is ISO 9001:2008 registered. BOSH Global Services is a MAG Global Company. For more information, visit www.boshgs.com.
About MAG Global
MAG Global solves the world's toughest problems. Operating in over 20 countries on five continents, the MAG Global companies provide turn-key aviation, logistics and life support services to federal, global and commercial customers around the world. For more information, visit magglobalcompanies.com.