Eagles Support Longest UAV Urban Package Delivery in the United States
Embry-Riddle Worldwide faculty, staff, students and graduates recently took part in a world record-breaking unmanned aerial package delivery destined to make future drone delivery a reality.
The new world's record was completed on May 5, 2017 in Austin, Tex., by a Nevada Unmanned Aerial Systems (UAS) Consortium called Team Roadrunner, which flew the HQ-40 – a fixed-wing Unmanned Aerial Vehicle (UAV). Using cellular connectivity, the 143-minute, 54-second flight traversed exactly 97.592 miles.
Launched from a central Texas location, the UAV flew a preplanned route through the National Airspace System (NAS) using mobile command and control combined with visual observers along the flight path using enhanced radios and cell phone communications.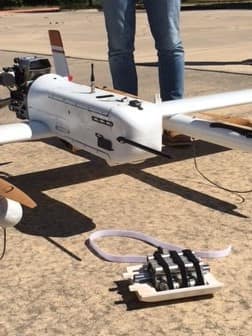 "Embry-Riddle has always been at the forefront of revolutionizing the aviation industry," says Kandi Windham, Embry-Riddle Worldwide's Houston-based campus director. "Participating in unmanned research and testing is an exciting, unique experience."
Team Roadrunner consisted of the FAA-designated Nevada UAS Test Site (Nevada Institute for Autonomous Systems), Volans-i UAS, Latitude UAS, AUV Flight Services and an Embry-Riddle Worldwide contingency.
The Embry-Riddle group, led by Associate Professor Scott Burgess, included Windham as well as Adjunct Assistant Professor Chris Walach, who also serves as director of the FAA-designated Nevada UAS Test Site, plus more than a dozen students and alumni.
"Projects such as this not only allow hands-on experience, but they also align with our university's commitment to being the leader in aviation innovation," Burgess says.