Dr. Frank Ayers: A Chancellor's Call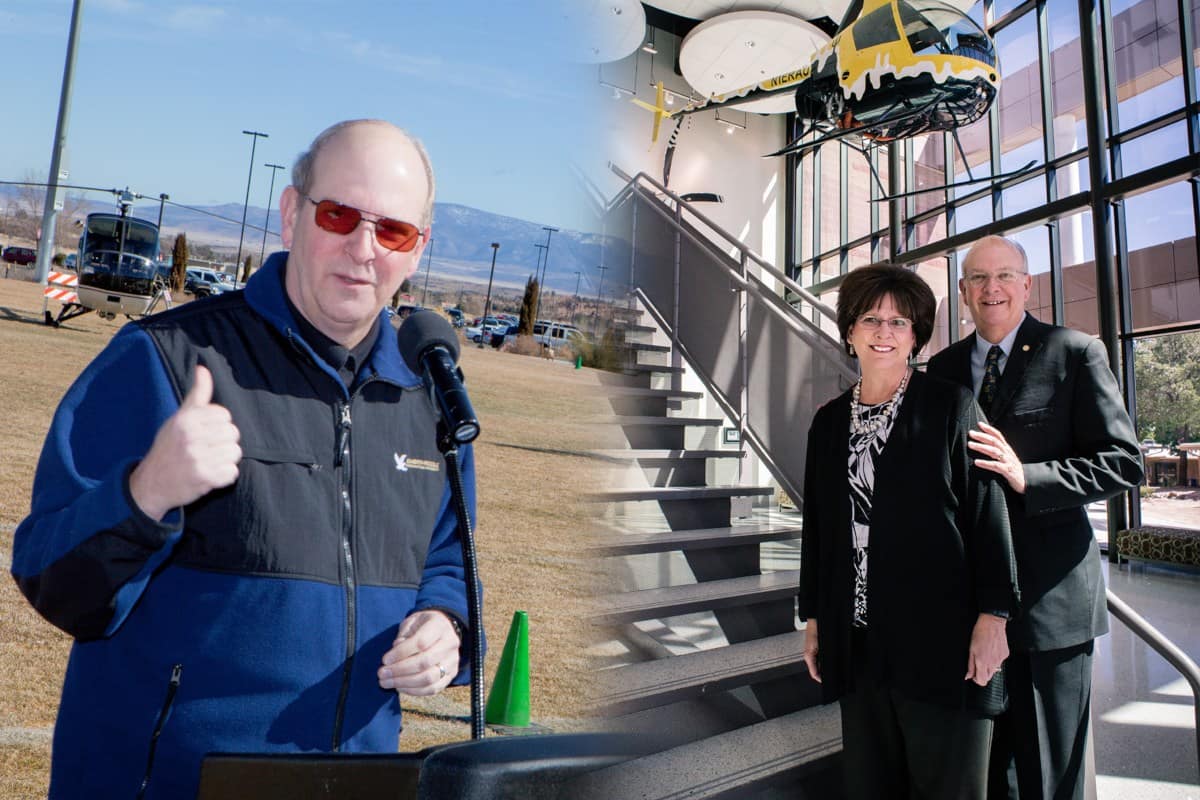 In 2009, Flight Department Chair for Embry-Riddle's Daytona Beach Campus, Dr. Frank Ayers, had a brief but fateful phone call with his wife Debbie. The university's western campus had a significant opening available—and with it would come the responsibility of reestablishing fiscal accountability.
Accepting this challenge would mean leaving behind their home in Florida, their grown children, and Debbie's family—with no way of knowing how long such an endeavor would take to realize, or when they would be returning to their life and family in Palm Coast. Despite this, they were both aware of the incredible opportunity to work with the talented faculty and staff of the western campus, and to witness the maturation of Embry-Riddle's excellent caliber of students into alumni capable of reshaping the world, the skies, and beyond.
After a fifteen minute conversation, Frank and Debbie knew what their decision would be.
Shortly thereafter, the Ayers' flew west to their new home in Prescott, and began a ten year journey together with Dr. Ayers assuming the role of Prescott Campus Chancellor. With the conclusion of this year's Spring Commencement, after having shaken hands with all of the Prescott campus graduates since his first year as Chancellor a decade ago, the journey to Arizona Frank and Debbie undertook together in 2009 will come to a close.
"Shaking the hands of each of the graduates as they walk across the stage at commencement into such bright futures, there's no better feeling," said Dr. Ayers when discussing the highlight of his ten years as Chancellor. "As a proud Embry-Riddle alumni, I take the greatest joy in working with the amazing young people who have chosen to attend our university, and plan to do so for many years to come."
Long after the campus budget issues were resolved and an extensive list of new challenges identified and overcome over the years, Frank and Debbie have continued to work together to promote a family feel to the Prescott campus that extended out through faculty and staff, to students, parents, alumni, and beyond. From day one, the Ayers' sought to make Prescott, and Embry-Riddle's western campus, their home—and to give each and every interaction with the campus community a familial touch.
"Balancing the budget and restoring financial common sense took the collaborative effort of our entire team," said Dr. Ayers. "It was not easy, but it opened the door to this decade of unrivaled growth and prosperity that saw the campus bloom in every respect. It took all of us working together, and Embry-Riddle Prescott today makes us all so proud."
As Chancellor of the Prescott campus for nearly a quarter of its existence during its most transformative growth, Dr. Ayers has had a front row seat to witness the outstanding list of achievements the university, its members, and especially its students and graduates have earned.
In 2018, the Golden Eagles Flight Team was inducted into the International Air & Space Hall of Fame on the heels of its 11th national championship. The Prescott campus is also home to the nation's first College of Security and Intelligence, founded in 2014. The STEM Center's Jim and Linda Lee Planetarium became Arizona's only planetarium north of Phoenix in 2017, and has welcomed over 27,000 visitors in that time—including regular tours to K-12 public school students. The College of Arts and Sciences founded the School of Business in 2018 to prepare the next generation of aviation and global business leaders. The last ten years has also seen a robust development of the Prescott campus Athletics department, which has added 9 new programs, as well as cultivated the brilliance of nearly 200 scholar athletes. The decade of Ayers' leadership has also seen a growth in student attendance from 1,670 in 2009 to over 2,700 in 2019.
The Ayers' contest that these accomplishments are still only the foundation of what will become continued growth and success for the Prescott campus. These milestones were set in motion ten years ago, and in that time the Ayers' have watched the Prescott Campus story unfold to what it has become today.
The true root of Embry-Riddle's success doesn't hinge on any one individual. At every stage of his leadership, Dr. Ayers has championed the efforts of the Prescott team as a whole, and cites the students and alumni themselves as evidence for the Prescott campus' success.
"It has been an amazing journey, and the opportunity of a lifetime to work with such a committed and professional faculty and staff, amazing students, alumni, parents, wonderful community leaders and friends," said Ayers in his farewell announcement to campus in January. "With the steadfast support of the university Board of Trustees, our campus Board of Visitors, and the many partnerships with industry and local elected officials, the university's western residential campus has truly become, as the SACS accreditation team described it, Embry-Riddle's jewel in the desert, in every respect."
As Dr. Ayers walks off the commencement stage on May 4, completing his final "official" act as Chancellor, to thousands of Prescott campus alumni, faculty, staff, and many in the surrounding Prescott community—he will forever remain their Chancellor. Upon his and Debbie's return to Florida, and as his duties as a tenured professor at the Daytona Beach College of Aviation resume, Dr. Ayers will begin his next journey with the knowledge that he has imparted his personal touch and friendly bearing to countless Eagles on their own journeys.
"Ten years ago, Debbie agreed over a fifteen minute phone call from Arizona, to leave her home in Florida, our grown children, and her family, to move across the country to Prescott, Arizona, simply because the university asked me to take on this challenge," remembers Dr. Ayers. "But that is not enough. She has been at nearly every event, game, competition, social, and philanthropy opportunity we have undertaken, and is beloved by so many here. She truly loves the community and that has made an incredible difference. Debbie and I are a team in every sense of the word. The last ten years has been a labor of love."