College of Business Alumni Spotlight: Moritz Koester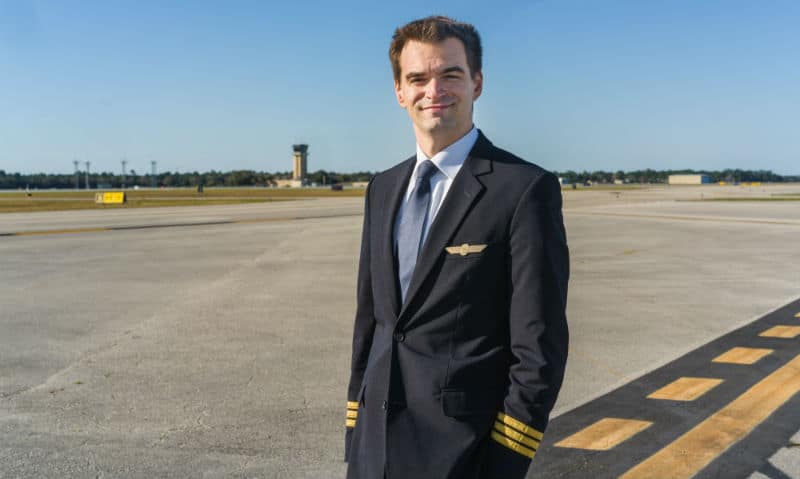 Having an office at 30,000 feet is something most people will never experience. For 2005 graduate
Moritz Koester
, 
he experiences this everyday as a First Officer on the A320 and A330 for
Air Berlin
. He credits his business degree for helping him to lead the company's safety department.
What attracted you to Embry-Riddle?
Embry-Riddle offers the opportunity to combine an academic education with real-world aviation experience. The airline industry involves the application of a wide variety of academic fields, dominated by business and economics. An education from Embry-Riddle seemed to be an excellent way to prepare for a career in the industry. 
What do you think sets your Embry-Riddle business education apart from other schools?
Embry-Riddle offers specialized knowledge, taught by experts in their field. Their insight into the industry is unique among business programs. Another important factor to consider is that most of my classmates ended up working in the aviation industry, providing me with a great network of friends in the aviation industry in different counties around the globe. 
How did you prepare for you current position with Air Berlin?
Air Berlin hired me as a pilot pretty much right after I left Daytona Beach and initially gained experience flying for them as a co-pilot on the narrow body A320 and wide body A330 fleets. After a couple years, I was offered the opportunity to support the company's training department as a simulator instructor and the safety department as a flight safety officer. 
How did you become interested in aviation and aerospace?
As for many of us aviation nerds, that's really hard to say. I have been intrigued by anything and everything aviation-related ever since I can remember. 
Can you describe your current work at Air Berlin? What do you enjoy most about your current job?
My primary job at Air Berlin is First Officer on the A320 and A330 fleets and simulator instructor on the A320 based in Berlin. I mostly benefit from business education from Embry-Riddle however, in my position as flight safety officer. Helping to lead the safety department is a task in which it is very helpful to understand other departments in the company, to have an idea about their goals and motivations.