College of Business Alumni Spotlight: Jose Salinas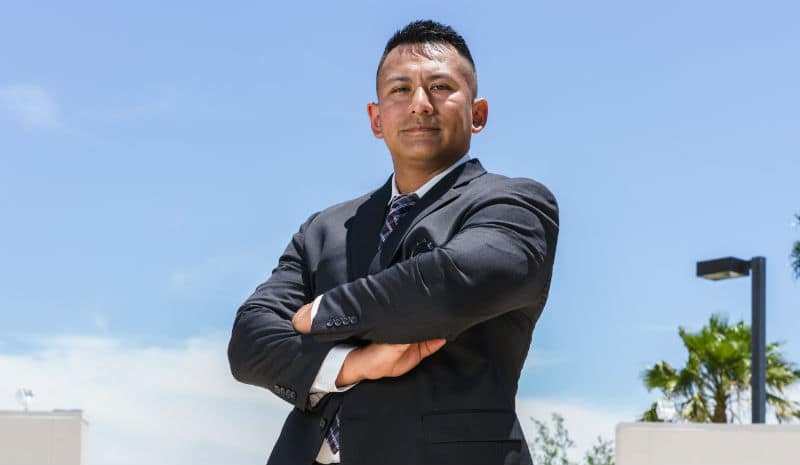 After 10 years of service in the U.S. Marines Corps, 2014 graduate Jose Salinas is now a Foreign Service Specialist with the U.S. Department of State. As a highly motivated, performance-driven security and management professional, Jose breaks it down on why Embry-Riddle was the best choice for his career. 
What attracted you to Embry-Riddle?

I heard that Embry-Riddle Aeronautical University (ERAU) was one of the best schools for veterans and decided to see what it offered. Although ERAU is mostly known for its engineering and flight programs, I was very impressed in finding out about other programs.  I was very interested in business and management. There were also minors that I was curious about, such as international relations and homeland security. After touring the campus one day and talking to a few students, the decision was simple. Also, you cannot beat being so close to the beach with great weather for the great majority of the year.

What do you think sets your Embry-Riddle business education apart from other schools?

The diversity found in every classroom was unlike anything I have ever seen in an academic setting—from international students to prior military service members to experts in the field of business. Interacting with them and learning their perspectives during classroom discussions made the ERAU experience priceless. Also, the level of personal attention and interaction that students had with their professors was unparalleled. Faculty members truly care for their students and they go above and beyond to work with those having difficulties understanding certain concepts. It is great seeing how much ownership they take not only in what they teach but also in how well their students are doing academically and personally. 

How did your military service assist you in your studies at Embry-Riddle?

I believe that my military service gave me the discipline and "grit" to keep going even when life got very difficult due to some unexpected hardships, combined with the constant demands of being a student. I also believe that my military background allowed me to apply some of the Marine Corps' values and principles to my daily routines. Staying in good health through exercising, for example, is crucial in maintaining mind-body balance. Taking ownership for work and the work of the team regardless of outcome, as a leader anywhere, also goes a long way. This is something that we live and breathe in the Marine Corps. 

Are you able to apply elements of your Embry-Riddle business education to your current work at the Department of State's Diplomatic Security Service (DSS)?

I was a business management major and my current career track is in federal law enforcement. Although both career tracks are different, as a DSS special agent I get tasked with projects that will require me to manage teams and operations on a regular basis and, more often than not, with very little warning. As a DSS special agent, you definitely have to know how to manage people, time, the environment, relationships, etc. I have referred back to several concepts that I have learned at the ERAU College of Business, such as strategy, organizational behavior and classes on the importance of multicultural understanding. The Diplomatic Security Service works with people from all over the world; so being able to manage relationships by understanding human behavior and the differences that come from backgrounds or nationalities are big components of how we achieve our mission. 
          
Please describe, as best you can, your assignment at the Diplomatic Security Service.

As a DSS special agent, I get to wear many hats that reflect the unique responsibilities of our organization. At the Miami Field Office, my job consists of conducting passport and visa fraud investigations. My assignment also requires me to be available to travel anywhere in the world if needed to provide protection for the U.S. Secretary of State. Every so often, we will get temporary assignments to protect foreign dignitaries that visit the United States. Other times, we can also get temporary duty assignments to support the Regional Security Officer (RSO) shops at U.S. embassies overseas to fill a wide variety of roles that range from investigations to advising U.S. ambassadors on security issues.
What advice can you offer to current and prospective Embry-Riddle business students?
Take advantage of all that ERAU offers such as the university's Career Services and career fairs. The faculty is there to help. Pick their brains as often as you can. The real world functions by how well you can communicate and express your ideas. Learn how to give presentations with confidence; you will have several opportunities for that at ERAU. Learn salesmanship; the "elevator pitch" will become your best friend whether for getting a job, working through a project or influencing your team to work together. Take every chance you can to step out of your comfort zone and test yourself often. Do not wait until the last semester to talk to a recruiter. Be proactive and buy a nice suit or a dress that you can always have ready to put on if the situation calls for it. How you carry yourself is how you will be treated by recruiters. A first impression may be all you get, so make it count. With that being said, work on your resume as early as possible and network, network, network.