College of Business Alumni Spotlight: Jason Alvarez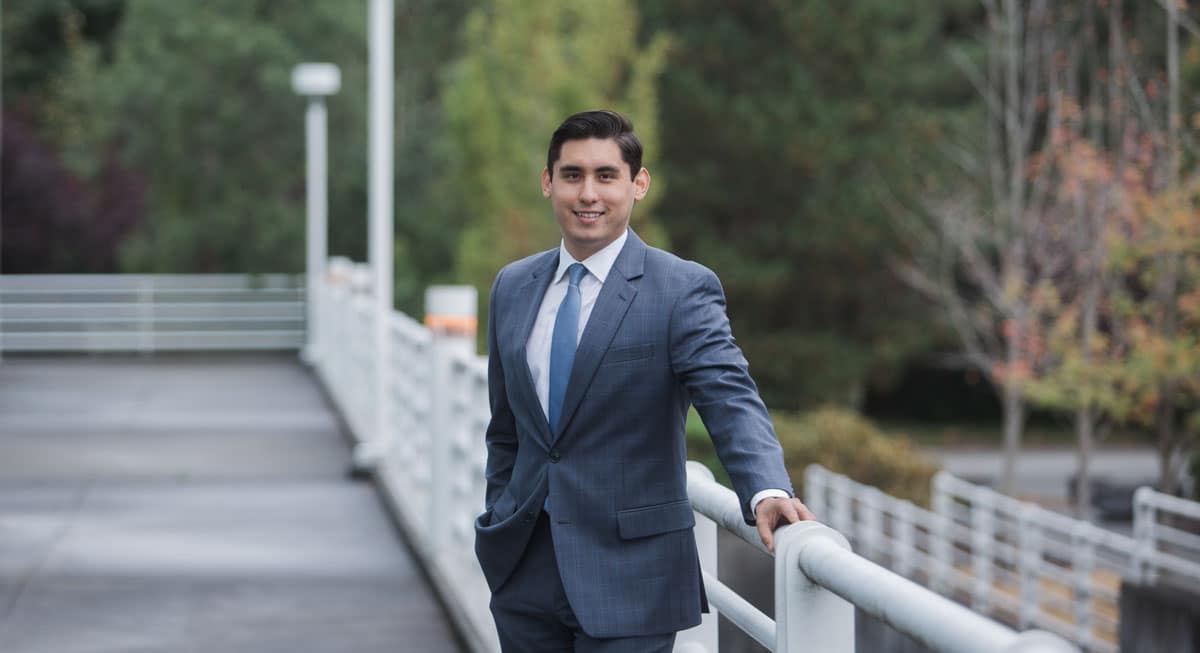 Graduating with his business degrees from Embry-Riddle, standout student athlete Jason Alvarez knows what it takes to succeed. As a Procurement Agent and Supplier Integration leader for The Boeing Company, Jason travels the globe meeting with seat suppliers to ensure Boeing delivers the best products and services to their airline customers. He also offers some advice to current and prospective business students.
What attracted you to Embry-Riddle Aeronautical University?

As I grew up near Embry-Riddle's Daytona Beach Campus, I was exposed to the passion and love for aviation at an early age. It was in my senior year of high school that I knew I wanted to combine my passion for soccer and aviation at one of the most prestigious aviation schools in the world. When I visited campus for the first time, I could sense the passion and drive the students had and I knew right away it was the right fit for me.

What do you think sets your Embry-Riddle business education apart from other schools?

To put it in simple terms – all of my undergraduate and graduate degree courses were specifically tailored to the aviation / aerospace industry. I received real-world experience from professors who were equally as passionate as the students. Embry-Riddle takes pride in instilling diversity not only in the coursework, but in the faculty and staff they hire. I carry these experiences to this day as I interact and work with employees, suppliers and customers from around the world with different backgrounds and experiences.

What is one lesson learned at Embry-Riddle that you have been able to apply to your career or personal life?

That professional relationships matter and staying engaged with current and future alumni is a valuable asset. The Embry-Riddle community prides itself on remaining engaged with each other and committed to helping one another. To this day, a lot of my mentors are within the Embry-Riddle community.

Can you describe your current responsibilities at Boeing? What do you enjoy most about your work?

As a Procurement Agent and Supplier Integration Leader in the Supplier Management organization at Boeing Commercial Airplanes, I manage and work with seat suppliers from across the world to ensure Boeing is delivering the best products and services to our airline customers. I also engage stakeholders to ensure that program, customer, product and in-service strategies are integrated into source selection, negotiation and contracting strategies.The three things I enjoy most about my job are the following: building and retaining relationships with our suppliers and customers from around the world, working with diverse and talented individuals within our organization, and the commitment to excellence and integrity that we (Boeing) pride ourselves in each and every day.

How are you supporting or staying engaged with the Embry-Riddle College of Business?

A few of the ways I am staying engaged with the Embry-Riddle College of Business is on recruitment and mentoring. I have a passion in this industry and I also have a passion for recruiting the best talent and mentoring the students through their professional development. It is one thing to bring in the best talent, but it is even more important to ensure the talent stays. I am privileged to work with other passionate alumni to ensure we are helping the next generation of aviation leaders.

What advice would you give to current or prospective business students?
The advice I would give to current or prospective business students is to take every opportunity in college and build from it. The years spent in college are some of the best years of your life; absorb as much knowledge as you can. Additionally, I would recommend that all students partake in an internship before graduation. This allows you time to assess the pros and cons of a future job role or company. Before I received my internship at Boeing, I asked other Boeing interns and Career Services how to get an internship. I cannot express enough the importance of being mentored by individuals who have already experienced the internship process.