College of Business Alumni Spotlight: Damon D'Agostino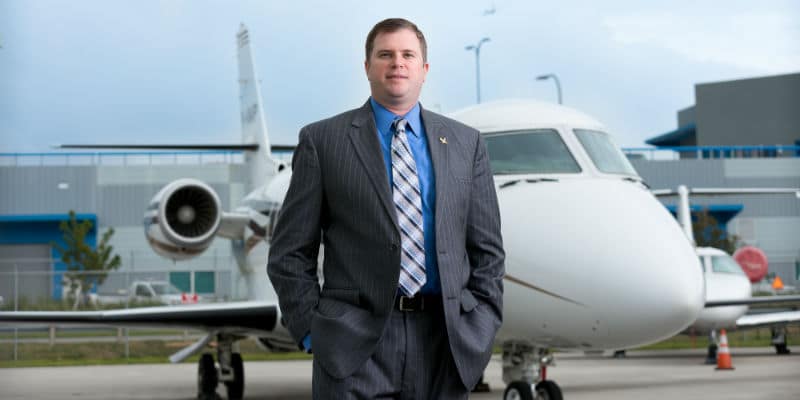 Damon D'Agostino is Chief Commercial Officer for CIT Commercial Air. In this role, he is responsible for all aspects of CIT Aerospace's commercial strategy including aircraft placements; airline marketing and sales; contract management and negotiation; and new aircraft acquisitions. In 2012, he and his wife established the Damon and Debra D'Agostino Endowed Scholarship to benefit undergraduate and graduate students in the Daytona Beach Campus' College of Business where he is also an Industry Advisory Board member.
What attracted you to Embry-Riddle?
I recall my first visit to Embry-Riddle very vividly. I was a senior in high school and I knew I wanted to study aviation. I had a passion for planes and aviation since I was a young child. On my tour I recall walking around the campus with the group of prospective students and parents when an Eastern Airlines 727 roared off the Daytona Beach runway, right at the edge of the campus. I instantly observed that everyone all around the campus stopped what they were doing in that instant and watched the aircraft take off. I knew this was a "normal" occurrence throughout the day, yet these students were fascinated with the aircraft and the excitement of flight was evident. It was in that very instant that I KNEW that I wanted to be surrounded by students and professors that shared that same passion I had.
When did you know you wanted to study aviation business administration? And was there any sort of life-changing event that led to that decision?
No life changing event per se but when I was very young I would visit my chronically ill grandfather in the hospital on a frequent basis. When my family would visit he would present me with a plastic model aircraft from the hospital gift shop. I would take it home and over a few weeks' time build the model aircraft. On my next visit, I would show him the completed model and he would reach into his bedside drawer and pull out another model. I was fascinated with airplanes and aviation and wanted to be a commercial pilot. As I entered high school I started private pilot lessons but soon realized that due to very poor vision, I would be unable to obtain the Class One medical needed for an airline transport license. Determined to continue my work in aviation, I decided the next best thing would to be to work for, or with, the airlines in a business role, which is what lead me to the aviation business program at Embry-Riddle (now the College of Business).    
What do you think sets your Embry-Riddle business education apart from other schools?
Simple – Embry-Riddle is THE authority for aviation expertise and education. The professors are the best in the business and have a great balance of academic and real world practical knowledge and expertise.
What do you enjoy most about the work you're doing at CIT Commercial Air?
I enjoy working with airlines from around the world on a daily basis. On any given day I could find myself meeting with the CEO or CFO of an airline in Australia, Thailand, England, the US or anywhere in between. When we meet we get to talk the language of airlines and I can provide them solutions to their fleet and aircraft requirements.
What sort of career prospects will aviation business graduates have?
From my experience, the prospects for an Embry-Riddle graduate are limitless. I've come across CEOs, CFOs, board members, airport managers, consultants, financial experts and a host of others all with the same ERAU degree. It tells me that our graduates have the background to do anything they want – even outside of aviation if they so choose.