Young Entrepreneur, Recent Graduate Sees Success in Launch Your Venture Competition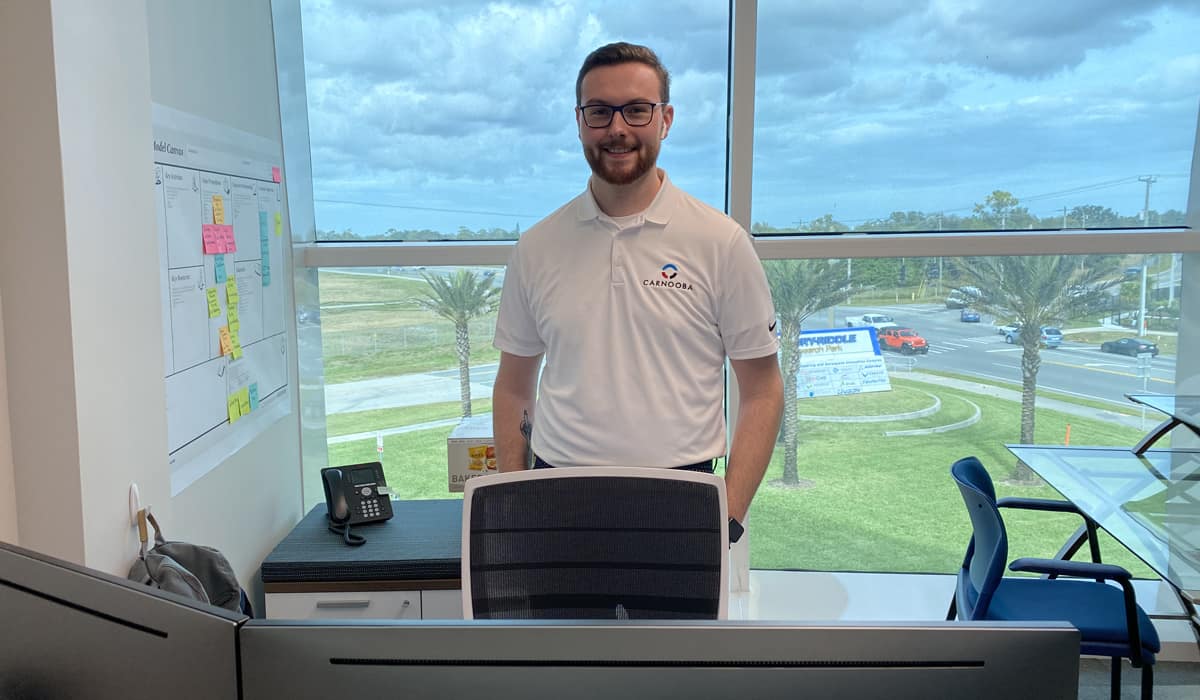 Spencer Churchill is no stranger to startups.
At 23, the Embry-Riddle graduate has already learned that being an entrepreneur is all about having a passion for problem-solving and a willingness to embrace success by learning from failure.
Churchill, who earned his B.S. in Aviation Business Administration in 2019, also believes in taking every advantage of available resources. The university's growing focus on boosting entrepreneurship has already helped power two of Churchill's companies, including his latest - a real estate firm that uses leading-edge technology to streamline and simplify home buying.
"We're using blockchain and artificial intelligence to automate the real estate contract process from start to finish, so our agents can focus on providing the highest level of service," said Churchill. "Our agents will focus on supporting people while technology takes care of the rest."
The startup is called Pistachio, a name Churchill says came to him while he was munching on pistachios and wondering what to call his new company. He was pleased to find that the "Pistachio" URL was available.
"Naming a startup is probably one of the hardest things, along with finding a URL that doesn't cost six figures," said Churchill, who also adopted the colors normally associated with pistachios.
Churchill will launch the new venture in his home state of Connecticut and is now raising money and hiring his management team. He's building on previous success, which included winning $5,000 and pro-bono legal and financial services for Pistachio in the 2020 Launch Your Venture competition, hosted by Embry-Riddle's Research Park and Center for Entrepreneurship, and sponsored by Boeing Horizon X.
He also earned honors in the 2018 TREP Expo, a yearly showcase of the entrepreneurial skills of Embry-Riddle students, staff and faculty.
Churchill actually started his first company, which sold e-cigarettes, while he was in high school after vaping helped him quit smoking. He shut down the venture when he decided to attend Embry-Riddle, where he followed in the footsteps of his father, a 1988 grad, his sister and several cousins.
"We are an Embry-Riddle family through and through," he said.
He initially focused on commercial space operations and space policy, but was attracted to the freedom that business ownership offered. Taking advantage of Embry-Riddle's entrepreneurship support, he created a company called Carnooba, which was based in the MicaPlex innovation center and offered customer relationship management software for the auto industry.
However, "the coronavirus crushed us."
Churchill is now bouncing back with Pistachio, and he's grateful for the ongoing support of Embry-Riddle's "phenomenal innovators," who he says have helped him find the "Big Why" in his life.
Churchill says anyone who wants to bring a bright idea to life should "start early."
"Take the first step while you're still in school and try to focus on a problem you really care about," he said. "Use all of the resources available to you – and don't be afraid to fail. You will learn far more from your failures than you will from your successes."