Worldwide College of Business Offers New 'Vantage Point'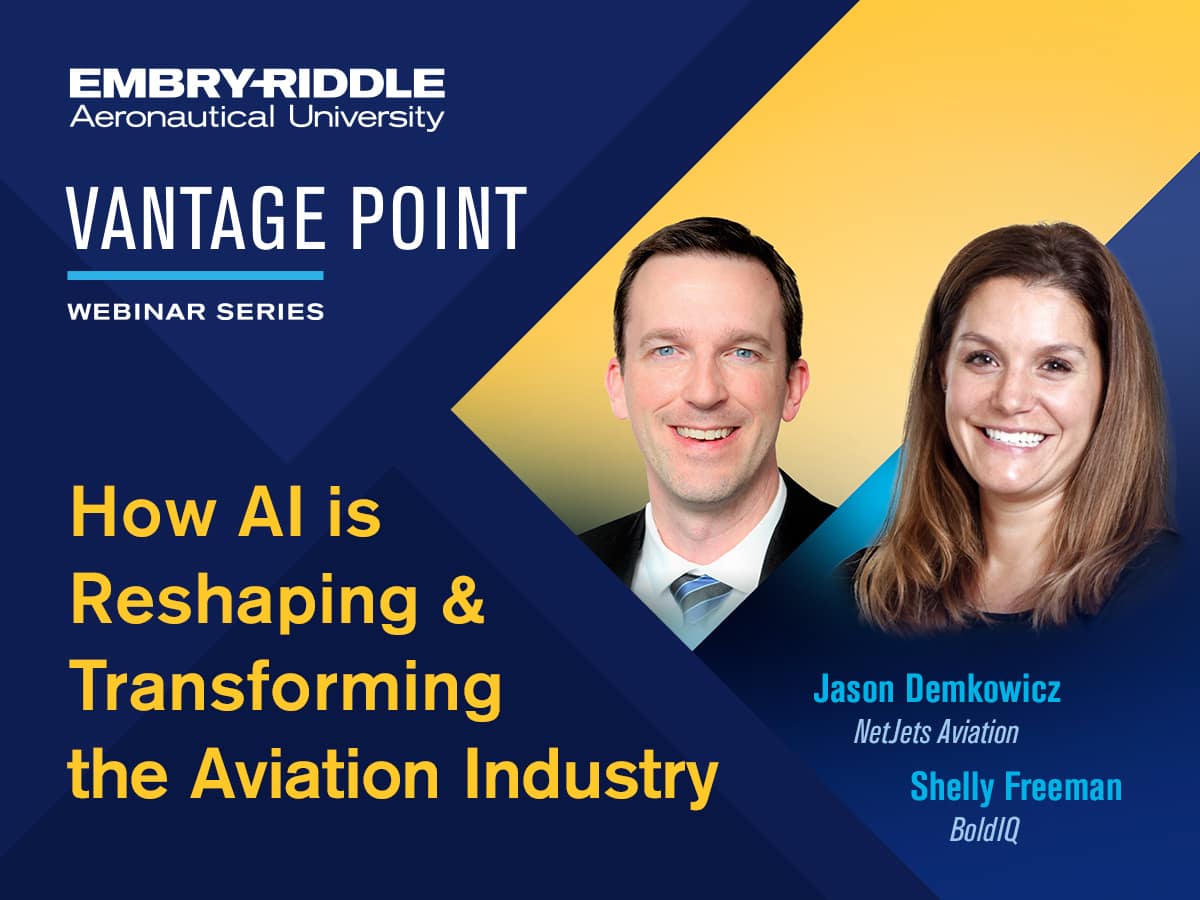 As part of its ongoing effort to provide fresh professional perspectives on today's complex world of international business, the Embry-Riddle Worldwide College of Business has launched Vantage Point, a series of live, interactive webinars with industry leaders from around the globe discussing topics designed to impact and improve business and organizational performance as well as lead to personal growth.
"Embry-Riddle is in a unique position to establish a series such as this," said Dr. Maneesh Sharma, Dean of Worldwide's College of Business. "We have a worldwide platform that few institutions can match, and we want to break new ground in a positive way by creating a series that strengthens our direct connection to industry."
In addition to providing insights that audience members can turn into action, the one-hour Zoom sessions will continue establishing the Worldwide College of Business as a thought leader while also opening up new networking opportunities for students, faculty, and staff.
"We're focusing on the three Is: Inform, Inspire, and Innovate," said Emily Baskin, Project Manager at the College of Business. "We want to help our audience connect to bigger thoughts."
Along with sharing industry knowledge and their visions for the future, Vantage Point speakers also will discuss their own personal career paths and the obstacles they overcame along the way.
"Our speakers will be able to share aspects of their career journeys that students will be able to relate to and learn from," said Rachel Vigness, Assistant Professor and Director of Student Success at the College of Business, who worked with Baskin to bring the Vantage Point series to life. "The series will also bring real-world business issues and strategies to viewers, and the hope is to share these professional insights with everyone."
Dr. Sharma said the Vantage Point series also will add additional weight to the College of Business's reputation, which has grown steadily over the years as it has expanded beyond the world of aviation and aerospace.
"People know who we are," he said. "This series is another way we can maximize the potential of all the talented people we have working and learning here, and it sends the right message to industry as well.
Watch Previous Vantage Point Sessions
October 30, 2020 – Building a Successful Brand with Sangita Woerner, Alaska Airlines
January 13, 2021 – How AI is Reshaping & Transforming the Aviation Industry with Jason Demkowicz, NetJets Aviation and Shelly Freeman, BoldIQ