Worldwide Campus Named No. 1 Online Bachelor's Programs for Military Veterans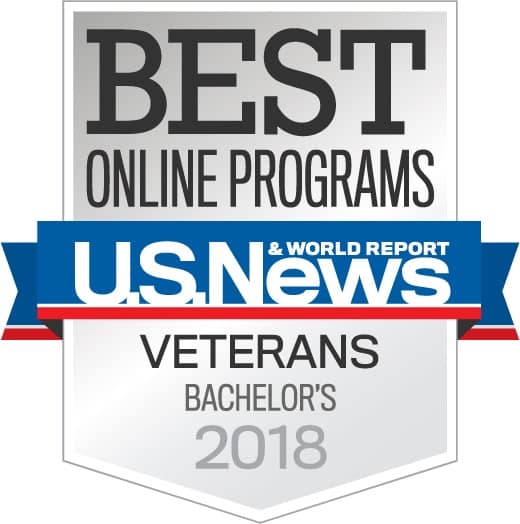 Embry-Riddle Aeronautical University's Worldwide Campus has once again secured the top spot in U.S. News & World Report's 2018 Best Online Bachelor's Programs for Veterans.
Since 2014, Embry-Riddle Worldwide has ranked in the top five of the annual list, including being named No. 1 for the past three years. In the most current rankings, it tops the list in a tie with Temple University with Arizona State University, Utah State University and Oregon State University rounding out the top five.
Headquartered in Daytona Beach, Fla., Embry-Riddle Worldwide provides bachelor's, master's and doctoral degree programs for more than 23,000 students online and at 125 campuses in the United States and globally. Nearly half of those undergraduate and graduate students are active military, in the reserves or veterans taking classes online or onsite at military bases around the United States or abroad.
To publish its annual list specifically addressing veterans, U.S. News & World Report analyzed 97 universities in the nation in the following categories: Student engagement, faculty credentials and training, peer reputation, and student services and technology. For the complete U.S. News & World Report 2018 list of best online bachelor's programs for veterans, go to usnews.com/education/online-education/bachelors/veteran-rankings.
On Jan. 9, Embry-Riddle Worldwide was ranked second by U.S. News & World Report (tied with Temple University) among 346 universities for best online bachelor's degree programs. First place was Ohio State University, while Embry-Riddle Worldwide was the only private, not-for-profit institute in the top five.
"We are unlike any other university in that we are committed to not only offering the highest quality degrees to our active-duty military and veteran students, but we are constantly looking at other programs and partnerships that give our veterans unique and valuable tools to succeed as they enter the workforce," said Embry-Riddle Worldwide Chancellor Dr. John R. Watret. "We are incredibly proud that we are one of the only universities in this list that has provided online and in-classroom degree programs, training and certification to our military for 48 years."
One such partnership is an intensive 18-week program, the Microsoft Software & Systems Academy (MSSA), that provides transitioning service members and veterans with the critical career skills required for today's growing technology industry. As a Microsoft education partner, Embry-Riddle Worldwide now offers the program at nine of its campuses in the U.S., with the most recent launching this week at Marine Corps Base Quantico, Va.
The university's tradition of educating service members began in 1970 at Fort Rucker in Alabama and has grown to include base locations in Europe, the Middle East, Japan and South Korea. It has earned numerous accolades including multiple top nods for its online master's and bachelor's degree programs from independent online ranking providers as well as being designated a top military-friendly school by Victory Media.
To learn more about Embry-Riddle Worldwide's active-duty military and veterans services, go to worldwide.erau.edu/administration/military-veterans/.
---
About U.S. News & World Report
U.S. News & World Report is a global digital news and information company that empowers people to make better, more informed decisions about important issues affecting their lives. Focusing on Education, Health, Personal Finance, Travel, Cars and News & Opinion, www.usnews.com provides consumer advice, rankings, news and analysis to serve people making complex decisions throughout all stages of life. Thirty million people visit www.usnews.com each month for research and guidance. Founded in 1933, U.S. News is headquartered in Washington, D.C.