Women's Engineering Institute Awarded NCWIT Seed Funding Grant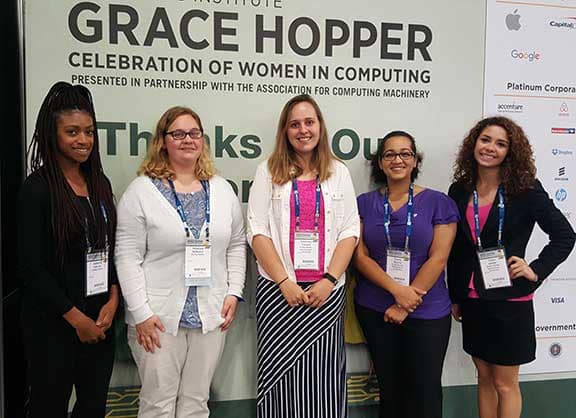 The Women's Engineering Institute at Embry‐Riddle's Daytona Beach Campus was selected to receive a $5,000 National Center for Women & Information Technology (NCWIT) Student Seed Fund gift, sponsored by Google.org.
The institute provides academic support and mentoring to recruit and retain female engineering undergraduate and graduate students.
"We are very grateful and honored to continue supporting our women engineers to advance in their academic and professional journey," said Shafagh Jafer, an assistant professor of software engineering and the adviser for the institute.
Half of the funding will be used to assist female undergraduate computer science/engineering majors to attend conferences to present their research, she said. Funds will also be used to furnish a safe space on campus for female engineering majors to do homework with institute tutors, seek resume reviews and career guidance, and attend institute meetings and guest lecturer events. The remainder of the funding is budgeted for outreach activities, especially to prospective students and incoming freshman. The institute plans to recruit women interested in engineering at conference career fairs and through local middle and high school "engineering exposure" days for younger girls.
Twenty female undergraduates — or 1 in 4 female computer science/engineering undergraduates at Embry-Riddle's Daytona Beach Campus — are currently funded and supported by the institute, according to Jafer.
"Embry-Riddle's Women's Engineering Institute has tremendously supported me in the past year, providing me with great opportunities, including part-time, on-campus employment and nominations for several prestigious awards, to broaden my passion for computer science," said Courtney Thurston, a computer science student and student leader of the Women's Engineering Institute at the Daytona Beach Campus.
As a part of the university's strategic plan, the institute is a center of excellence at the Daytona Beach Campus and supports the College of Engineering's goal to increase female enrollment. As of fall 2016, 18 percent of undergraduate students enrolled in the College of Engineering at the Daytona Beach Campus were female.
NCWIT is a non-profit organization chartered in 2004 by the National Science Foundation. It includes a community of more than 850 corporations, academic institutions, government agencies and non-profits working to increase girls' and women's participation in technology and computing.